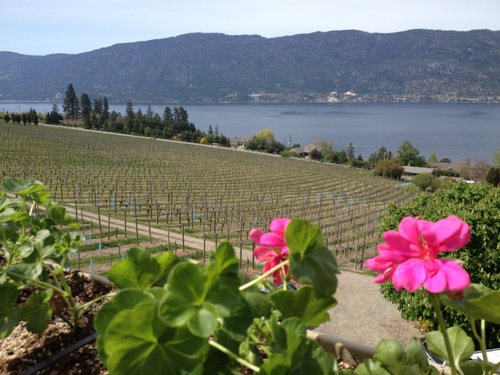 Before I visited the Okanagan Valley Wine Country in British Columbia, I had never heard of it, much less knew how to pronounce it correctly. (it's pronounced Oak-a-na-gan, a First Nation tribe) And I certainly didn't know about all the delicious wines they were growing for two reasons: 1. Very little gets exported. 2. It's a relatively new wine region (since the mid 80's).
I spent five days with four other travel writers, Lindsay Taub of Voyage Vixens, Jody Robbins of Travels with Baggage and Marc Smith of 30 Day Adventures (see crazy photo above, we were posing with 50th Parallel winemakers on the left). We feasted our way through Okanagan Valley Wine country – a stunning landscape of manicured vineyards growing on the banks of the cerulean-colored lake framed by pine-tree covered hills.
Here are 5 of the 10 things I learned in Okanagan Valley, British Columbia:
1. Swarovski crystals make beautiful bathroom gender signs.
People collect them as precious items and lots of women (and men) wear them, but I've never seen them be used as men and women bathroom signs before. With over 3.5 million Swarovski crystals throughout the Sparkling Hill Resort, they had to get very creative on where to put them apparently. The hotel's magnificent European spa, Kura spa, has them in the walls, in saunas and of course,
2. French manicures are an essential farming tool.
Our first winery of the trip set the tone: 50th Parallel Winery owners look more like heavy metal rock stars than grape farmers. Sheri, outfitted in bedazzled black satin pants, spiked leather boots, perfectly quaffed blonde locks and Prada shades, refers to herself as a glam-farmer. She says her french manicure (in photo above) actually helps to hide the dirt under her nails from planting vines, posting fences and working the land. Not to miss is their French-style Pinot Noir, aged in new French oak barrels.
3. The Okanagan Valley gets the most sunlight in the summertime in the northern hemisphere.
This is hard to believe. Okanagan Valley is just north of Washington or Idaho and does not appear to be a warm and balmy place. Due its location in relation to the sun's rotation, only Cape Town, Africa gets more sunlight during the summer. Therefore, the Okanagan Valley 's vineyards, when I visited in early May, where just in bud break, meanwhile Napa's vineyards had at least five inches of growth. But once harvest rolls around in the fall, the Okanagan Valley's grapes have caught up.
4. Tattoos help you make great wine.
Although winemaker Richard da Silva's family has been farming this area for over 50 years, he recently launched his own wine label, Misconduct Wine Co, in 2012.  Just like the name, da Silva is irreverent, sporting tattoos on his forearms and creating wines like the Bootleg Series and the Suspect Series.  I especially like the Massacre Rose with the Portuguese tapas, like chorizo and mussels,  served at the winery's restaurant simply named The Kitchen.
5. Popcorn pairs perfectly with sparkling wine.
At Sumac Ridge Winery, Okanagan Valley wine country's first and oldest, we sample six of their wines on a fancy placemat indicating each wine's name and snacks to pair them with. I think popcorn is good anytime, anywhere. But I never thought about pairing it with sparkling wine or champagne until I sampled truffle popcorn with Steller Jay's Sparkling Gewurztraminer.  Oh la la! For my next party, I'm rolling out the red carpet with popcorn and bubbly!
Okanagans LOVE their wine. In fact, they have not one, not two but three wine festivals per year celebrating their nectar of the gods. Head HERE to find out the deets of the next Okanagan Wine Festival. Stay tuned for Part 2 of 10 Things I learned in Okanagan Valley Wine Country. 
Drink Well,
Lanee
All photos are my own.