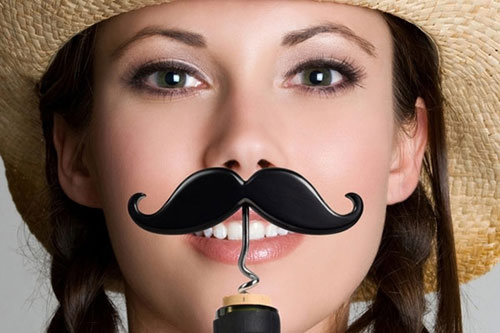 I share this new wine accessory with you only because I think it would be a great gag Christmas gift for the wine lover on your list. But please don't tell my boyfriend about the Combo Liquor/Wine Bottle Lock
from Franmara Inc.

Yes, you heard me right. With the Combo Liquor/Bottle Lock, you can now keep your most valuable bottles of wine and liquor under lock and key — er, rather under a 3-digit combination lock. It's no longer bottle shock, it's just plain bottle lock.
I can see the bottle lock value in protecting wine and spirits from curious underage drinkers. But why not teach/exemplify moderate drinking rather than creating another taboo-off-limits thing that they'll go crazy over later in life? I can also understand using the liquor lock if you live with roommates who continually consume your stuff in the fridge no matter how big you write your name on it. But maybe you should just go to a bar for a drink or get new roommates if you have to resort to locking up your hooch?
I gotta say, the liquor/wine lock has to be the most cruel wine accessory ever, more than the ugly sweater bottle warmer, more than the underwear for wine. If my boyfriend finds out about this, he may just get this for himself for Christmas as he's continually asking, "Hey, where did the wine go we opened a few days ago?" This would solve the mysterious disappearance of wine in our house.
For $16.49, the booze lock is an inexpensive way to loudly broadcast to friends, family, roommates or lovers that you don't trust them one tiny ounce.
The liquor lock is great for a white elephant gift or for the oenophile who has everything, but let's just keep this little cruel and funny gadget between you and I.
More Wacky Wine Gift Ideas
Bloomberg Businessweek Just Plain Weird Wine Accessories
Demilked 28 Cool Gift Ideas for Wine-Lovers
My personal favorite wine gag gift: Handlebar Mustache Corkscrew and Bottle Opener
(as depicted in top photo)
Photos courtesy of Framara & Amazon.