The Bourbon Trail is to Kentucky what Napa Valley is to California: An iconic region to taste some of the state's finest handcrafted adult beverages. The Kentucky Bourbon Trail has always been on my bucket list as my most beloved cocktails are either whiskey or bourbon based. And lucky for me, I found Mint Julep Tours via Twitter, a high-end tour company who specializes in giving custom Bourbon Trail tours based in Louisville, Kentucky. Because really, who wants to be driving on a bourbon tour!?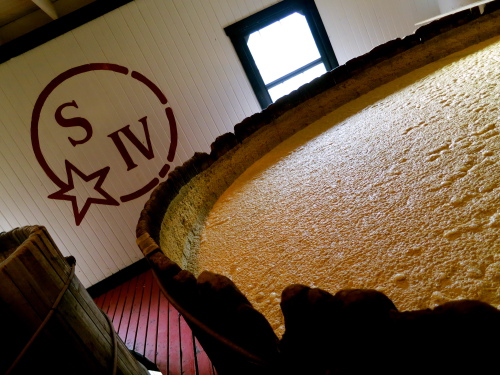 Last Friday, via Mint Julep Tours and Maker's Mark, I checked the Bourbon Trail off my list. I initially headed to Louisville, Kentucky to attend the final 'campaign trail' hurrah for Maker's Mark faux political party aptly named, the Cocktail Party. But always wanting to discover the local flair and color of the community, extended my trip, staying at the uber hip 21c Museum Hotel in Louisville, a few more days.
In planning this trip, I knew I wanted to cover as much of the Bourbon trail as possible. I spoke with Lisa Higgins, the owner of Mint Julep Tours and Chief Entertainment Officer as it reads in her email signature, about trying to do it all in a day (I was thinking this was like Napa where it's possible to hit dozens of wineries in day). She patiently explained that there are two areas of the Bourbon Trail: East and South. And you cannot physically do them in a day for two reasons, the closest one to Louisville is about an hour away and because they are so spread out from each other.
Marker's Mark distillery, located in Loretto, Kentucky, is in the southern part of the Bourbon Trail which I visited on Saturday, transport provided by Mint Julep Tours. So I decided to explore the eastern section of the Bourbon Trail on Tuesday near Frankfort, Lawrenceburg and Versailles (hot tip: do not pronounce this town the Marie Antoinette way, it's Ver-sales).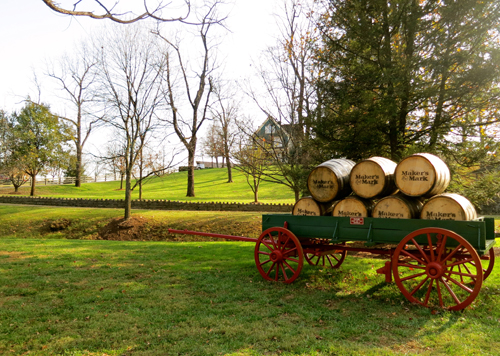 Don't be fooled by Mint Julep's name either, it is not just about the bourbon. They also offer historic Louisville tours, Ghost tours, Horse Country tours, Winery tours (yes, Kentucky DOES have wine!), corporate Louisville lifestyle tours and pretty much whatever you can dream up, they can deliver. I chose the Bourbon trail tour, but Gary Lewis, our affable and passionate Kentuckian tour guide of Mint Julep definitely created a 'cocktail' experience, mixing it up with Louisville historical sites, bourbon distilleries, a cigar shop and even a race horse auction.
Being picked up at 8:30 am and then dropped off at the airport at 4:30 pm to catch our flight, here is what my friend, Lindsay Taub, and I did on our custom Mint Julep Tour, riding in a very luxury van stocked with snacks and water:
9:00 – Old Louisville – Gorgeous Victorian early 20th century houses with original gas lamps still in operation since before Thomas Edison light up the street.
9:30 – Wagner Pharmacy & Diner – A Louisville iconic diner dating back to 1922. Since it's across the street from Churchill Downs, Wagner's main customers are horse people, from jockeys to trainers to race track fans. We ate the Pat & Jack's omelet (which is almost as big as a horse) and beat Bobby Flay's omelet in a recent cook off.
10:30 – Four Roses Bourbon – They offer a 45-minute tour which includes a tasting and distillery walking tour. Four Roses Bourbon is one of only two Kentucky bourbon distilleries still utilizing non-GMO (genetically modified) corn in their bourbon.
11:30 – Kentucky Gentleman Cigars – The strip mall locale is very deceiving in what lies beyond – tobacco farmer turned hand-rolled cigar maker Allen Mobley is a character. Truly, he and his cigar products are an exceptional hidden gem.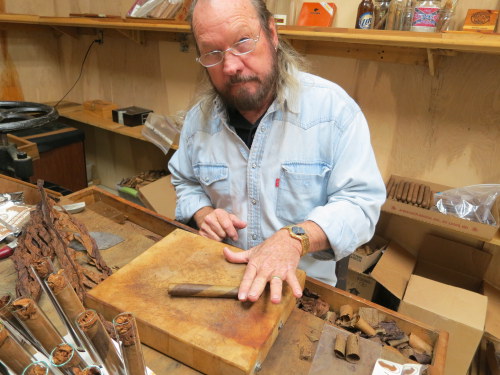 12:30 – Glenn Creek's BBQ – Another only-known-to-locals spot was a little cafe near the Woodford Reserve distillery serving up some seriously delicious smoked meats including turkey, pulled pork and brisket. BBQ is the perfect sustenance to balance out the bourbon buzz.
1:30 – Wild Turkey – Wild Turkey just redid their visitor's center. The tour includes a distillery walk through and tasting. Don't miss a ride on the bourbon barrel turkey.
2:30 – Keeneland Race Track – Because of Gary's in-the-know expertise, he took us to Lexington's race track to witness race horse yearlings being auctioned off at jaw-dropping prices.
3:30 – Buffalo Trace – Although not on the official Kentucky Bourbon Trail website, this was my favorite distillery visit, second to Maker's Mark, as it is the oldest continually operating distillery (even during Prohibition for 'medicinal' purposes) in America. Buffalo Trace meticulously hand bottles/lables many of their premium bourbons like Blanton's. It's a sight to see how much love and care goes into one bottle of blessed bourbon.
As a side note, because we toured the Bourbon Trail on one of Kentucky's only dry days (no alcohol can be purchased or served until 6 pm on Election day, Nov. 6), our tours were much shorter than usual. According to Gary, a normal all-day Bourbon Trail tour with a lunch break will include only two to three distillery stops due to distances.
As the Mint Julep Tour slogan goes, "The purpose of fun is having some!" And boy did we.
When in Louisville, a Mint Julep Tour is a must – great service, fun-loving informative guides and a plush ride to boot.
For more things to do in Louisville, Kentucky, visit gotolouisville.com
Disclaimer: The Mint Julep Tour was hosted, but opinions are my own.