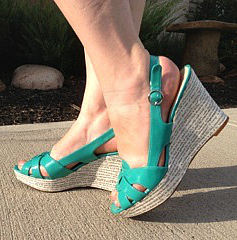 I first saw the story shoes on Book Riot. They were a pair of basic pumps covered with print cut from a romance novel. There were no real directions, just a statement that Elmer's school glue dried clear if spread thinly. I did covet those shoes. The project seemed simple enough but something troubled me.
Recently, I read a blog post about a young woman who designed and constructed an entire dress from a thesaurus. It was genius, but several people scolded her for "disrespecting" books. Is wearing print a violation of literature? On one hand, I thought maybe so. I always thought of wisdom as a sacred thing. Books, being the vessels of wisdom, take on the air of a holy relic. Who hasn't felt a sense of awe and reverence upon entering a great library as if entering a great cathedral? Perhaps making a pair of shoes out of literature I loved would be a sacrilege.
What is this sacred thing called story? Is the story in the print, in the dress, in the shoes? I think the story is something else entirely. Story transcends the print, the dress, the shoes. I know what it's like to hold a story in my imagination and attempt to pour it out into print. It is a spiritual act to channel the story from the ether and bring it safely into the physical world to be seen and shared. Every writer is a kind of prophet bringing something etherial into the world. How could I consider cutting up another writer's work for a pair of shoes?!
But there is another side of it too. The part where the reader and the writer interact. Sometimes over miles, years and even across the barrier of death itself. Story is not stagnant. It is dynamic and interactive with the minds and imaginations of readers. It is a wonderful thing, as a writer, to have your work translated into other languages. Maybe making something out of the print would be like translating the story into the a different, artistic, language. I asked myself how I, as an author, might feel if a book I wrote was cut apart by one of my readers and translated into a dress she could wear or a pair of shoes she could walk in. I meditated. I felt myself hand my precious story to reader. I saw her creatively inspired to wear my story. I saw her dance in shoes made of my words. I smiled. I had my answer. I made my shoes and believe, somewhere, Dame Freya is smiling.
I chose my personal copy of Perseus in the Wind by Freya Stark, a true wander-reader and writer. She is often called "the poet of travel." I carefully selected two line passages from the book mentioning words and writing, travel, women, courage, and beauty. Selecting and cutting the passages out took more time than gluing them to the shoes. It was important to me to find the words that I felt I could walk honestly and sincerely. I considered carefully which words I would "step out on" when I wore the shoes.
While the picture that inspired me was of a pair of pumps, I selected a wedge sandal instead. I am a bit skeptical about how well the glue might hold up to the physics of walking stress placed on a shoe's upper. By using a wedge, I could keep my shiny patent leather straps and cover the cork with the philosophy of the WanderLit life.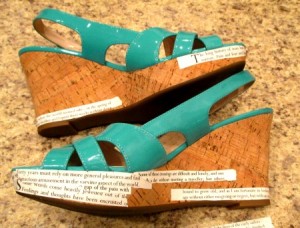 The gluing on of prose was a slower process than I first imagined. It was made more difficult by my sticky fingers covered in tacky Elmer's. I'm not usually a crafty person so I didn't rush it. I took a break and returned to it fresh after a rest. I believe that a work of art or craft takes on the energy of the one creating it. I didn't want frustration or impatience to become a part of my shoes.
The final result delighted me! Freya Stark is an inspiration of solo women's travel. Wearing these shoes is like standing on the truth she shared and the path she blazed for wander women. It is a tangible metaphor for walking the values she lived and wrote about.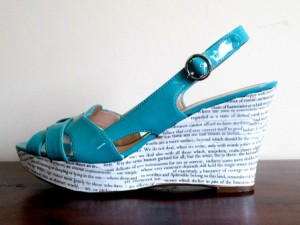 Knowing that Elmer's glue is water soluble, I plan on covering my creation with an added layer of polyurethane. Even so, if you make a pair, I don't recommend wearing them casually. But they are not casual shoes are they? They are wearable works of art. A collaboration between Freya Stark and me. I'm not wearing a pair of cute shoes. I am exhibiting performance art.
Read ~ Write ~ Wander
~Angie
(Photos taken by me except the one of my feet. Dearest took that picture. More photos of my Story Shoes and instructions to make your own can be found on the WanderLit facebook page. Come on over and take a look!)