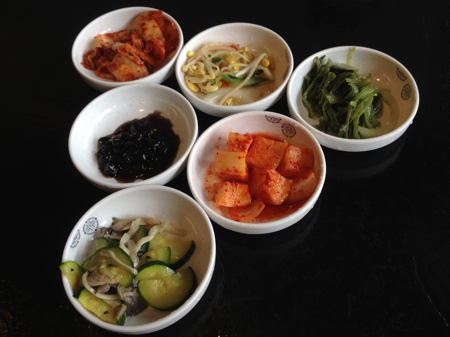 Despite the red neon "OPEN" sign and the colorful photos of Korean dishes plastering the windows, the darkened storefront shows no obvious signs of life. We pull open the door, and surprise — inside, the dining room is packed.
We're the only non-Asians at Jong Ga Korean Restaurant, but no one gives us a second glance, even though we're also the only people who've wandered into this suburban strip mall clutching our bike helmets.
My husband Alan and I have ridden our bikes east from downtown Vancouver along the Central Valley Greenway, a 25-kilometer (15-mile) bikeway through the city's east side and the nearby suburb of Burnaby.
After cruising along a mix of urban streets, industrial developments, and the more serene shores of Burnaby Lake, we've detoured off the bikeway to this "Koreatown" neighborhood, a mishmash of nail salons, chain stores, and Korean restaurants at the congested intersection of North Road and the Lougheed Highway on the Burnaby-Coquitlam line.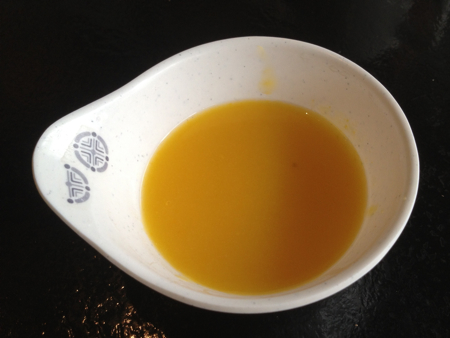 As soon as we order (from Jong Ga's helpful picture menu, with English descriptions, but no English names), our waiter delivers two complimentary cups of flaming yellow pumpkin soup. It's smooth, creamy, and slightly sweet.

Then come the brightly-hued banchan — the traditional side dishes that accompany a Korean meal. There's zucchini with wild mushrooms, chili-spiced potatoes, seaweed, black beans, bean sprouts, and the ever-present kimchi.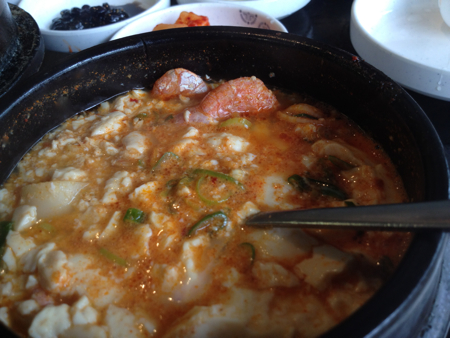 Our waiter cracks a raw egg into the steaming tofu hot pot, quickly scrambling it amid the bean curd, shrimp, and squid. Although we asked for "spicy," it's only medium-hot, the soft tofu moderating the chili heat.
We've also ordered beef with slippery sweet potato noodles that comes in a clear broth. It's simple, but meaty and flavorful enough.
We came in ravenous. We leave stuffed.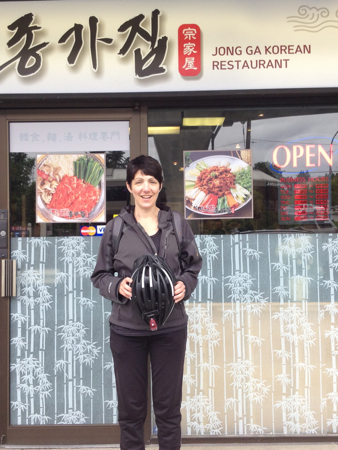 In a post-lunch stupor in front of the restaurant, that's me — helmet hair and all — trying to gather my strength to get back on my bike.
But the adventure doesn't end there. We decide to follow a different route home, heading southwest across Burnaby on the Cariboo bikeway.
"Uh, oh," I say, as we pass a sign for the Cariboo Hill Temple. Emphasis on hill. As in a HUGE, many blocks' long uphill climb.
So by the time we huff and puff up that significant hill, continue climbing toward the Edmonds Skytrain station, and then follow the meandering BC Bikeway path underneath the Skytrain tracks back into Vancouver, we're getting pretty beat.
As we pull up to a light in front of the Joyce Skytrain station, Alan and I have the same idea.
"Dumplings?"
It's been at least two hours since our ample lunch.
Joyce Jiaozi, a tiny Northeastern Chinese dumpling restaurant, is less than a block away.
Pork and cilantro jiaozi. Lamb jiaozi. Chive and egg jiaozi. Pork and cabbage jiaozi. Mmm.
Enough cycling for today.
Takeout boxes dangling from Alan's handlebars, we roll our bikes onto the Skytrain and ride the rails home for a dumpling supper.
About WanderFood Wednesday
Want to share a recipe, photo, or food adventure of your own? Join the WanderFood Wednesday blog carnival. Here's how:
Post a food photo on your site.
Add a brief description about the photo — or a longer food-focused post — and include a link to WanderFood Wednesday.
Add your blog name and post title to the "Mr. Linky" form below, with a link directly to your post (not to your main blog). That's it!
[mrlinky owner=wanderfood postid=05Jun2012 meme=2888]
If you go…
Jong Ga Korean Restaurant is at 4333 North Road, Burnaby, BC, 604-421-7085. It's a short walk from the Lougheed Town Centre Skytrain station.
Joyce Jiaozi is at 5171 Joyce Street, Vancouver, BC, 604-436-5678, near the Joyce/Collingwood Skytrain station.
For more information about Vancouver cycling routes, see the City of Vancouver Cycling page.
Note to fellow cyclists: the North Road/Koreatown district may be a great lunch stop, but it's extremely bicycle unfriendly. Unless you're really comfortable with high-traffic, urban cycling, get off your bike and walk — carefully.
<em>Tasty Travels!</em>
<h3><span style="color: #800000;"><em>Carolyn</em></span></h3>
<em>Photo credits:</em>
Central Valley Greenway photo by jmv (flickr)
Restaurant photos © Alan Albert
Skytrain photo by sillygwailo (flickr)