As spring semester gives way to summer, I'd like to try a new project. In the spirit of Wanderfood and Wandergear Wednesdays, I'm thinking of Tuesday Shoesday: a (mostly kinda trying-to-be) weekly feature about shoes. Are you with me? Are you feeling it?
First up: Crocs Boat Shoes for women.
So far, I only have the classic, cloggy-lookin' Crocs (in hot pink, of course). They  are shamefully comfortable. In general, I restrict them to Home Use Only. There are exceptions (of which, mind you, air travel is not one.)
Living in Central America last fall taught me many things, including to always a bring a sun hat and to respect the Crocs. Crocs were invaluable in Costa Rica, such as the morning in Tárcoles when we accompanied fisherpeople on their small boats.Though I took some ribbing for my footwear, I felt vindicated when some of the fishermen were also sporting Crocs (in more demure hues). Flip flops can disappear without warning. Classic Crocs have that heel strap that lets you know that everything's going to be alright.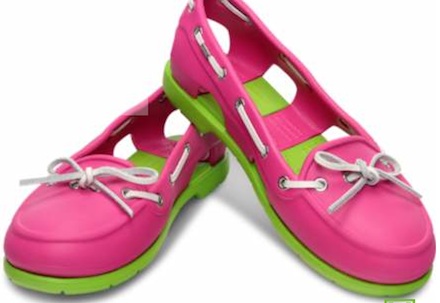 Another acceptable destination for wearing Crocs outside of the home is to the pool.  My WanderMan and I are heading out soon for Symes Hot Springs, a place we visited in 2012. Sure, flip flops will do the job. But Crocs have more support and more toe-protection than flip flops. They are, as the web site claims, "incredibly light and buoyant."
Recently I caught sight of these Crocs boat shoes  in navy and pink (photos from Crocs.com). Will I have to revise my thinking about this brand? Will I have to take back all of those snarky things I've said?
Change is the only constant, eh? As our buddy Ralph Waldo Emerson affirms, "A foolish consistency is the hobgoblin of little minds." Far be it from me to cling to a belief that's shown to be errant. I will eschew hobgoblins and expand my mind!
I will also gladly wear these Crocs boat shoes out of the house in a heartbeat. I would wear them to a hot springs, or to the coffee shop. If I had rich friends with boats and cabins on Lake Coeur d'Alene, I would hazard these shoes with a sun dress or perhaps rolled-up jeans a cute t-shirt. Readers, if any of you want to invite me out on your boat, I'll gladly honor you and your style with a blog post. You know where to find me.
Add a comment