A little while ago, Timbuk2 sent me their Hyde tote in Mojave. I took it with me on my two Montana trips and on a couple coffee shop outings. My Hyde tote and I had a great time together, and I am sure we will have many more good times.
Firstly, Timbuk2 gives their bags a little personality. I enjoy their playful spirit.
When I bought a custom vinyl messenger bag from Timbuk2 a few years ago, it came with a tag telling me about its birthplace. This time, it's stitched right in, so I'll never forget that my bag is excited to go on adventures with me. Doesn't it make you want to show it the world? If you weren't inspired to travel before, listen to your Hyde tote. Don't let it down!
The fabric is a nice heavy weave that's soft to the touch. It's the kind of bag that will obviously last for many years. My other Timbuk2 bag has withstood heavy use for 5 years now and is still going strong. I'd bet this one will do the same.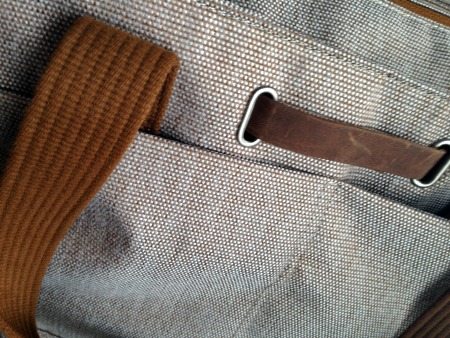 The leather trims added a touch of class. I appreciated, though, that the straps were not leather. It shows that durability is a priority, as leather can stretch and tear along the stitches over time. Also, the leather grips on the handles feel amazing, comfortable (luxurious, too) on your hand even when the tote is full and heavy.
I explored the details, too. Like the little leash inside the outer pocket. You could clip it to your keys—or passport case—things you want at your fingertips but can't afford to lose.
And look at this lined pocket—great for jewelry, perhaps, about 3 by 4 inches.
This bag will be a great carry-on for your personal items, with room to bring all your entertainment devices, documents, a jacket. If you're a really light packer, you could even use it as your main travel bag for a weekend getaway. On the way back, the expanding feature will help you make souvenirs fit. All you have to do is zip down the zippers. It changes the shape of the bag a bit, but it really does expand the capacity substantially—I tested it for you.
The Hyde tote reminds me of the days when I used to pack up supplies for everything I loved to do, walk around Portland, and see where the day took me. It's just large enough to keep a few books, a literary journal, a notebook, a sketch pad, my drawing supplies. It makes me want to grab all these things and head to the arboretum for many hours. As things dry out here in Spokane, I am sure that is exactly what will happen.
Besides lasting forever and looking classy, the neutral color and sophisticated design will definitely class up any of your travel looks.
Buy the Timbuk2 Hyde Tote here!
Go in style,
Jacquelyn
I received this item for review purposes, but all opinions expressed are my own.
Add a comment