We all have those questions that keep us up at night. I'd often wondered: Am I someone who can wear red lipstick? It looked so glamorous, like two curvy lines of timeless elegance.
"Anyone can wear red lipstick," was the consistent reply.
So on my wedding day last fall,  I swiveled on a high stool in Nordstrom, ready for the MAC cosmetic wizard to paint me in Red. The lipstick looked fantastic. But how would I be able to do this without professional help?

In my earlier adulthood, I felt as though I'd missed some important Girl Tutorials. I didn't really know how to make a shimmering evening eyes. I couldn't execute a French braid on self or others. And I had no instruction with lip color save a Bonnie Bell multi-pack of flavored chap sticks I'd find in my stocking at Christmas or unsupervised attempts to use my Nana's makeup drawer graveyard of hot pink lipsticks worn to flat nubs. I realize now that such Girl Tutorials fit a particular type of girl, and that it's perfectly fine to go through your adult life eschewing all cosmetics. But back then, makeup seemed mandatory, as mandatory and non-negotiable as carefully sculpted bangs and Guess? jeans.

My friend Erin, who I consider something of a fashion missionary, explained to me not so long ago that no matter how disheveled one may feel on the inside, a pout of red lipstick makes one look put-together on the outside. She also turned me on to the idea of lip stain, which is less of a commitment and harder to mess up than lipstick. It's basically a magic marker for your lips, with some clear balm on the opposite end of the pen. Revlon makes a nice one in their Just Bitten line.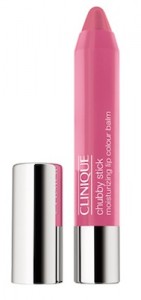 I've also had good luck with Clinique's Chubby Stick (doofy name, good product). It's a "moisturizing lip colour balm" that goes on easy and doesn't require lip liner or much precision. The Stick works like a fancy crayon that you dial up or down. It's less likely to melt into an irredeemable puddle, so it's a good travel buddy. I like Two Ton Tomato for its bold but believable red; Tomato is more red-orange, whereas Chunky Cherry offers a more pinky red . Clinique plays up the "chubby" in the product with shade names like Fuller Fig and Pudgy Peony. Over-the-top product names are part of the pleasure of buying cosmetics in the first place, right?
An important part of learning to wear lipstick has been getting used to more color on my lips. I wear plenty of bold shades on my person, but I tend to keep a more neutral face. While I still tend to save lipstick for "date face" or "conference presentation face," more and more I'm realizing that almost any event can be a special occasion worthy of a little extra splash. Hockey face. Tavern face. Church governance meeting face. Good thing I'm not going to run out of shades anytime soon.
Photo Credits
Erika Ellis
maccosmetics.com
revlon.com
clinique.com
Add a comment