So I figured it was about time I mix up some outfit ideas for you and show you what to wear in London. Anyone planning a trip to the United Kingdom? Here's some ideas to get your juices flowing for city travel in England. I've included links for you so you can copy exactly what I've picked out if you're looking for a shortcut in building your travel wardrobe.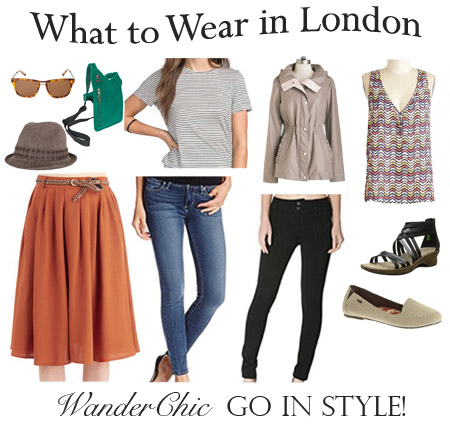 Tumi Bolte Sunglasses / Baliloca Purse / ililily Crushable Fedora / Full Tilt Striped Tee / Bakery Run Raincoat / Vim and Zig-or Top / Breathtaking Tiger Lilies Skirt / Paige Women's Verdugo Ankle Jean / 2LUV Women's Stretch Skinny Dress Pants / Ahnu Trolley Wedge / Cushe Lamu Flats
American casual isn't quite going to cut it abroad, so just be sure to look like you put in the effort. Summer in England can be both very warm or very wet, so you'll have to be prepared for both, hence the adorable raincoat.
Hats will help you cover up greasy travel hair and keep the sun out of your eyes. Be sure to find one you can smash sufficiently to pack easily when you don't want to wear it.
Notice how all of these items could be worn together in any combination. That's crucial for traveling fashionably and lightly.
You'll want a comfy pair of sandals for the truly hot days where you might spend some time lingering on a patio for lunch. Flats or ankle boots will work nicely for those other times.
Layers are key. You may want to throw in a cardigan as a mid-layer and a scarf, just in case. Perhaps a little black dress and some simple jewelry for dressing up a bit more.
Have fun mixing it up!
Go in style,
Jacquelyn
Add a comment