A dear friend of mine took a little jaunt to Ireland to get to know her homeland. While she was there she did a little research for me (thanks, Lo!)—and bought me a lovely little top at the thrift store—they call them "charity shops" (double thanks!).
Dublin is a fairly trendy city, so prepare to put your best foot forward. But don't freak about the footwear too much; there were a lot of people who were wearing business casual still wore tennis shoes for walking around, so even if you wear good walking shoes on your visit, it won't be a dead giveaway that you're a tourist. Even if you look a little touristy, the Irish won't frown on it. They'll want to know where you're from. If you go to the right places, they may even try to sing a song about your city.
The weather in the summer in Dublin is warm and mild, drier than the rest of the year, but there is still a good chance you'll encounter wind and rain, so be prepared with close-toed shoes and a decent rain jacket.
Thanks to these ladies for allowing us to post their photograph and share their sweet looks with you! Check out their Dublin street style.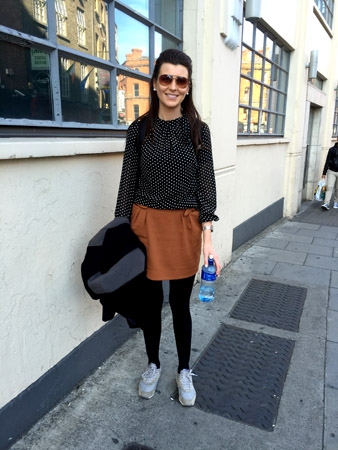 Photo Credit: Lauren Loudon
Add a comment