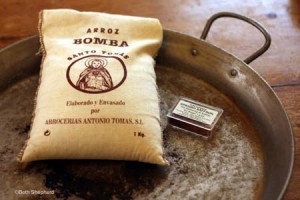 I remember when my Aunt Sue made paella for us at their summer house on Cape Cod: the aromas, the flavors, and the amazing variety of fresh seafood and local chicken and sausage. So much incredible food–all one dish! It's a memory I can still conjure up to this day. Her paella was one of the first meals I had as a child that made me aware of just how good food can be.
Paella is one of the world's most famous rice dishes. Traditionally paella is prepared in a paellera, a wide, shallow pan with looped handles (and this is what I use), and cooked over an outdoor fire (okay, I don't do this but I live in Seattle). But you can also make it on the stove with a large, shallow frying pan.
Rice was cultivated in Spain for centuries, and one of the best rice growing areas in Spain is Valencia, which just so happens to be considered the epicenter of paella – a dish that marries surf (seafood) and turf (land food). In fact, Valencia is one of the only rice-growing regions in Europe to have its denominación de origen (DO).
Bomba is the cream of the rice crop, the finest most sought after rice from all of Spain. It is a bit smaller than Italian arborio or carnaroli (both used to make risotto) and while you could substitute either, bomba's ability to absorb over three times its volume in liquid–and flavor–makes it the ultimate paella rice. Plus, bomba rice from Spain and this is where paella originated. I say: go for the bomba!
While I make my paella with seafood, chicken and meat, you can easily adapt the recipe for vegetarians (peppers, zucchini, mushrooms, chard leaves and stems, peas, etc.) or those who eat seafood but not meat (for example: clams, mussels, squid, halibut, etc.).
And here's a little tip: before you make paella, make sure you're in great arm-wrestling shape because the socarrat (toasted rice at the bottom of the paella pan) is highly prized. And it is really divine: flavorful little bites of crunchy goodness. You've been warned!
Paella (feeds four)
Ingredients (moderate depending on whether you're going all veggie, all seafood, or some combo)
1 onion (I used shallots and many recipes call for red onion), chopped
2 peppers, diced (any color)
4 cloves of garlic, chopped
2 tablespoons of fresh flat-leaf (Italian) parsley
2 large ripe tomatoes or a cup of canned peeled tomatoes
16 large raw shrimp (prawns), peeled and deveined
16 mussels (or clams or combo), scrubbed and de-bearded
2 squid tubes (if using), cut into rings
Firm, white fish (maybe ¼ pound), such as halibut, cut into bite-sized pieces
Spanish Chorizo sausage (maybe two), cut into 1-inch pieces
Chicken breast or thighs, boneless and skinless, maybe ½ pound, cut into bite-sized pieces
Extra virgin olive oil
Paprika (preferably smoked Spanish)
Saffron
Bomba rice (1-1/2 cups) or Arborio rice. I got mine at Chefshop.com.
3 cups stock (chicken, fish, clam)
Salt and pepper
How to make Paella
1.       Chop the vegetables: Finely chop 1 onion, dice 2 peppers (red, yellow or green), finely chop 4 cloves garlic and finely chop 2 tablespoons of fresh flat leaf (Italian) parsley.
2.       Puree the tomatoes: Use a box grater to puree 2 ripe tomatoes discarding the skin. Alternatively, you can use a cup of canned peeled tomatoes mashed with a fork.
3.       Prepare the seafood: Peel and devein 16 large raw shrimp. Cut any other seafood like squid tubes or halibut into bite-sized pieces. Scrub and de-beard 12 fresh mussels or clams. Cover and refrigerate.
4.       Prepare the meats: cut chicken breast or thigh meat (skinless and deboned) into bite-sized pieces and/or slice sausage (such as Spanish Chorizo) into 1-inch pieces.
5.       Make the sofrito: Sofrito is a Spanish tomato and onion sauce which is used as a flavor base for a variety of dishes, including paella. To make the sofrito, heat 2 tablespoons of extra virgin olive oil in the paella pan over medium heat and cook the chopped onion, 2 tablespoons of parsley and 3 tablespoons of chopped garlic cloves for about 8 minutes, stirring occasionally. Add the pureed tomatoes and 2 tablespoons of paprika (preferably Spanish smoked paprika) and cook until all the liquid from the tomatoes has evaporated and the sofrito has the consistency of jam. Transfer the sofrito to a small bowl and wipe the paella pan clean.
6.       Cook the seafood: While the sofrito is cooking, place the mussels (or clams etc.) into a saucepan with a half-cup of simmering water. Cover and steam on low heat for five minutes until the shells open. Remove seafood and set aside, discarding any shellfish that haven't opened. Then heat 1 tablespoon of extra virgin olive oil in the paella pan over a medium-high heat. Add the remaining clove of chopped garlic and the shrimp and cook for 1-1/2 minutes, tossing continuously. Add the squid rings (if using) and cook for an additional 1-1/2 minutes. Remove shrimp and squid from the paella pan and lightly season with salt and freshly ground black pepper. Cover and set aside.
7.       Cook the vegetables: Heat 2 tablespoons of extra virgin olive oil in the paella pan over medium heat and cook diced peppers (and whatever other vegetables you are using) for about 6 minutes, stirring occasionally.
8.       Add the rice: Add the sofrito back into the pan along with 1-1/2 cups of Bomba rice and cook for a minute, stirring to coat the grains.
9.       Add hot stock, saffron, salt and pepper and cook without stirring: Add 3 cups of heated fish (I sometimes use bottled clam broth) or chicken stock (I add some of this too), a pinch of saffron threads (crumbled), 1-1/2 teaspoons sea salt and ½ teaspoon freshly ground pepper. Stir to combine and bring to a rolling simmer. Cook for 10 minutes, uncovered without stirring  (to make sure the rice cooks evenly, you will need to regularly move the paella pan around the heat source, or you can – if you oven allows – straddle the paella pan over two burners).
10.   Lower the heat and continue cooking: Lower the heat to a gentle simmer and cook for a further 15 minutes without stirring. After 15 minutes, turn the heat up to medium-high for a minute or so until you can smell the rice toasting at the bottom of the pan (you might hear the rice crackling too), then remove the paella pan from the heat. This final high-heat cooking creates the tasty and much prized socarrat at the bottom of the pan.
11.   Add seafood, chicken and meat, vegetables and cover: Push the seafood and meats into the cooked rice and scatter with vegetables. Cover the pan with foil or a clean cloth and let the paella rest for 5 minutes.
12.   Present the paella in the pan at the table with lemon wedges on the side for drizzling. Pour yourself a glass of bubbly Spanish Cava to celebrate. You just made paella!!
Want to arm wrestle over more deliciousness? Check out Wanderfood Wednesday!