Only the pure in heart can make a good soup.
– Ludwig van Beethoven
Food and love. For me the two go hand in hand. And, no, this isn't a post about romantic moonlit dinners.
With many of my close friendships and family members, I have a clear memory of a dish, a drink, a meal or a restaurant that comes to mind whenever I think of them. There's my friend Alice and Thanksgiving (oh that mouth-watering turkey), my college housemates and artichokes (what a big deal they made about me being "an artichoke virgin"), my Aunt Sue and her amazing paella (the woodsy Cape Cod backdrop didn't hurt either), my father with his pickles and kraut, Big Papa and Shepherd's Pie (looking forward to setting off the smoke alarm for the eighth year running). And then there's Dee and Moosewood's Mushroom Barley Soup.
There is so much wrapped up in that savory bowl of soup. Memories from my college days and my first taste of independence, a time in food history when being a "vegetarian" was still considered trendy, even revolutionary (Moosewood Cookbook really broke new ground), and how the loss of those most close to us remains deeply embedded in our hearts (the last time Dee cooked Mushroom Barley Soup for Big Papa and me was the last time I saw her).
Holidays hold especially keen food memories for most of us: the almond-spritz cookies we made with our mom at Christmas, Easter egg chocolates hiding under backyard bushes, a recipe for eggnog or crown roast that distinguishes your family from any other. We are indeed what we eat…and who we eat it with.
So this Friday, December 20, I'll be filling my belly with Mushroom Barley Soup. And filling my heart with love for my friend, who passed away five years ago on that day.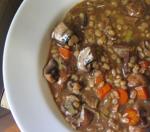 Mushroom Barley Soup from the Moosewood Cookbook
Serves 8
Ingredients
1/2 cup uncooked pearl barley
3 tablespoons butter
1/2-1 teaspoon salt
3-4 tablespoons tamari  or soy sauce
4 tablespoons dry sherry
6-1/2 cups stock or water
1 medium onion, chopped
2 medium cloves garlic, minced
1 lb fresh mushrooms, sliced
fresh ground black pepper
Preparation
Cook barley in 1-1/2 cups of the stock or water in a large saucepan or Dutch oven. Bring to a boil, cover and simmer until barley is tender (20-30 minutes). Add remaining stock or water, tamari and sherry.
Meanwhile, melt the butter in a skillet. Add the onions and garlic. Sauté for about 5 minutes over medium heat. Add mushrooms, and salt. Cover and cook, stirring occasionally, until everything is very tender (about 10-12 minutes).
Add the sauté with all its liquid to the cooked barley. Add fresh ground black pepper to taste and simmer, partially covered, for another 20 minutes. Serve with a slice of hearty bread.
Take the road less traveled, Beth
Warm your heart with more foodie posts. Check out Wanderfood Wednesday!