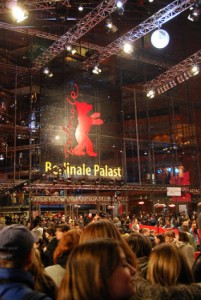 Fans awaiting a view of the stars on the red carpet.
Having experienced an International Film Festival in Berlin, Germany I understand the fun and excitement a Film Festival brings to a city. Activities include talks by actors, actressess and film makers about their movie. Then there are the glamorous and glitzy red carpet photo opportunities for locals and tourists alike. Berlin buzzed with excitement in the days leading up to the film festival as stars arrived and tickets went on sale for the showings of each film festival selection. It's an amazing opportunity to see several films in a more glamourous setting and to experience the glitz and the glamour of festival events. Check out Aruba Film Festival, or follow them on Twitter @arubafilmfest.

Professional Photographers awaiting the stars on the red carpet.
This year Aruba will be holding it's first International Film Festival on June 4-11. Richard Gere will be the official host of the Film Festival. The red carpet festival premere will be held at Paseo Herencia Theater in Oranjestad. In honor of it's first film festival the Aruba Marriott Resort and the exclusive Trade Winds Club are offering an exclusive "A List" package for the ultimate escape and red carpet access to Aruba's International Film Festival.
"With the excitement of the festival, we wanted to offer our guests the chance to take it to the next level and receive glitzy, Hollywood-style treatment in this gorgeous Caribbean setting," says Karin Swiers, Marketing and Communications Manager for the Aruba Marriott. "With VIP access to the exclusive Aruba International Film Festival events and luxurious Tradewinds accommodations and amenities, the A-List package will leave guests feeling like movie stars."
Package rates require a minimum seven-night stay in Tradewinds Club. Offer is available to book now through June 3, 2010, for travel June 3-14, 2010, and based on availability. To book the package, call (800) 223-6388 or visit www.arubamarriott.com and request promotional code FVJ.
For additional information on the island of Aruba and the film festival take a look at Aruba.com