With everyone, apparently, dedicating their workday to holiday shopping online today, I thought it was time to get a WanderShopper Accessory Gift Guide together. These are items all well-prepared WanderShoppers will travel with at all times. I can wholeheartedly recommend all of these products as you would have found them in my bag for years, if you cared to look. I have also given almost everything on the list as gifts over the years, some multiple times. And coincidentally, they are all available at eBags so it will be easy for you to order more than one item if you care to do so. So here goes, my Top 5 WanderShopper Accessory Gift Guide: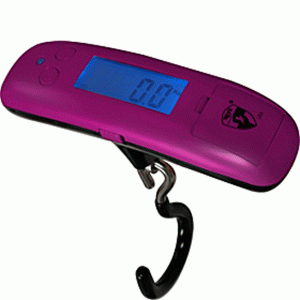 Gift Number 1: Heys USA Microscale Luggage Scale. I love this scale! I use it every time I travel to check where I am at for weight with my bags. I use it to balance the weight between two suitcases. Let's face it, when you are a WanderShopper, sometimes you accumulate a number of purchases on a trip. You don't want to be that girl at the check-in counter with all her belongings strewn out on the floor as you desperately gamble that one more pair of shoes in bag B will get bag A under 50 pounds, right? You want to do that kind of work in the privacy of your own hotel room. This scale is going to give you that ability. And it converts back and forth between pounds and kilograms so you will know exactly where you are weighing in while traveling in Europe where luggage weight seems oh so much more important. Some airlines even weigh your carry-on so best be prepared! A great gift for yourself or for a friend. And it's a bargain compared to what overweight luggage fees can add up to. Currently the scale is available in 3 colors. The Heys USA Microscale Luggage Scale is only $20.99.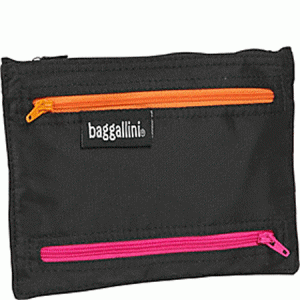 Gift Number 2: Baggallini Currency Organizer. I picked this up a few years ago when I knew I would be visiting multiple countries. It allowed me to keep the different bills and coins for each country organized. When I am already jet-lagged and thinking slowly about what to do with all the decimal places other currency seem to regularly carry, I don't need to have to figure out what bill belongs to which country too! I assign each county a colored zipper (there are 5 different ones) that makes sense to me and always use that pocket. I usually assign the middle top pocket for receipts, business cards as well as my currency conversion chart cheat sheet I make up in advance of each trip. I have also used an extra pocket to store some extra currency for that country and the larger bills. You don't want to be bargaining hard in a market for good prices and then be seen to pull out a big roll of bills to pay. Keep the bulk of your money out of sight and in another pocket! The Baggallini Currency Organizer allows you to do that and for only $15.99. This one would easily fit in a stocking too!
Gift Number 3: eBags Pack-it-Flat Toiletry Kit. From the time I first saw this, I thought it was a really smart design. I really like that it packs flat. So many toiletry kits seems to turn into these big, bulky box shaped items you need to fit into your bag. This one lays flat right among your clothes. I have even used it as a barrier to go on top of something more fragile I purchased to give it some additional protection. The Toiletry kit has lots of pockets and spaces so there is room for all your travel sized items and some full size things too. It is easily long enough for a toothbrush but not too big. And if you do want it bigger, one section has an expansion zipper so you can customize its size to accommodate your increasing collection of purchased essential oils or collected hotel room samples. Should you have a mishap during travel and a bottle starts to leak, it would be contained to the section it is zipped into. It comes with a carrying handle and there is also a hook in the center compartment so that you can hang this should you desire. The eBags Pack-it-Flat Toiletry Kit comes in at a very reasonable $23.99. And comes in 8 colors so it can be gifted to the male or female traveler in your life.
Gift Number 4: Victorinox Lifestyle Accessories 3.0 Travel Sentry Approved Cable Lock (hereforth known as "The Lock.") I travel with one of these on each of my bags as well as my carry-on bag. I also take an extra lock or two on every trip. What do I love about The Lock? So many things. 1) It is TSA approved so I am able to lock my bags with it for flights in the U.S. which gives me that extra bit of confidence that all the items I leave with will actually arrive with me. 2) I can set my own combo so it is easy to remember and there are no keys to search for when I need to get into my bags quick. 3) The cable is flexible so I can use it easily in standard locking situations and ones I create with zippers. 4) It is fast and easy to slap on my carry-on. More and more domestic flights do not have space for even carry-on approved size bags and you are forced to gate check them. I feel better knowing that my gate checked valuables (jewelry, medicine, work files, etc.) are all safe and locked when not directly by my seat on the plane. and 5) It allows me to create a "locked safe" in my room if the hotel does not provide one. I can keep some valuables locked in my bag and leave my room with some comfort. All that is more than worth the $20.00 price tag on "The Lock." It is also perfectly sized to be a stocking stuffer.
Gift Number 5: Baggallini Zip-Out Shopping Tote Bagg. I don't know that I would call this one a Tote Bagg. To me it is more like collapsible luggage. I throw it in my "real luggage" before I leave home and then once I start WanderShopping, this bag comes out and my new purchases start being loaded in to it. It also has a spot for a lock and works nicely with the one I recommend above. To be clear, this is never going to be a hard-sided piece of luggage, but it will work great for clothes, blankets, scarves and other items that are flexible and non-breakable. Sometimes, I move my clothes into it and but the more breakable souvenirs in their place in my more sturdy bags. The point is, it's really nice to have something to go to when I start packing up my hotel room and notice that my zipper won't shut on myoriginal bag. When I have the Baggallini Zip-Out along, I won't be struggling to find a Samsonite dealer open to sell me another bag for a couple hundred dollars. As a WanderShopper, it is good to be prepared for an ever increasing souvenir load and the Baggallini Zip-Out Shopping Tote Bagg does that for only $32.99 and it is available in 7 colors today.
Happy Holiday shopping today, WanderShoppers. Make me proud! What item did you snag today on Cyber Monday? On the WanderShopper Guide or otherwise?
Photo credits:
Cyber Shopping Image from skograndpr.blogspot.com
Product images all from eBags