Who needs taking supplements when you can just drink them? Eppa SupraFruta Sangria finally figured it out – power pack your booze with antioxidant-rich superfoods – and it's a one sip shop. And it's organic to boot. Eppa (pronounced eh-pah) Sangria, the first premium sangria on the market, could very well be the solution to imbibing guilt-free.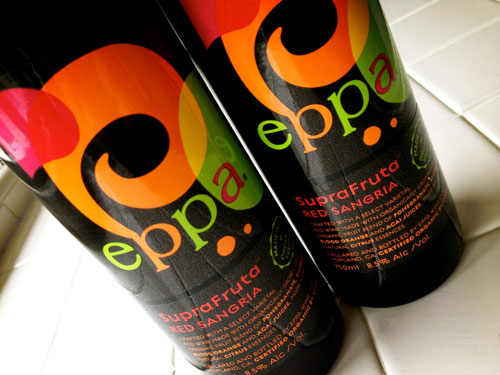 In my world, that's something to bellow "EPPA!" from the rooftops (the word 'eppa' is Spanish colloquialism for "Hooray").
Eppa SupraFruta Sangria begins with Northern California's Mendocino County Cabernet and Syrah grape varietals.
The fruit flavors in Eppa Sangria come from real, organic fruit juices. Here's the breakdown of the superfoods in every glass:
Pomegranate – a good source of vital B-complex vitamins, vitamin C, vitamin K, and minerals like calcium, copper, potassium, and manganese.
Blueberry – packed with Vitamin C, manganese and dietary fiber.
Mediterranean Blood Orange – Vitamin C and Anthocyanin which seems to help lower LDL or "bad" cholesterol levels and keep blood vessels flexible and strong.
Acai – one of the newer superstar 'super foods', full of antioxidants, amino acids and essential fatty acids
Why Antioxidants?
Antioxidants are one of the anti-aging silver bullets. They protect our body from the effects of free radicals (due to pollution, aging, stress, UV radiation, etc) which are unstable molecules that cause many degenerative diseases and pre-mature aging of the skin.
Ready for this health gurus? Eppa Sangria contains nearly twice the antioxidants as a glass of red wine. Now this is news: an alcohol drink that is also a secret to youthful beauty!?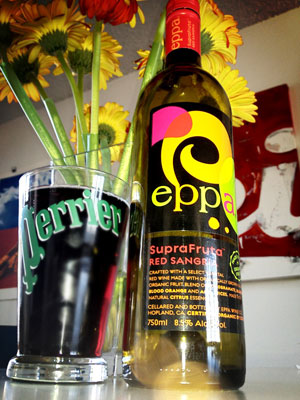 What Does it Mean to Be Organic Sangria?
For a wine or sangria to be labeled organic and bear the USDA organic seal, it must be made from organically grown grapes and organic juices. A wine in this category cannot have any added sulfites. It may have naturally occurring sulfites, but the total sulfite level must be less than 20 parts per million.
One full glass of Eppa (5 oz.) has 120 calories. I like to cut it, 1/4 Eppa to 3/4 sparking water, and add a squeeze a wedge of lime or lemon juice, reducing the calorie content even more and reducing the sweetness.
Eppa Sangria Drink Recipes
Summer is quickly approaching. I can see this being the perfect pool party, baby shower or wedding reception accoutrement (especially if you top it off with some celebratory champagne). Worried about staining your dress or carpet at your party? Eppa White Sangria is slated to launch in April 2013.
Girl from Eppa-nema Sangria
.5 oz fresh lime juice
.75 oz simple syrup
1.0 oz Cachaça (Brazilian Rum)
2.0 oz EPPA SANGRIA
2 dashes angostura bitters
3 mint sprigs
Combine all ingredients in a cocktail shaker. Shake vigorously for 30 seconds. Double strain in a coupe or champagne glass. Top with soda or prosecco (optional). Garnish with a mint sprig.
Shall We Dance Eppa Sangria
.5 oz fresh ginger juice (or 2 muddled quarter size chunks)
.5 oz apple cider
1.0 oz fresh lemon juice
1.0 oz simple syrup
2.5 oz EPPA SANGRIA
2 thyme sprigs
Combine all ingredients except for EPPA SANGRIA in a shaker. Shake vigorously for 30 seconds. Double strain into a collins glass over ice. Slowly pour EPPA SANGRIA over top as a float. Garnish with a lemon twist and thyme sprig.
Eppa-phany Punch
.5 oz lemon juice
.5 oz simple syrup
1.0 oz fresh pineapple juice
2-3 cardamom pods
2.0 oz EPPA SANGRIA
In a tin, muddle the cardamom pods. Add the rest of the ingredients. Shake vigorously for 30 seconds. Double strain over ice in a wine glass. Garnish with a pineapple leaf.
Head HERE to find out where to buy Eppa Sangria.
Disclaimer: This was a sponsored post. Cocktail recipes via Eppa, cocktail names my own.