This Saturday, July 14th is Bastille Day or as the French call it Le 14 Juillet. Bastille Day is like our 4th of July. It commemorates the day in 1789 when the French Revolution began as the citizens stormed the Bastille prison and eventually overthrew the corrupt royalty like Marie Antoinette.
Instead of losing your head as she did, better to toast Viva La France with these French liquors on Bastille Day:
Pastis – In tribute to the south of France, pastis served over ice with a splash of water was made famous there. Pastis is similar in taste to Italian Sambuca as its dominant flavor is black licorice, but it is also made with star anise from China, seed anise from Turkey, fennel, and sage.
How to drink: This is also traditionally an aperitif in France but on July 14th, you can bet many French will be drinking this all day long or during a game of Pétanque. And just a hot tip to be forewarned about with pastis: it is usually clear, when you add water, it turns a milky color.
La Troussépinète –  Coming from Vendée, a coastal region North of Cognac, the wines of this area were not too great. As a way to make their wines more palatable (and this was a common tradition in the upper classes as well to flavor their wine with spices), the farmers of the area used a naturally growing plant to infuse the wine: blackthorn bushes. The French word for blackthorn bush is épinète.
How to drink: The French would drink this as an aperitif in small glass. I like this as a summer drink by adding ice and sparkling water and a twist of lemon.
Calvados – Made in the Normandie region of France, this apple brandy can cure colds or just the blues. Calvados is the basis of the tradition of le trou Normand, or "the Norman hole" (think huge meals of 10 plus courses). This is a small drink of Calvados taken between courses in a very long meal, sometimes with apple sorbet, supposed to re-awaken the appetite.
How to Drink: Now Calvados is served after the meal as a digestif served neat in snifter. I like to drink Calavados with a splash of Tonic water and ice.
Absinthe – Yes this is the liquor aka the Green Fairy that Van Gogh was drinking when he cut off his ear. Originally, absinthe was made of an herb that had hallucinogenic powers but the absinthe available in U.S does not contain it. It also has an anise-herbal flavor.
How to Drink: Many bars throughout France still serve it traditionally from a beautiful glass dispenser poured over a sugar cube and then the sugar cube is lit on fire. After the fire goes out, stir the melted sugar cube in the Absinthe which also creates a cloudy appearance. It is traditionally an after-dinner drink.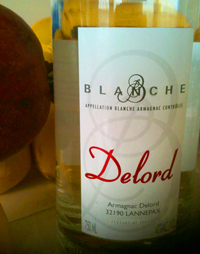 Armagnac – Armagnac is a brandy made in the Armagnac region of France, specifically in Gascony, southwestern France. It is made of grapes and then aged in oak barrels. Normally it is not a base spirit until recently with the launch of Blanche Armagnac. Blanche (white) Armagnac can be used in punches and cocktails like you would a rum or vodka.
How to Drink: It is a digestif and served in a snifter glass, most typically neat.
For more on gourmet French liquors, check out Heavenly Spirits.
Happy Bastille Day 2012!
Photos are the authors.