LIBATION: HelloCello Limoncello di Sonoma
LIQUID TRAVEL DESTINATION:  Sonoma, CA
LEGACY: From corporate to craftsmen, Fred and Amy Groth moved from Boulder to Sonoma, with two small children in tote, to follow their passion of creating Sonoma's first and only limoncello.
Riffing on the typical Italian disgestif, the Groths infused Hellocello Limoncello di Sonoma with a California wine country twist. Instead of grain neutral spirits, sugar and the most cost-effective fruits, they use grape based brandy, agave and 100% organic fruits all locally sourced. (Peeled by locals too at their citrus peel party bashes!)

Limoncello di Sonoma was such a success they went back to their sunshine yellow lab in a warehouse district on the outskirts of Sonoma and created BelloCello, an orange flavored brandy with aphrodisiac herbs, and a personal favorite of mine, the FigCello. You guessed it, FigCello is a fig liqueur in which the syrupy fig fruit flavor is deliciously balanced by notes of anise and citrus.
Although summer is waning, there are a few more weeks to squeeze in a swinging pool party with this naughty cocktail made with HelloCello Limoncello di Sonoma.
Skinny Dip
1 oz. Limoncello di Sonoma
2 oz. Junipero Gin
5 Pieces of Cucumber
¼ oz Freshly squeezed lemon juice
½ oz. Simple Syrup
2 Lemon verbena leaves
2 Spearmint leaves
3 oz. Club Soda
Muddle lemon verbena leaves with gin and limoncello. Add remaining ingredients, except soda water, in an ice filled cocktail shaker. Shake lightly. Pour into a tall glass (preferably a tiki-themed glass), top with club soda and garnish with edible flowers or sunflower petals.
LOCAL LOWDOWN: When visiting Sonoma, call ahead to arrange a tasting appointment with Fred & Amy at HelloCello's warehouse as they don't have a public tasting room. Plan to be there for a few hours, fun-loving Fred likes to showcase his mean mixologist skills.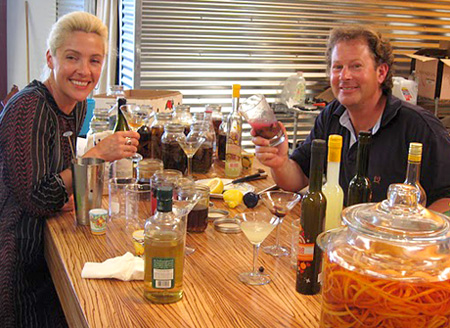 For more recipes and where to get your own liquid sunshine, visit www.hellosonoma.com
Stay tuned for BelloCello's bombshell of a margarita recipe…