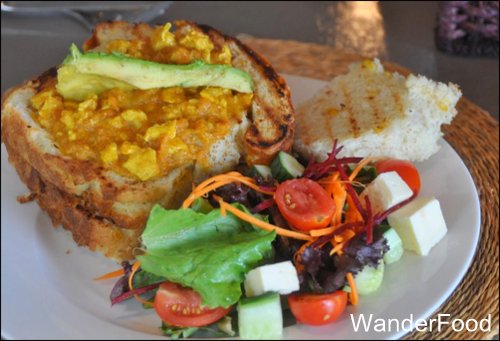 Some of my favorite souvenirs I brought back from Africa are my Swazi candles. These handmade candles are created using the same technique as Venice's Murano glass, using beads of wax, in this case, to craft what looks like stained glass when lit. You can find these gorgeous glowing candles in the States, for a hefty chunk of change. But my second favorite souvenir from South Africa is something you can't find here for any amount of money: Bunny Chow.
My first Bunny Chow experience was in the cafe adjoining the Swazi Candle shop in Swaziland, so the two memories are forever entwined. I look at my beautiful candles, and without fail, I crave curry. Sigh.
Bunny Chow is a savory reflection of the Indian-African-European cultural fusion that defines present-day Africa's food scene. It was created sometime during the 1940's in Durban, home to a large Indian community, as fast-food. You hollowed out a loaf of bread, filled it with rich curry, and took it to work with you. The first Bunny Chow was vegetarian, with meat coming in later as the Africans and Europeans got hold of this wonderful stuff.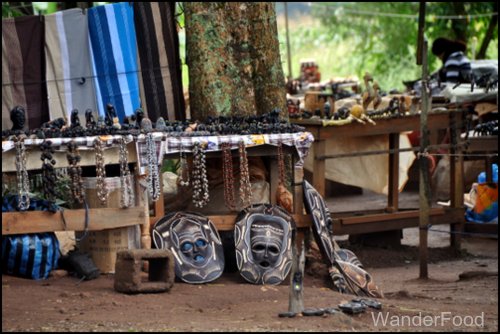 Fortunately, Bunny Chow isn't hard to make. All you need is:
Bread bowls (or hollowed out loaves)
1 medium onion, chopped
2 carrots, chopped
2 tomatoes, chopped
3 potatoes, cubed
1/2 lb ground lamb
1 Tb vegetable oil
2-3 curry leaves (check your Indian grocery store)
1 cinnamon stick
4 green cardamom pods, lightly crushed
1.5 tsp garlic
1.5 tsp ginger
1 tsp turmeric
2 tsp garam masala
4 tsp curry powder
salt and pepper to taste
*Optional: Top with cilantro and sliced avocado as shown
Directions
Heat the oil, cinnamon stick, cardamom pods, onion and curry leaves and fry until the onion is golden brown.
Add the rest of the spices until fragrant.
Add lamb and the remaining ingredients ( potatoes, tomato and carrots).
Cook over medium heat, stirring occasionally, until the potatoes and carrots are tender. Add salt and pepper to taste.
Serve in a bread bowl and garnish with cilantro and sliced avocado!
What's your favorite culinary souvenir from your travels? Tell me in the comments section, and if you link to a food or travel post, I'll share it with my WanderFood audience on Facebook!