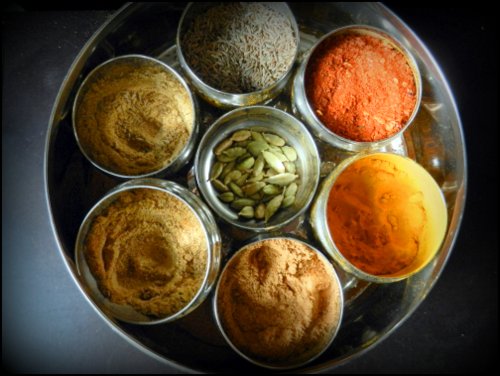 It's not often I get to properly geek out with someone over cooking, much less cooking Indian food. To have a proper geek out session, you need to find someone as exuberant as you are, with a few quirky notions of their own. Like me for example, I make nachos out of anything – and did you catch my Sfiha tacos? Jahnavi, the writer and home chef behind the blog Indian Khana Made Easy, is similarly fearless. Last weekend we finally got together over Skype to talk about what I consider to be among the most challenging of the world's cuisines: Indian.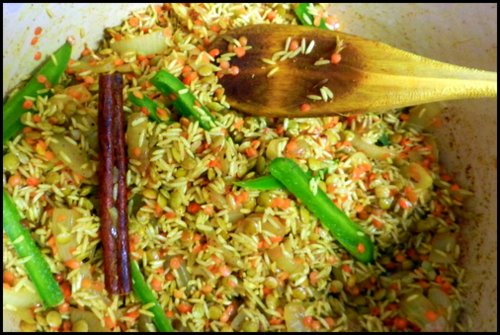 Jahnavi has made it her blog's mission to take the intimidation factor down around cooking Indian food. When I was just starting out, wanting to make Saag, I looked at the long list of spices and thought "Well, this is going to be my most expensive spinach dip ever." Then there was the grinding (I go old-school with mortar and pestle, Jahnavi very wisely uses a Magic Bullet) and careful measuring, and I think that saag took me 3 hours. I've gotten faster, the prep has gotten shorter, and now that I've bought all the spices, the major investment has been made. But it's still far from "easy." Indian Khana Made Easy might change that.
WF: How did you start blogging about Indian food?
Jahnavi: When I was thinking about doing this blog, I wanted it to encompass what Indian cooking is about. I love the spices, techniques and ingredients involved, and the regional variations. My background is South Indian in Hyderabad, and I also grew up in Delhi, which is Northern. A lot of my cooking combines the two, and I'm always trying to expand it because there's also western and eastern cooking. Indian Khana Made Easy is a play on words – "Khana" means food in Hindi, so it's Indian food made easy.
The blog is a combined effort. My mother is the mastermind behind the recipes; I'm the taste-tester, photographer and videographer. Once she writes the recipe, I try it on my own so I know what I'm writing about. When she started contributing recipes to the blog, I said "you can't just tell me 'a pinch of this,' 'a pinch of that,' – we need measurements!" I measure everything now. Over time I've learned to do the measuring myself without the utensils, but when you're learning, you want to know if it's a teaspoon or a cup.
WF: Indian food generally isn't easy! How do you make it easier for newbs like me?
Jahnavi: Once you familiarize yourself with the spices, ingredients and basic techniques, it's not that complicated. It just seems that way because it's foreign to you. So start by incorporating things one by one – like my basic recipe for naan pizza, or uttapam pops with American pancake mix. It's baby steps to learning about Indian cooking.
WF: You've mentioned a lot of new Indian food blogs popping up in the blogosphere, and food blogging being a fairly saturated market, how do you set yourself apart?
Jahnavi: One thing I've done is to blog about Indian food in a way that's approachable, even if you don't live anywhere near an Indian grocery store. Over the years, my mom has accumulated so many recipes with shortcuts she uses in our kitchen, like when you can use a microwave or use an easier-to-find ingredient to get the same effect. Like with our Baingan Bharta recipe – the eggplant is roasted over fire to get a smoky flavor, then infused with onions, tomatoes and coriander and made into a gravy. It's sometimes called Indian Babaganoush. It takes forever. So we take that eggplant, chop it up, cook it with the oil and spices, and at the end add in some BBQ sauce to get that same smoky flavor. It cuts 30 minutes off of your cooking time.
WF: The hardest part of learning Indian recipes for me was the spices – the sheer number of spices. 
Jahnavi: A lot of the traditional recipes use a lot of spices, but if you don't have all of them at home, there are substitutes you can use. Parsley instead of coriander may have a different flavor, but you'll still learn the Indian techniques if you use it as a substitute. On Indian Khana Made Easy, I have a page we call the "Spice Rack" which explains all the different spices and lentil varieties. When you use blends like Garam Masala, we tell you what's in it.
I'll be sharing more of this interview, and more recipes – including a Masters Class on Indian Spices from Jahnavi – later this week. But for now, I have to share this delicious lentil and rice recipe for Khichdi.
Here's how mine turned out – DELICIOUS! While all of Indian Khana's recipes are vegetarian (and a lot are gluten-free), I confess to adding 3 cups of chicken stock to this puppy and feeling my way through the spice amounts. This makes enough to feed a large Indian family, so if you're running short on Indian family members, cut it in half, plan for leftovers, or be the star of your next Potluck party.
Don't forget to join the link party that is WanderFood Wednesday! We're going back to Mister Linky this week, so you can share your goodies via a blast from the past.