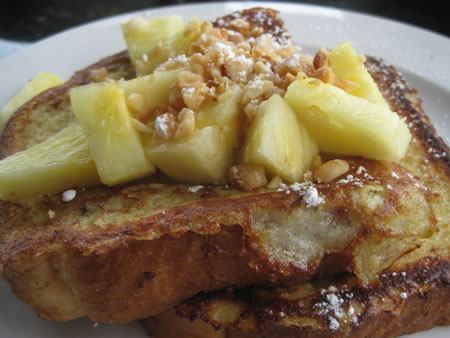 I know you can taste the pineapple atop this french toast. I can.
This is Sweet Bread French Toast served at the Kalaheo Cafe & Coffee Company on Kauai. In addition to the pineapple, this was sprinkled with powdered sugar and topped with macadamia nuts (mac nuts, as the locals call them).
This was so amazing, that I had this two days in a row (along with side of fresh fruit).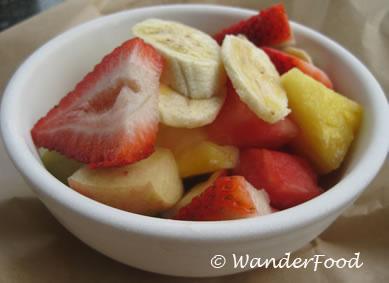 The restaurant is packed every day of the week, but the turnover is frequent and it's easy to find seating, either inside or out on their sidewalk, where tables and chairs are set up.
Kalahe Cafe & Coffee Company
2-2560 Kaumualii Highway
Kalaheo, HI 96741
(808) 332-5858
Please join WanderFood Wednesday by adding a link to your food-related post. If you're a newbie, see more about WanderFood Wednesday here.
Life's Short, Eat Well!
Like to eat? Subscribe to the WanderFood RSS feed or enter your email address at right to keep up on ethnic eats around the world.
[mrlinky owner=wanderfood postid=30Jun2010 meme=2888]