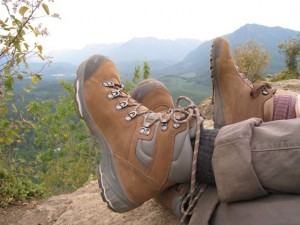 My wife has had the exact same hiking boots ever since we first started seeing each other 15 years ago, a pair of Vasque Sundowners, which she has hiked well over a thousand miles in.  During the same time period, I've gone through two pairs of boots and two pairs of low hikers, none of which I've ever been completely satisfied with.  I have always been envious of my wife's Vasques, (she does, after all, mention how much she loves them every hiking season) but every time I tried a pair on in the store, they felt a little narrow.  When I asked the salesperson if they came in a wide I was told they would have to special order and it would take weeks and at that point my eyes would glaze over and I would blindly purchase whatever boots happened to be in stock.  Foolish me.  These days it's much easier to get boots in the width that you want.  So when I got the chance to try out a pair of  the new Vasque St. Elias GTX backpacking boots, I asked for the wides and picked two hikes to test them out on.
Vasque has been making hiking boots since 1965 and the St. Elias GTX is their lightest backpacking boot to date.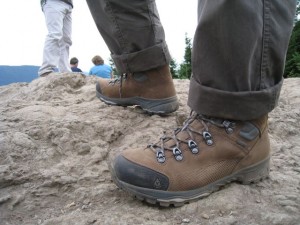 Weighing in at 3lbs 1oz, it is slightly heavier than their hiking boots (which range from 2lbs 6oz – 2lbs 9oz) but still light enough to be used on a long day hike.  It is made with all leather, gore-tex, and a newly designed midsole system with a Vibram* sole that is specific to Vasque.  This system allows the boot to be lightweight and flexible but still provide the support you need in a backpacking boot.  In my opinion, it is the most comfortable boot I've ever owned.
The first thing I noticed when I took them out of the box is that the rubber toe cap is actually sewn in place instead of just being glued on top of the leather upper. The next two things I noticed (after putting them on) were …Wow these feel comfortable and Hmmm they are a little higher than the boots I'm used to wearing.  Vasque claims that their boots are comfortable right out of the box. So, rather than wearing them around the house and in my back yard for a week before hitting the trail, I made no attempt to break these boots in.
The first hike I tested them out on was Rattlesnake Ledge, a short (4 mile round trip) moderate hike with just over 1,000 feet of elevation gain that can honestly be done in a decent pair of tennis shoes.  I loose laced the boots (because of their height and how they rubbed my ankle) and wore lightweight socks (a mistake on my part).  I have to say that I was a little cavalier about the fit of the boots the first time out and encountered a bit of heel slippage on the first half of the trail.  I re-laced (tightening them up) and resolved that problem, but then the left boot started to cut off some of the circulation to my foot. This was not a huge issue on such a short hike and to be honest was more my fault (in terms of sock choice) than a problem with the boots.  Other than that, the boots felt great, very comfortable, the height and how they rubbed my ankle was not too much of a problem although I did notice it. All in all I was impressed and was ready to take them across some more challenging terrain.
Next up was Mount Pilchuck, a slightly longer (5.5 mile round trip), "moderate" (I'm a little out of shape this summer) hike with just over 2,000 feet of elevation gain.  I wised up this time and wore heavier socks, which
completely eliminated the heel slippage, over-tightening and circulation issues I encountered on the first hike. This time out, the boots fit perfectly and felt great.  Large sections of this trail are incredibly rocky, at times cutting through boulder fields and this is where these boots really shined. I never had a problem navigating the uneven terrain and my feet never felt tired or sore. These boots were meant for this kind of hiking: great traction, phenomenal stability and total comfort.
The only issue I did have was the height of the boots and how they hit me above the ankle, especially on the descent. I appreciate the height in terms of the ankle support that it provides, (really appreciate that, nobody wants a twisted ankle) but this is one area where either the boots need a little break-in time or you need to get used to where they hit you. Again, for such a short hike this was not a real issue, but I would definitely want to spend some time in these boots before heading out on a multi-day backpacking trip.
These are great boots, and I would highly recommend them, even if you're not a backpacker.  They are light enough to be used for day hiking, but will still give you the support you need if you decide to go out for longer. I'm hoping I can get 15 years out of them.
The good
Available in narrow, medium, and wide
lightweight
Incredibly comfortable
Good traction
Good stability
Should last a long time
The bad
because of the height, the top of the boot needs a little break in/getting used to
Would I recommend them: Absolutely
Available at Amazon for about $189.00
If you are interested in a more athletic shoe, check out some of Vasque's other product lines, I doubt you will be disappointed.
The more you know: Vibram soles were originally developed in the late thirties by the company's founder Vitale Bramani, partially in response to an expedition into the Italian alps during which six of Bramani's fellow climbers died of exposure.