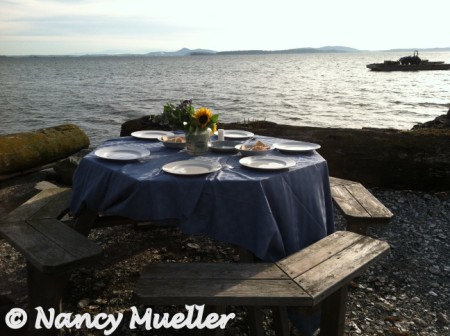 Start at the scenic seashore of Samish Bay,WA. Place a few sunflower-topped picnic tables and a BBQ nearby. Add a popular oyster shell lighthouse, friendly welcoming party and a hands-on shellfish cooking demonstration. Flavor with a few of your favorite new friends and a stunning sunset.
Presto! You have all the makings for a memorable meal at Taylor Shellfish Farms, thanks to Bellingham Whatcom County Tourism.
Recognized as the largest shellfish company in North America, Taylor Shellfish farms is a fifth generation family-owned operation with headquarters in Shelton, WA. Here in Samish Bay, just south of Bellingham, the local operation sits on 1,700 acres of tideflats where they produce Manila clams, oysters and geoduck (pronounced "gooey" duck).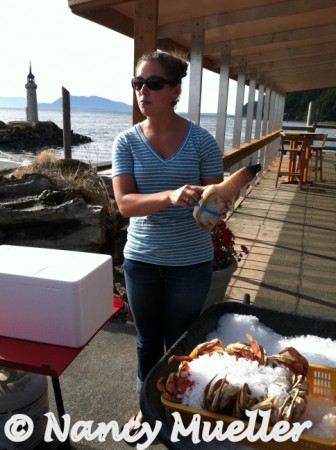 The Northwest geoduck is a marvel all its own. Native to Washington State and British Columbia, this saltwater clam is the largest burrowing clam in the world. More than a few jokes have been made about the length of its siphon that can extend several feet beyond its shell. Let's just say that my introduction to the geoduck came from a roommate who had strategically placed one in our otherwise empty dorm refrigerator. Predictably, when I opened the door,  I screamed.
First impressions aside, on this evening at Taylor Shellfish Farms, we soon discover that geoduck is one tasty morsel, thanks to the demonstration by our hosts Nicole Hopper and Jon Rowley. After carefully slicing the muscle away from the clam shell, the geoduck is placed in boiling water for about 20 seconds, just long enough to allow us to remove the skin. Afterwards, we slice the siphon into quarter-inch pieces which we then dip in a little soy sauce and wasabi for a raw crunchy snack before our main meal. Mmm . . .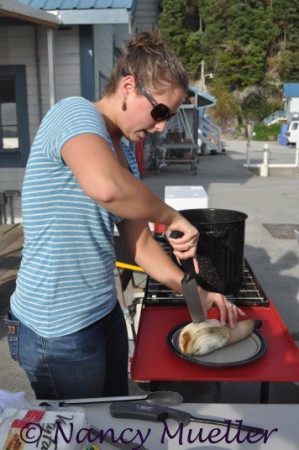 Meanwhile, Nicole has cut up the soft belly of the geoduck, covering it with a lime juice marinade before mixing in 2 cups of tomatoes, 2 onions, 1 cucumber, radishes, 2 cloves of garlic and a jalapeno pepper for the ceviche.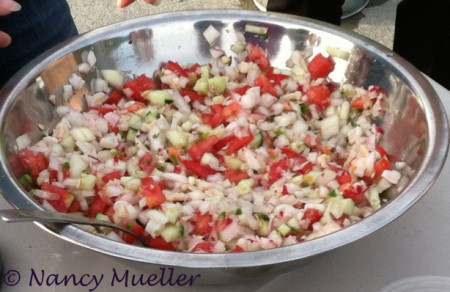 Jon continues the cooking demonstration by showing us how to crack a crab. First, we carefully pull the head off from the back.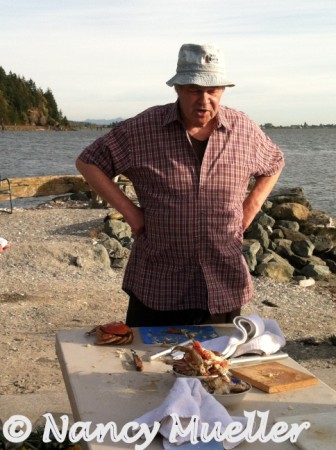 Now for the messy part . . . We remove the insides before breaking the crab in two,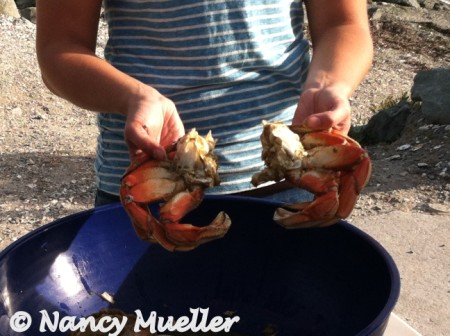 then snap off the crab legs one by one. Jon presents each of us with a homemade stainless steel tool for gently cracking open the legs. "Gently" is the key word of advice here which in my haste I failed to follow, inadvertently smashing my crab legs into smithereens. Oops. Easy does it.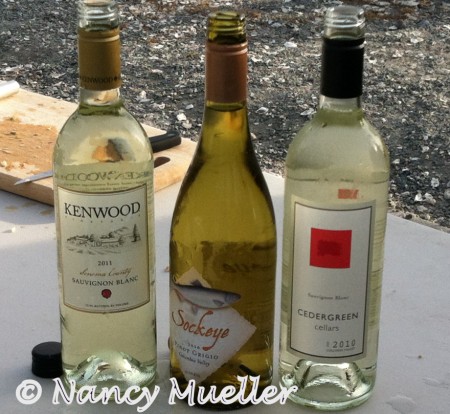 Still ahead is a lesson in how to shuck oysters and remove the beard of a mussel. But for now, we're ready to clean up, pour a glass of  Sauvignon Blanc or Pinot Grigio and enjoy the evening sunset.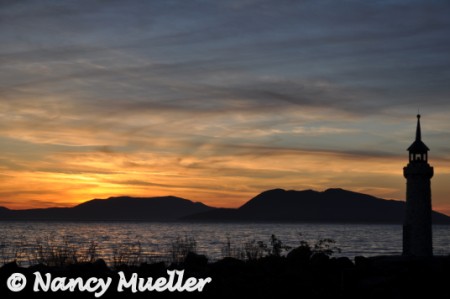 Do you have a favorite memorable meal to share with us, Wanderboomers?