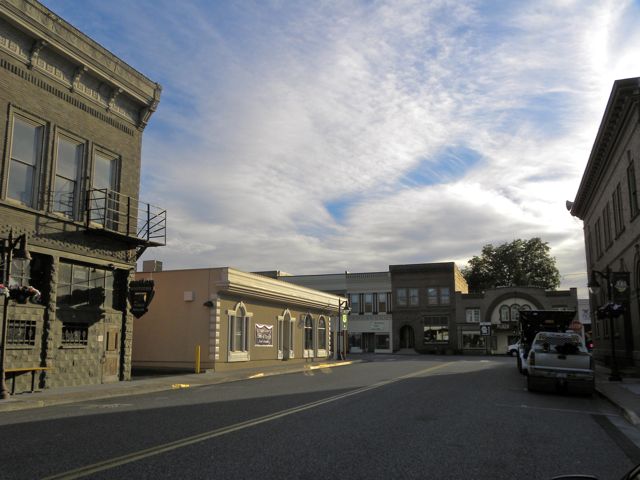 With a population of 1,200 and city limits less than a square mile, Waitsburg, Washington, should barely be on the map. Yet this postage stamp of a town in the southeast corner of the state is drawing people from near and far with its new wave of big city food and cocktails. A town of wheat farmers who now share their space with a hip new crowd of foodies, artists, winemakers, and chefs, Waitsburg is a must for anyone visiting the Walla Walla Valley.
The current Waitsburg boom began back in 2005 when several Seattleites–two from the acclaimed Café Campagne–opened the Whoopemup Hollow Café, serving southern-style food on the edge of town. Two years later, Jim German–another Campagne expat–opened jimgermanbar across the street, mixing up cocktails to rival the best in Seattle.
I had been hearing about the food scene in Waitsburg for a couple of years before I actually made it there for the first time earlier this summer. Considering that all of my trips to the Valley had always consisted of just one or two nights–three if I was lucky–I never felt I had time to make it out to Waitsburg, which is 21 miles north of Walla Walla on winding two-lane country roads. I've now been there twice.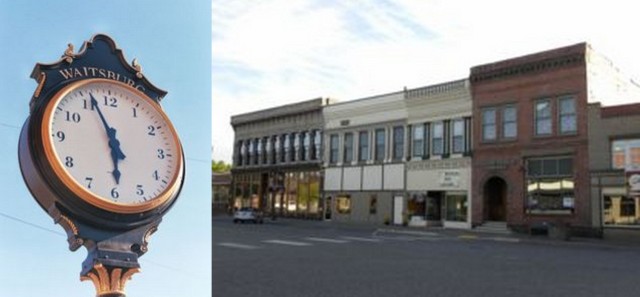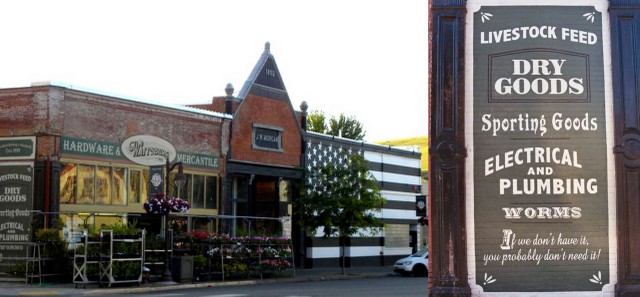 Driving into Waitsburg, one passes through a small residential area before coming to Main Street, a typical small-town hub with a slow trickle of cars and the sound of people's voices and footsteps almost echoing in the quiet street. The faint scent of popcorn and candy was eerie as I walked along an empty row of businesses on a recent hot summer afternoon until I realized that I had passed a candy shop now closed for the day. The still, humid air and the silence were soon interrupted by a roar of Harleys passing by, reminding me that there is still life in this small town. I just happened to be there in that wasteland between business hours and the dinner rush.
After two dinners on the patio of the Whoopemup Hollow Café in recent months, I can say that there's no better place to be on a hot afternoon in this part of the Northwest. It's the type of place where upon being seated, you order something to drink right away–perhaps a beer from the nearby craft brewery Laht Neppur Brewing or a refreshing bottle of slightly effervescent La Perlina, Moscato d'Asti–and sit back, allowing yourself to switch from a mode of back-to-back winery visits to a slow-paced night out.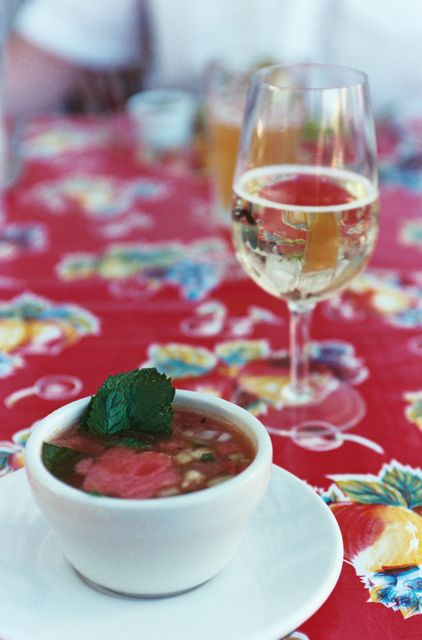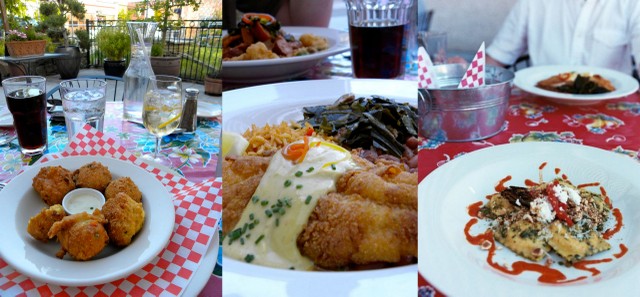 My husband and I learned the first time around that whether we order a summer special, such as watermelon gazpacho, or something more classic such as hushpuppies as an appetizer, we need to be sure to save room for the main course. The hushpuppies themselves are almost a meal for two, and portion sizes in general are large. Entrees range from jambalaya and cornmeal-crusted catfish to handmade ravioli with cheese from the nearby Monteillet Fromagerie.
During one of our visits to Waitsburg, my husband and I were lucky to have grandparents watching our son back at the hotel in Walla Walla for the evening, so after dinner we crossed the street over to jimgermanbar. Stepping inside and taking a seat at the bar, we commented on how wild it was to feel like we'd been transported from small-town Waitsburg to a big city, with the bar's hip vibe and vibrant energy in stark contrast to the stillness just outside. Jim and his wife, Claire Johnston, were in constant motion the entire evening, mixing up the cocktails that have earned the bar national acclaim and small plates.
Had it been open by the time we left jimgermanbar, Anchor Bar–owned by winemaker Charles Smith–would have been our final stop in Waitsburg before making the late-night drive back to Walla Walla. Owned by winemaker Charles Smith, Anchor Bar promises "Americana at its best" beyond its black and white flag-painted facade, with "pinball, booze, music and homemade food." But it was already late by the time we left jimgermanbar, and Jim had knowingly warned us about the deer that are known to appear on the road on the drive back to Walla Walla.
Looking back at our visits to Waitsburg, I'm glad we ventured outside of our usual stops and tried something new. Though Walla Walla continues to offer more and more excellent food, it's worth taking an evening to get a little out of town and check out all that Waitsburg has to offer.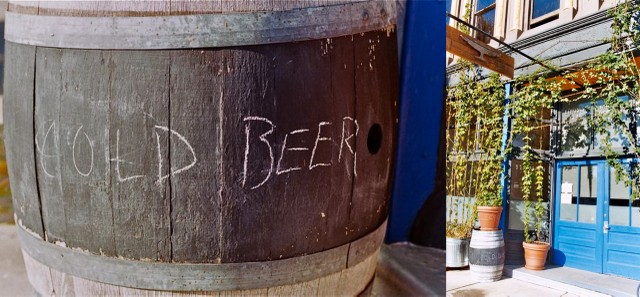 (Full disclosure: Tourism Walla Walla provided one of our two meals at Whoopemup Hollow Café.)