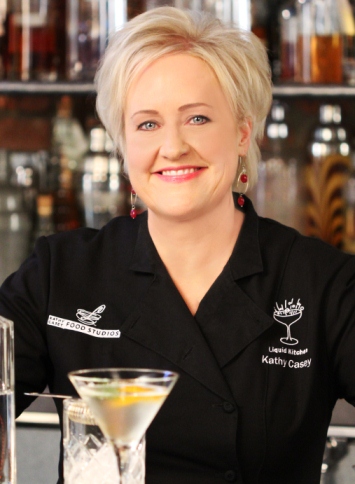 They say that summer in Seattle arrives on July 5–leaving us waiting and waiting until the Fourth of July holiday, and then treating us to its lovely sunny days for at least a couple of months. This year I'm not so sure that it's actually officially arrived. Sure, we've had sunshine and some pleasant temperatures, but we've also had our share of overcast skies and thunderstorms. Still, however, it's worth being ready to take advantage of sunny days each and every time they come.
For a little summer food inspiration, I got in touch with Northwest celebrity chef Kathy Casey. Kathy was one of the first female executive chefs in the United States and was influential in bringing the cuisine of the Pacific Northwest to national prominence. Just as I suspected, she is full of great ideas for where and what to eat this summer if you happen to be in the Seattle area. Read on for inspiration–as well as a few recipes.
DS: When it comes to Northwest summer foods, what are you eating and drinking right now?
KC: Lots and lots of berries! I especially love Northwest raspberries eaten right off of my fingers. And I always have been a huge vegetable lover, so I'm eating tons of local veggies and lots of hearty greens like lacinato kale and red chard every day. For drinks, Cherry Mojitos or Summer Sangria made with local wine and cherries are one of my summer favorites—and my recipe makes a big pitcher of them. I like to add some fresh basil along with the mint.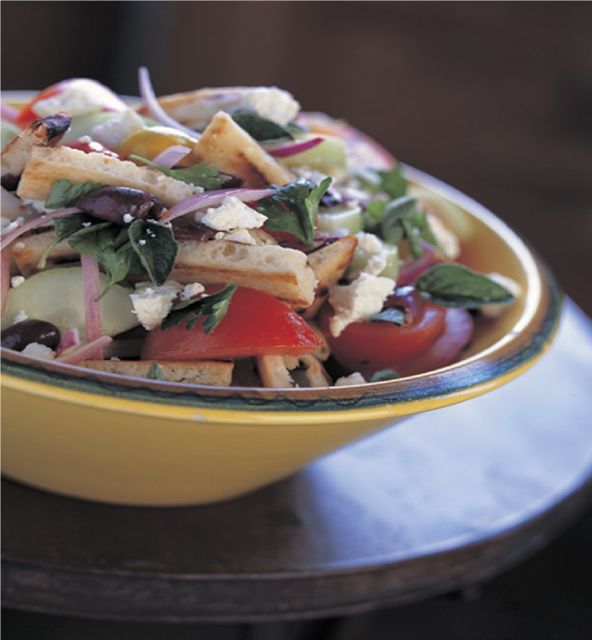 DS: How would you suggest making the most of what's available in the Northwest in the summer?
KC: Well, eat as much of it as you can while you can! … And then put up the rest to enjoy all year. Make jams, preserves and pickles, and freeze things, too. There is a great group called Canvolution; its website is www.canningacrossamerica.com if you want to learn more.
DS: What are your favorite restaurants for summer dining?
KC: I love the patio at Volterra in Ballard for weekend brunch. Revel in Fremont also has a great outdoor seating area for dinner and cocktails.
DS: How has the Northwest food scene changed in the years you've worked in it?
KC: Years ago, when Northwest food started coming onto the national scene, there were farmers and producers visiting chefs and cool local products were going onto menus. The whole farm-to-table movement just never really got much media attention back then. I used to buy huckleberries and wild edibles from the Love Israel Family commune folks, and Sally Jackson used to send postcards when she was coming over the mountains into town with cheese (she had no electricity or phone then). The 80s were the Wild West of Northwest cuisine then. Chefs and restaurateurs like Bruce Naftaly, Robert Rosellini, Phillip Sinclair (in BC), Wayne Ludvigsen, Tom Douglas and myself were doing the local thing and interest in Northwest cuisine started to come onto the national scene. Jon Rowley Seafood Guru and Harry Yoshimura and his Dad Dick at Mutual Fish were responsible for getting people educated about fresh local seafood.
Back then it was almost impossible for a chef to get a restaurant financed unless there was some family money. Today it is great to see so many chefs in their own restaurants. I think that, with the elevation of the chef and so many people interested in food, getting your dream realized and people to believe and invest is easier.
I love that the producers are getting much due accolades and recognition and that chefs and restaurateurs are so into great high-quality local dining. The proliferation of small neighborhood restaurants is lovely. Pretty much no matter where you live now, there is sure to be great food in your neighborhood.
The diners have definitely changed as much as the food scene. They expect local and sustainable products on menus and are more educated about food.
And it's not just the food that has changed with the times but also the beverages. We are so lucky to have such amazing locally produced wine, beers and now local spirits. It's important today to have just as cool a cocktail menu as food menu. It's what I have always said and practiced: the beverage menu needs to be complementary to the food, unique, and as exciting as your main menu.
From amazing restaurants to grocery stores to farmers markets to canning groups to cookbook dinner groups … it's so exciting to be in what I feel is the glory times of our local food scene.
DS: What are your must-do travel tips for visitors to the Northwest?
KC: Visit Ballard on a Sunday and stroll the farmers market after having brunch on the patio at Volterra. Walk around Fishermen's Terminal and eat fish and chips. Eat dinner at Revel in Fremont and sit outside and enjoy a warm (hopefully! LOL) Seattle summer's eve. Go to Capitol Hill for drinks: cocktails and bites at Tavern Law (and check out the speakeasy upstairs at Needle & Thread); Liberty for a barrel-aged cocktail; and Canon for an amazing whisky list.
DS: Finally, will you please share a favorite recipe that celebrates the Northwest summer?
KC: Here are a couple of great recipes that I love for an easy patio party with friends. Whip up a pitcher of Summer Sangria for a crowd, and then fire up the grill for simple Herb and Garlic Grilled Salmon. Serve with Veggie & Grilled Pita Greek Salad made with ripe local tomatoes and Walla Walla Sweet onions.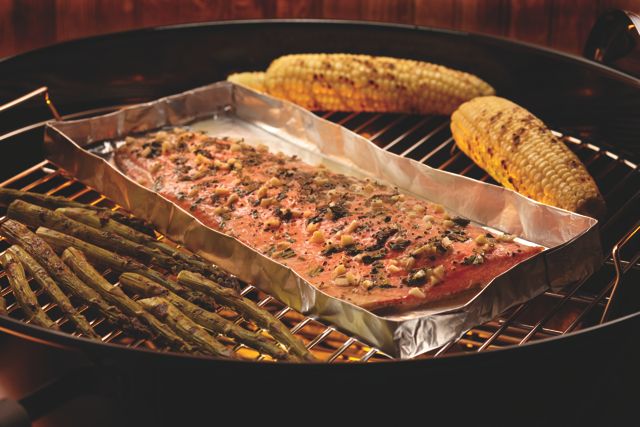 Kathy's recipes:
Summer Sangria
This is sangria recipe is perfect to switch up depending upon the season's fruit. I particularly love it with Northwest cherries or late summer watermelon. See how to make it on an episode of my show Kathy Casey's Liquid Kitchen on www.liquidkitchen.tv.
Makes about 6 servings
1/2 cup Metaxa Brandy
2-3 Tbsp agave nectar (depending upon how sweet you like it)
1 small orange, thinly sliced
1 small lemon, thinly sliced
3 cups pitted cherries or diced watermelon, or other seasonal northwest fruits
1 (750 ml) bottle red wine
In a pitcher, combine all ingredients and stir around with a spoon, crushing some of the fruit. Refrigerate to let the flavors marry for at least 2 hours before serving or overnight. Serve over ice and be sure to get some of the fruit into each serving.
Recipe by Kathy Casey Liquid Kitchen™
Recipe from Kathy Casey's Northwest Table, Chronicle Books
Veggie & Grilled Pita Greek Salad
Strips of fresh grilled peppers are a great addition to this salad.
Makes 6 to 8 servings
3 tablespoons red wine vinegar
6 tablespoons extra-virgin olive oil
Pinch dried red pepper flakes
2 teaspoons minced garlic
1/2 teaspoon salt
1/3 cup (2 ounces) crumbled feta cheese
1 tablespoon chopped fresh oregano
2 large (7-inch) pita breads—without pockets
2 large vine-ripe tomatoes, cut in wedges (about 2 cups)
1 cup thinly sliced Walla Walla Sweet or red onion
1 large cucumber, peeled and sliced crosswise (about 2 cups)
1/3 cup pitted kalamata olives, cut in half
1/4 cup coarsely chopped Italian parsley
Pre-heat the grill.
In a large bowl, whisk together the vinegar, olive oil, pepper flakes, garlic, salt, cheese, and oregano. Set aside.
Place the whole pitas on the hot grill and cook on each side for about 1 1/2 minutes, or until nice grill marks form and pitas are toasty. Remove and cut each pita in half and then into 1-inch strips.
Add the tomatoes, onion, cucumber, olives, parsley, and grilled pita strips to the bowl of vinaigrette and toss together well. Serve immediately.
Recipe by Kathy Casey Food Studios®
Grilled Whole Alaska Salmon Side with Herbs and Garlic
Makes 6 to 8 servings
1 Alaska sockeye salmon side, with skin
1 1/2 teaspoons kosher salt
1/2 teaspoon fresh-ground black pepper
1/2 cup Northwest dry white wine
2 tablespoons melted butter or extra-virgin olive oil
2 tablespoons finely minced fresh garlic
2 – 3 tablespoons chopped fresh herbs, such as basil, oregano, chives
Brush grill to clean it well and lightly oil it.
If using a charcoal grill, load with charcoal briquettes and ignite them; heat grill to medium-high temperature, about 375° to 400°F. If using a gas or propane grill, set to medium-high temperature and heat to about 375° to 400°F.
Bring fish out of refrigerator 15 minutes before cooking. Cut 2 pieces of heavy-duty, wide foil that are much larger than your fish fillet. Stack the pieces shiny side down on a baking sheet. Spray generously with cooking spray.
Pat fish dry with paper towels. Sprinkle with seasoning and rub into the flesh of the salmon.
Place the salmon skin side down in the middle of the foil. If the salmon is too long for your baking sheet or if the tail end is very thin, tuck the tail under. Fold the foil sides all around to make a shallow boat around the salmon; do not fit the foil snug to the fish; leave at least a 1-inch margin.
In a small bowl, mix together the wine, butter, garlic and herbs. Spoon the mixture over the top of the salmon, drizzling with any remaining liquid.
Carefully transfer the foil boat to the center of the pre-heated grill. Cover and cook for about 11 to 13 minutes on a charcoal grill or about 10 to 12 minutes on a gas or propane grill. Do not flip the salmon. Remove from the grill and let rest a few minutes before serving.
You will want to remove your fish from the fire slightly underdone as there is heat carryover and the fish will continue to cook for a few minutes after removing from the heat.
Recipe created by Kathy Casey Food Studios for ASMI.
Thanks, Kathy, for your delicious summer inspiration! If you want to learn more about what Kathy is up to, you can catch her on Twitter (@KathyCaseyChef), blogging at www.dishingwithkathycasey.com, shaking up a cocktail on www.liquidkitchen.tv or at Sips & Apps on Facebook.
Image credits:
First photo courtesy of Kathy Casey
Veggie & Grilled Pita Greek Salad: Photo from Dishing with Kathy Casey
Grilled Whole Alaskan Salmon Side with Herbs and Garlic: Photo from Alaska Seafood Marketing Institute (ASMI)