Are you excited about our upcoming trip to the Tri-Cities?
Yes.
What are you looking forward to?
I get to make my own pizza.
For several weeks prior to our Tri-Cities weekend adventure, whether we were standing in the check-out line at Safeway, playing on the playground, or stopping to pet the random dog on the street, she would announce–to anyone who would listen–I get to make my own pizza. And that's exactly what one 4-year-old girl got to do this past Saturday at Stick+Stone Neapolitan wood-fired pizza in Richland, Washington.
We arrived at the eatery on Duportail Street at noon, hungry and excited. Stick+Stone serves pizza made with fresh dough, salads, appetizers and desserts. They also offer local wines and have several craft beers on tap. We might have been seated for one minute when my daughter queried our dining companion Karisa Sawyers:
When do I get to make the pizza?
Are you going to show me how to make the pizza?
Thus began the line of questioning as she pointed to the server who brought our water, and then Michael Miller who manages the restaurant and stopped by our table to say hello:
Are you going to show me how to make it?
Is he going to show me how to make it?
Until our waitress arrived and started taking our order.
I want to make my own pizza.
What kind do you want to make?
Pepperoni.
Do you want cheese?
No cheese.
Dada was incredulous. No cheese? You love cheese!
No.
A few minutes later her pizza making "kit" arrived and included: one wood paddle with dough, flattened and ready to go, sauce and pepperoni at the ready (and some apples, for snacking I presume).
With that, one 4-year-old chef wannabe was off and running or, more accurately, painting her first pizza.
Next step was careful placement of the much beloved pepperoni.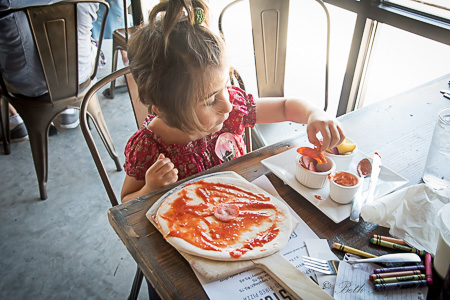 Pizza project underway.
A little taste testing, of course. Any chef worth her salt would do the same.
Okay, so she didn't make her own dough from scratch but thank you Cameron Hall dough maker extraordinaire. Cameron informed us dough tossing wasn't part of his usual routine, but he was willing to do a performance for one very interested little girl.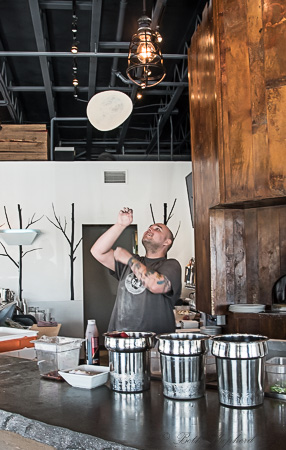 And she didn't place her personal pizza in the scorching (upwards of 900-degrees Fahrenheit in some spots) wood oven. However, she did enjoy watching it circle round and round.
It's like our microwave, Mama.
Pretty soon one happy girl was eating her very own–made pretty much by hand–pizza. She deemed it tasty. Pizza making 101 was a resounding success. Sadly, Bunny was not offered a slice.
If you find yourself in the Tri-Cities, go make yourself a pizza! Stick + Stone is located at 3027 Duportail Street in Richland, across from the Gold's Gym off of Queensgate.
Our pizza-making experience was complimentary and provided by Tri-Cities Visitor and Convention Bureau but all opinions expressed are my own.
And if you want to read more about all things Pampers, follow me on Facebook, Twitter or RSS/email.
Take the road less traveled, Beth