My love for the Caribbean islands is everlasting. The beauty, people and food of the Caribbean have me hooked. Recently I discovered Sweet Hands, a cookbook of recipes from the island of Trinidad and Tobago. Just reading the recipes and looking at the pictures fills me with a wave of nostalgia for the islands.
Sweet Hands: Island Cooking from Trinidad and Tobago
)<img src="http://www.assoc-amazon.com/e/ir?t=httphealingth-20&l=as2&o=1&a=078181250X&camp=217145&creative=399357" width="1" height="1" border="0" alt="" style="border:none !important;margin:0px !
Each island offers its own flavors but many flavors can be found throughout the islands. One example is a Scotch Bonnet pepper, others include lime, coconut or sugarcane. These four flavors just seem synonymous with Caribbean islands. The Caribbean flavors are also impacted by the history of each island. The cultural food influences come from a mixture of local traditions and ingredients, colonial rule and the combined influences of indentures servents brought to the islands during Colonial rule. These include spices and traditions from India, China and African nations. The combination of these cultural influences have created the deep and delightful flavor varieties you find throughout the Caribbean.
Trinidad and Tobago's cooking styles and flavors have been influenced by India, China and several African nations. The national dishes are a mix of Indian and African influence, with Curry, Callilou soup and Roti (an Indian bread) being every day staples. Sweet Hands Cookbook offers far more than just recipes. It offers a glimpse into life on Trinadad and Tobago. It includes a 15 page overview of the island, photographs of the island and of the many recipes included in the cookbook.
Chandra Ballayram's Sadha Roti
According to the recipe this is the simplest version of the various griddle breads called Roti.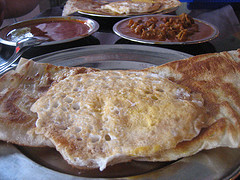 Makes 4 Roti
2 Cups of all purpose flour
2 Tbsp of Baking Powder
Pinch of coarse or kosher salt
1 Tbsp Canola oil
1/2-3/4 C warm water
Combine the flour baking powder and salt. Slowly add your water, until the dough comes together in a soft ball. Knead slowly and add in the oil in a steady stream. Knead intil the dough is smooth, about 2 minutes. Let the dough rest for 15 minutes.
Divide the dough into four parts and let it rest another five minutes. Heat a heavy bottom skillet over medium heat. Roll each ball into a nine inch circle and heat it on the skillet. Flip the dough after 20 seconds, continue cooking and flipping the Roti until it's fluffy and lightly brown. Repeat this procedure with each of the four pieces of dough.
*If your Roti don't puff up then heat them in the microwave for 40 seconds on high. When all Roti are cooked wrap them in a clean towel to stay warm. Roti is traditionally served with curries or stews.
Chinese Five Spice Powder
3 Tbsp whole Sichuan peppercorns
8 Star Anise pods
4 Tbsps Fennel seed
2 4 inch Cinnamon sticks (broken)
3 Cloves
Heat your peppercorns in a dry saute pan over medium heat, swirling often. When they begin releasing a fragrance (less than a minute) remove them from the heat. Grind them in a spice grinder. Add the remaining ingredients and grind them into a fine powder. Store the mixture in an airtight container.

<img src="http://www.assoc-amazon.com/e/ir?t=httphealingth-20&l=as2&o=1&a=078181250X&camp=217153&creative=399353" width="1" height="1" border="0" alt="" style="border:none !important;margin:0px !
This post contains an affiliate link.