Lauren, an American who's held more than 30 jobs around the globe – and one of this year's best travel blogs for working holiday visas – gives working holiday visa advice on the balance between 'work' and 'holiday', and the flexibility needed to find employment in New Zealand, Australia, Ireland and the United Kingdom.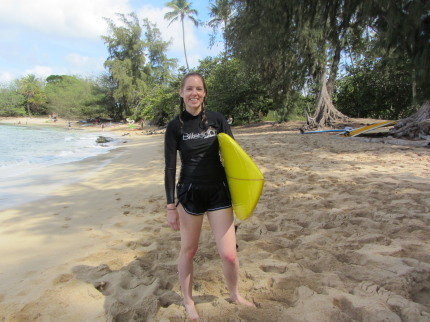 Q: Why did you pick these countries?
A: I chose Ireland based on visa rules. At the time, recent graduates were able to do a combined working holiday in Ireland and Britain; you were allowed to stay in Ireland for four months and Britain for six. The rule was that I could start in Ireland but had to enter Britain by December 31st of the year I graduated from university. I knew that the working holiday visas for Australia and New Zealand were age-based, so I always planned to do those afterwards.
Q: What was the hardest part of the visa process?
A: At the time, my definition of a visa was limited to a credit card. I was only vaguely aware of visa rules (in fact I unintentionally overstayed my visa by three days in the UK) and went through BUNAC for help with organizing the paperwork. At the time the most difficult part was sourcing reference letters, which was actually BUNAC's requirement. I have since applied for visas independently, and while it's never fun, it is achievable.
Q: What kind of work did you do during your visa?
A: In Ireland I caught a bus west to Galway, where I found work as a coffee shop waitress. From there I racked up a number of jobs over the years: admin assistant, membership adviser at a gym, retail, carny, fruit picker, bungee trampoline operator, drug trial recruiter – the list goes on.
Q: How did you find this work?
A: My first working holiday took place when the Internet as we know it was still a baby. I wasn't applying for jobs online; I was hitting the cobbled streets of Galway on foot, resume in hand. It took me three weeks to find work, and I was on the verge of panic. After that I learned an important lesson – have a phone, so potential employers can call you. It seems silly looking back, but my email address was my only point of contact.
After Galway, a friend suggested I sign with temp agencies when I arrived in London. It makes the job search much easier when someone else is doing it on your behalf. In Australia, I found most of my work through word of mouth and hostel notice boards. As the years passed, I depended almost exclusively on the Internet to conduct job searches.
Q: What was your favorite job, and why?
A: I couldn't call any of those jobs favorites, but I'd probably say that my brief stint as a carny has made for some pretty good stories. The best job I ever had wasn't technically a working holiday, but sort of – I also taught English in Korea for two years.
Q: Where do you think are the best places to work in each country, and why?
A: Jobs are easier to find in the bigger cities, like Dublin, Galway, London, or Sydney. However, some of my best experiences were in smaller towns where I happened to land, like Coffs Harbour in Australia. Don't limit yourself in your job search, talk to people, and do your research when choosing a place to settle in. Also be flexible, and be willing to move on if things aren't working out in a certain location.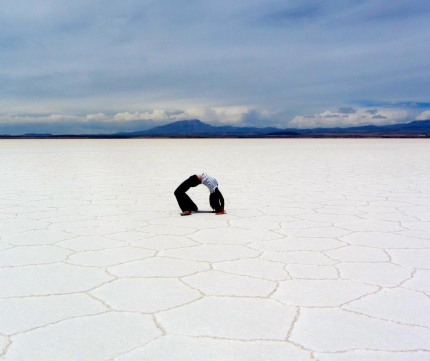 Q: What was your best travel adventure in between jobs?
So many! I was able to visit Egypt and Turkey on (very) extended weekend breaks, plus road trip around Australia, New Zealand, and the UK. From Korea, I visited India, China, Mongolia, and Southeast Asia. Don't forget that it's a working holiday visa – find the balance between the 'work' and 'holiday' part and you're doing it right.
Q: What was the biggest shock settling into this country, during your first few weeks there?
A: I didn't expect to be so caught off guard by the nuances of languages and accents. I speak English, the Irish speak English, so I didn't forsee any problems. That was until someone asked me for a biscuit and I thought they wanted it KFC-style, with gravy, and all I could find was a scone. When they pointed at the chocolate chip cookies I was astounded. And also felt like an idiot.
The other thing that was hard to deal with initially was that it took me much longer to find a job than I had budgeted for. During that first trip to Ireland I spent three weeks job-hunting. I was much more prepared, financially and mentally, for the subsequent working holidays.
Q: How did a working holiday change your future (as, I presume, it has)?
A: In every way. Each working holiday led to the next, and I gained so much confidence along the way. I was so nervous on that first trip to Ireland, and now I trust that it's all going to work out (so far so good). In 2008, I met an Aussie in Bruges – in 2014 I married him in Hawaii. Never would have happened without that first trip to Ireland. I also work for an international education company and my job involves travel to places like Vietnam and Singapore. Without my travel experience I wouldn't have gotten the job. Plus I'm nearly finished editing my memoir about traveling in your 20s (as opposed to quitting your job to travel), which I hope to have available to readers by 2016.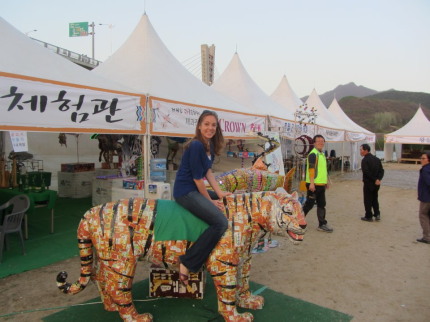 Q: Do you have any advice for people who want to go on a working holiday?
A: Do it.
Check out Lateral Movements for more information and stories on Lauren's multiple work abroad experiences. You can also find Lateral Movements on Twitter, Facebook and Instagram.

Ready to work and volunteer your way around the world? Follow me on Facebook, Twitter and RSS/email. Until the next adventure! ~ Kelli
Photos courtesy of Lateral Movements.