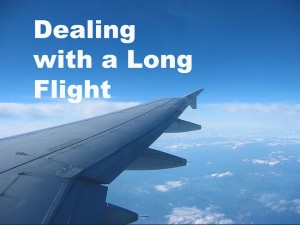 After recently taking an eleven-hour flight from Istanbul to Tokyo, Japan, I've been thinking about ways for the first-time, long flight traveler to get through. I remember my first overnight flight from Chicago to Frankfurt when I was going to study abroad in Venice and how incredibly ready I was to get off the plane by the end of it.
Now I can handle these flights pretty easily—it's something that comes with practice and just spending more time doing it. Here are some tips I've come up with on how to make it through your next overnighter.
Drink Water
Most travel blogs and websites will tell you not to drink alcohol on your flight because it can dehydrate you. It's true that you don't want to get too sloppy on a plane (out of respect for others' as well as dry-mouth), but I might have a beer or a mini-wine as long as I make sure to drink a ton of water. It's a pain getting up and going to the bathroom multiple times during a flight, but you'll be happy when you arrive at your destination feeling great instead of lethargic and potentially sick because you didn't get enough fluids.
Have Multiple Forms of Entertainment
I usually bring a form of non-electronic entertainment (like a book) because it's easy to pull out when you are waiting for a flight and you don't have to worry about turning it off or on. Depending on where I am going, I usually bring my iPad or a computer too, so I can have some extra books, movies, and magazines if I need them. If it makes you feel better, give yourself a schedule where you read for a certain amount of time, watch a movie, and give yourself time for sleep.
Take a Rest
If you are taking a long, overnight flight that means that you are going to have to go through some time zones and you're going to have to adjust when you get to your location. Some frequent travelers say that you shouldn't sleep mid-air and you should naturally adjust, but I think the easiest way to get through the jet lag is to sleep as much as possible on the flight (your internal clock is already confused enough) and then stay awake until it's time to sleep when you reach your destination. It's almost like "resetting" your internal body clock.
Do you have anything special you like to do on a long flight to make it through?
Image courtesy of williamson.