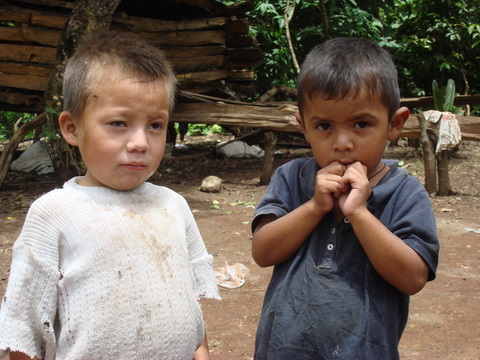 I'm back in action after three weeks in Honduras for the first project of The Global Citizen Project. My apologies for delayed posts – technical logistics in Tegucigalpa were unpredictable and it's taken me a full week to step away from the volunteer project and process the experience. On many levels, it was a very difficult trip for me. My time was divided between working with first and second graders in Colonia Ramón Amaya Amador, an underserved barrio on the outskirts of the capitol city, through Building a Future, and with abandoned and street children, many victims of violence, addiction and abuse via various Hogares Crea homes.
I've seen painful glimpses of the face of poverty, homelessness and hunger in Latin America on previous trips, but never experienced its myriad of effects so intimately. Despite this often seen reality, I also traveled throughout Honduras in late 2007 and had been floored by the beauty of the country. On this trip though, beauty was limited to countryside road trips and the gracious hospitality of the Honduran people; if it existed in Tegucigalpa, it was lost on me. The city (and actually, country) face a plethora of problems ranging from its 40% unemployment rate, $1.30-1.50 average hourly wage and pervasive lack of education (the average Honduran completes 6.5 years of school) to widely divided social classes and a population where more than 50% of its people are ages 18-years-old and younger. Factor in Honduras' recent Presidential coup and its current political polarization, and well, you don't exactly have a recipe for (easy) success. 
I'm eager to share specific experiences and stories with everyone and plan to do so over the coming weeks before I take off for project two of The Global Citizen Project with Karikuy in Lima, Peru in mid-July. In the meantime, here are my photos on Flickr of the people and places in Honduras that have given me pause and huge gratitude for the opportunity, education and friends and family in my life.