My granddaughter was over the moon. We stood in line at the checkout with a Disney Minnie Mouse toy shopping cart and a pink plastic vacuum cleaner. I was mortified! The feminist in me was raging at the patriarchy that had already gotten into the psyche of my precious little Sage-bunny. I had shown her the Goofy peddle car but she wanted none of it! The airplane that really flew was cool but she couldn't be bothered. She saw Minnie going shopping and it was all over. I tried to coax her into the "boy" isle for a second present, but she insisted that if she could have two presents, she wanted the vacuum cleaner that made noise and popped confetti. (WHAT!?) Woe is me, the feminist grandmother of a princess granddaughter.
You see, I'm not cut out to be the kind of grandma that sews lavish costumes or buys dolls of unrealistic body proportions. I'm called "Gran" and I act like auntie Maim. I buy season passes to zoos and children's museums. I buy quality children's classics and take Sage to art fairs. I am often a solo traveler myself and I don't dream of taking Sage to Disney World. I dream of taking her to see the real world! Sage was not recognizing my needs as an independent feminist not to buy pink vacuum cleaners!
Sage, on the other hand, has a very different self image. Sure, she's only four, but she has firm ideas about who she is. She is a princess. She wears glitter-gowns to bed and insists that tulle be incorporated in the design of all her clothing. Her sense of well-being depends on being surrounded with love and beauty and anything pink or purple or aqua-marine. The Disney brand is "real" to her. My fine literary offerings of Mother Goose, Grimm, and Hans Christian Anderson are looked upon with suspicion. (Curse you Disney! You've ruined The Snow Queen and The Little Mermaid forever.)
I give up. That Mouse is just too powerful. To be a proper grandmother, I had to make my peace with Disney.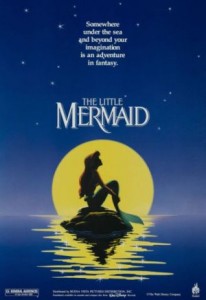 While I have humbled myself to the power of the mouse, I am relieved to learn some of Disney's more contemporary messages are edging toward more progressive values. When reading Disney versions of the stories, I make sure to point out to Sage the more independent and pro-active actions taken by Disney princesses: Belle's love of reading, Ariel's independent spirit, Jasmine's refusal to be defined by marriage, Elsa's choice to embrace loneliness rather than suppress her gifts, and even Minnie Mouse is an independent business owner now. (Did you know she runs a bowtique?)
Sage may be a princess through-and-through but she is also has an independent spirit. She says what she means and doesn't demure. She can guard her turf in the sandbox with boys wearing her tule-trimmed clothing (then insists on changing her sandy cloths when she gets out). She enjoys going to the zoo and museums (wearing glitter-gowns) and brings me flowers to weave into a crown for her to wear to the fairs. She's a princess in a realm where queens have power.
There is only one thing to do. I still can't bring myself to take Sage to Disney World but I braced myself and booked a Disney cruise for her fifth birthday next year. All the Disney magic on board and then a few stops to visit the real world too. We'll have a day in Mexico to see ancient ruins and she can see if anyone can understand her Spanish.  There is a day in Jamaica where we can visit a historic plantation and dine on goat curry. We have a stop in Grand Cayman where we can visit a turtle farm and learn about marine conservation. Then at last, a day on a Disney's Castaway Cay where she will watch her mother do a 5K co-ed run. And yes, I do plan on giving her a princess makeover complete with gown, shoes, and crown, at the Bibity-Bobity-Boutique. She is a princess, after all.
Wander-readers tend to be discerning readers and worldly cultural travelers. Have any of you been confronted with the power of the mouse? What do you think about Disney's influence on travel and literature?
Read~Write~Wander
~Angie
Add a comment