WanderFood Wednesday: Healthier Bangers and Mash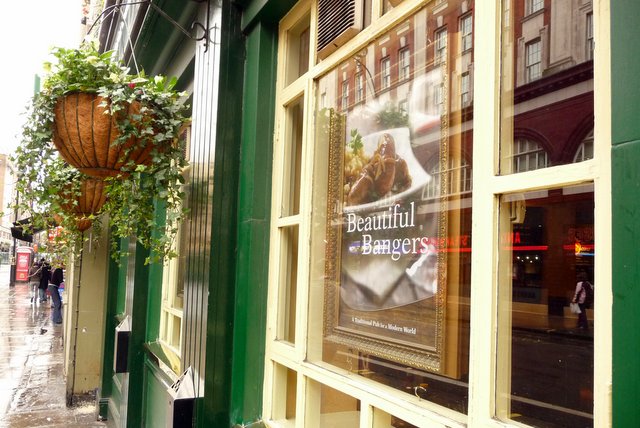 I don't know about you, but my New Year's resolutions are typical this year, complete with the perennial favorite: lose weight. But, I can't just stock my freezer with Lean Cuisine – I run a food blog after all! So for the first meal of the New Year, I decided to make one of my all-time favorite foods diet-friendly.
Bangers & Mash with Minted Mushy Peas
Serves 2
Ingredients:
4 Smoked Chicken & apple sausages (from Trader Joe's)
1 head cauliflower
2 tsp parmesan
1 Tb light sour cream
Garlic salt
Pepper
1 packet brown gravy mix, made according to package directions
2 Cups Peas
Butter
Mint, chopped
If you haven't figured it out by the ingredients list, this version of Bangers & Mash doesn't include carb-loaded potatoes, and the chicken sausages at 140 calories each are really reasonable.
Start by cooking the sausages on the stove top over medium heat, turning every so often to avoid burning.
Microwave the cauliflower with a little water in a microwave safe dish for 6 minutes until you can easily cut it with a butter knife, then combine it with the parmesan, sour cream, garlic salt and pepper using a food processor or immersion blender. Blend until it has the consistency of mashed potatoes.
For the peas, take a small pot and empty the 2 cups peas in with some water. Cover and leave for a few minutes to steam. Add a pat of butter and stir in with the chopped mint. Mash with a potato masher and season to taste.
Now pour that prepared gravy all over everything and enjoy! My husband didn't even realize the "mash" was cauliflower.
I'd say this pairs perfectly with A&E's Pride and Prejudice, which we marathoned through on New Year's Day.
What's your New Year's resolution? Tell me in the comments, and don't forget to join the link party using the LinkyTools widget below!



Directions for Using LinkyTools
Click on "Click Here To Enter" highlighted in blue above. That will take you to a page that asks for:
1. Link to… [enter the link to your website or blog here]
2. Caption or Title…[enter a short photo title here, it will be seen below your picture]
3. Your email & Your Name…[who you are – we don't share your info withANYONE]
4. Two boxes – one that says "Let me crop my own image" and one that crops it for you. Your choice.
Then you choose from where you want to upload your image: From Web (site), From File (your computer), Generic (don't choose this).
Once you've uploaded your image, you can crop it (if that's the option you chose), and it will take you to a screen with a link back to my blog so you can see your work!
I'm taking part in the Full Plate Thursday link party.
4 comments