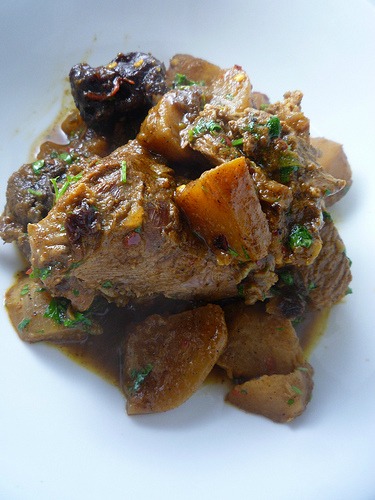 Tagine – it's the name of the cone-shaped pot, and the name of the stew inside. And, it is delicious.
I confess, I've been jealously guarding this recipe. It's my favorite tagine recipe in the world, working equally well for vegan tagines, lamb, or chicken. The magic is in the incredibly complex spice mix, and then knowing which vegetables pair best with it (ie. skip broccoli – yech!). Are you ready for this?
4 Tsp Paprika
1/2 Tsp ground turmeric
1 Tsp ground cumin
1/2 Tsp cayenne pepper
2 Tsp ground cinnamon
1/2 tsp ground cloves
1 tsp ground cardamom
2 tsp kosher salt
1 tsp ground ginger
2 pinches saffron
2 Tsp garlic powder
2 Tsp ground coriander
And that's just the spices. I recommend making a huge batch of the spice mix and keeping the remainder in a plastic bag for next time. I've also mixed up little tins of Tagine Spice as Christmas gifts!
You'll also need:
2 Pounds of lamb, cut into bite sized cubes
1 Tb olive oil
1 medium onion, coarsely chopped
2 carrots, cut into fourths
10 baby squash or zucchini
10 fingerling potatoes (I love purple potatoes in this!)
3 cloves garlic, minced
1 Tb grated ginger
Zest of 1 lemon
1 14.5 oz can low sodium chicken broth
1 Tb tomato paste
1 Tb honey
10 dried apricots or prunes
1 Tb cornstarch in 1 Tb water (optional)
DO NOT PANIC. If you don't have an ingredient or two, or three, this will still taste great.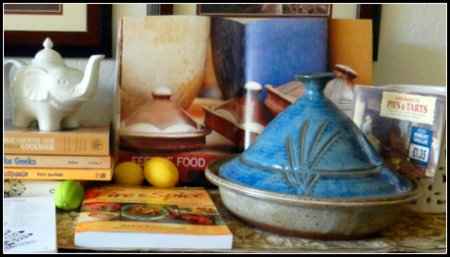 Directions
1. In a large pot (if you don't have a tagine, a Dutch oven works a treat), cook the onions and lamb until both are browned. If the onions begin to caramelize, so much the better. Stir in 1 Tb of the spice mixture.
2. Add garlic, ginger, carrots, potatoes, and squash/zucchini. Let cook for 3 minutes.
3. Add lemon zest, chicken broth, tomato paste and honey. Add in another tsp of the spice mix.
4. Bring to a boil and reduce heat to low. Cover and let simmer for 1-2 hours, until the meat is tender.
5. Before serving, taste it. Under-seasoned? Add more spice mix! If the consistency is too thin, add that corn starch and let thicken for five minutes.
6. Just before serving, toss in the dried apricots.
Serve with couscous and crusty bread. Moroccans pick up the chunks of meat and vegetables using crusty bread to protect their fingers – I recommend doing the same!
Want to know where to find a great Tagine? Mine comes from Clay Coyote.
Top Image from Flickr Creative Commons.
Got a favorite recipe to share? Use the LinkyTools below to post a photo and link back to your blog!



Directions for Using LinkyTools
Click on "Click Here To Enter" highlighted in blue above. That will take you to a page that asks for:
1. Link to… [enter the link to your website or blog here]
2. Caption or Title…[enter a short photo title here, it will be seen below your picture]
3. Your email & Your Name…[who you are – we don't share your info withANYONE]
4. Two boxes – one that says "Let me crop my own image" and one that crops it for you. Your choice.
Then you choose from where you want to upload your image: From Web (site), From File (your computer), Generic (don't choose this).
Once you've uploaded your image, you can crop it (if that's the option you chose), and it will take you to a screen with a link back to my blog so you can see your work!