Listening To My Inner Fashion Editor: Choose Your Pants Wisely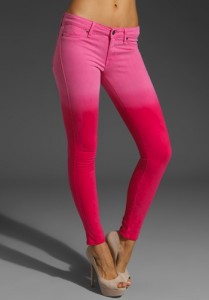 "Honey, you can wear color," my grandmother Hazel once said to me. She's not one for the insincere compliment. If she thinks your curtains are dirty or your haircut makes you look like a boy, she'll tell you.
In the last few years, I've embraced Hazel's advice. At work, I often pair a wool skirt or dress pants (not the dreaded "slacks," mind you) with a bright sweater or retro polyester shirt. I figure I can get away with one wild, colorful piece and not look like the crazy lady dressed in Garanimals.
One of my favorite coworkers is a marvelous teacher of literature and a caring and knowledgeable mentor. She also despises yellow. I own three yellow cardigans, in buttercup, mustard, and wild neon. When getting dressed in the morning now, I have to think twice about whether or not I'm likely to run into her and choose my sweater accordingly.
But this post is about pants, not sweaters.
A packing tip: a few colorful pieces can make a party out of the mix-and-match neutral items in your bag. I've tried this out on my last two trips. Granted, in Vegas and at a Christian art and writing conference, I could aim for Aging Hipster Casual rather than having to wag a suit, so that simplified things.
In both cases, I packed two pairs of charcoal or black jeans; a variety of shirts, such as a pink ruffled tank, a black button-up shirt with white trim, and a 70s blouse with a purple deer print; and a couple of cardigans, one neutral and one bright (OK, probably yellow).  The cardigans give a soft versatility. Most of the shirts look fine with either sweater.
This method has streamlined my packing, leaving me room to bring home treasures I find on the way and still not have to check a bag. Plus I still get my color fix.
I'm lusting after the pink jeans in the photo above, especially with the sleek illusion of darker pink leg warmers. But I'd get more mileage out of the fig jeans (second photo). Perhaps I can order the flat abs while I'm at it.
Photo credits: Rich & Skinny Legacy Jeans in Dipped Pink and Current/Elliot Rolled Skinny Jeans in Fig from revolveclothing.com
1 comment