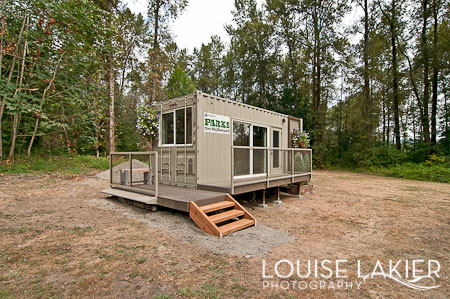 Have you ever stayed in a yurt? Or better yet, a shipping container cabin? You can try both on for size at King County Parks Tolt MacDonald Park. The park is located in Snoqualmie Valley and is transected by both the Snoqualmie and the Tolt Rivers. The Yurts and the Shipping Container Cabin are available by reservation only.
In 2011, King County Parks teamed up with the Green Tool's Division of King County Solid Waste to host the Little Forest/Big Footprint design competition. The winning submission by Hybrid Architecture called 'Re-tain', re-purposes shipping containers as sustainably built cabins. The cabin is another example of King County Parks commitment to Sustainability.
The finish materials include salvaged wood, doors and windows from Second Use, low VOC paint, soy spray insulation, radiant heat, LED lighting and green walls from re-purposed soccer goals. The 20′ long cabin includes a full bunk bed with a pull-out futon below, a table made from wood salvaged from a kitchen, a counter with storage cabinets. There is no cooking inside the cabin. Tables can be carried outside for use around the firepit.
The campground is accessed by a beautiful 500 foot long suspension bridge over the Snoqualmie River. The parks accessory structures can be rented for special events. I enjoyed lingering under the many beautiful old growth trees. Bring your mountain bikes, running shoes, or hiking poles, a network of trails can be accessed from your campground.
There are six yurts at Tolt, all come furnished with two double futons, a bunk bed, night stand, heat, electricity, deck, picnic table and fire ring. I loved the patterning of the woven lattice framework.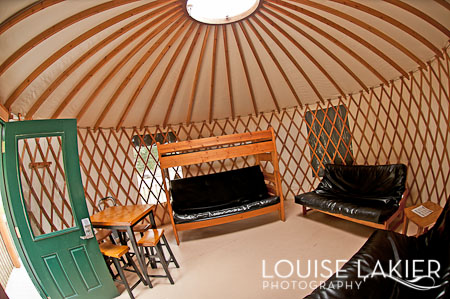 To make a reservation for either structure visit the King County Parks website here or call 206-205-5434.