(Hangover) Brunch in Seattle: Toulouse Petit
As a feature for Seattle Weekly's Soak it Up series, I'm uncovering the best brunch spots in Seattle. Here's a sneak peak at my review of Toulouse Petit.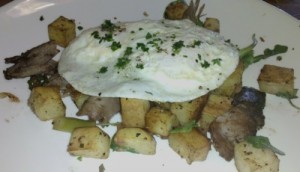 Where: Toulouse Petit Kitchen & Lounge
601 Queen Anne Ave N, Lower Queen Anne
(206) 432-9069
Time of Entry: Sunday, 10:30 a.m
Level of hangover: On a scale of 1 – 10 (10 being a soul-crushing blow to your will to live), I came in around a 3. Definitely not at peak performance after a night of red wine and mediocre sleep, but not quite cursing that big yellow thing in the sky either. However, after our long wait (20 minutes turned into one hour), my grumpiness had increased so I can safely claim I was a famished 4.
Staff's level of hangover: Hard to tell. Our waitress looked every bit the responsible kindergarten teacher but threw us all off with her glassy eyes, shy smiles and shifty, paranoid glances. Perhaps she was reeling from an exciting bender of an evening (i.e. watching Dexter in her PJs) followed by an illicit smoke sesh before her shift.
Remedy: Toulouse's packed brunch menu is a mash-up of New Orleans soul food and American classics with items including crawfish etouffee over creamy grits, beignets with powdered sugar, pancakes and eggs. I decided on the duck confit hash with eggs over-easy (they were 86'd on my first choice – the pork cheeks) while my co-conspirators ordered up more traditional fare – eggs Benedict w/ Snake River Farms ham and an omelet with cave-aged Gruyere, plus a small order of the beignets.
While both our wait and the service were excruciatingly slow, I can't speak badly about the kitchen's turnaround time. Our food came out promptly, especially given the mass of people in the dining room. Unfortunately, my adoration for the back of the house ends there. The food wasn't bad by any stretch but based on wait time and price it wasn't the top-notch cuisine I'd anticipated. My duck was dry, the ham on the Bennie was nearly flavorless and though my friend said he couldn't complain about the omelet, he was fairly nonchalant about it overall. The only highlight? Carbs. Toulouse nailed the spicy home fries and the beignets briefly blew our minds.
Hair of the Dog: I ordered my usual Sunday morning baseline – a Bloody Mary – while my better half classed it up with a mint julep. The Creole rim seasoning – paprika, salt and chili powder – added a nice touch to the bloody but we spotted the drinks sitting on the bar for about 10 minutes before being delivered, which ultimately led to them being watered down. The brunch cocktail menu here is impressive and unique – $6.95 gets you anything listed, including fixings like Buffalo Trace Bourbon and Raynal V.S.O.P.
Success of the Soak: Moderate to less-than-adequate. I left feeling slightly less agitated than before but I suspect that had more to do with my company than the meal. Toulouse's breakfast might sit better with me during the week when they slash the prices for their ultimate breakfast happy hour.
Have you ever been to Toulouse Petit? What are your favorite brunch spots in Seattle?
P.S. Have you entered to win a prize for Passports with Purpose? We're past the halfway point, but we still need your help!
1 comment