One thing I really love about travel is visiting gardens. Traveling overseas, to Europe in particular, we saw spectacular gardens: formal gardens, enormous parks, kitchen gardens. Many of the gardens were very small and walled, just like our yard.  I felt inspired by these tiny jewels, and always came home with new ideas. One take-away for me was if you can't grow out, grow up, and so I've tried to find a variety of plants that would cover the cedar walls that enclose our yard.
In 2010, we planted two espaliered apple trees. Espalier is a French word meaning "something to rest a shoulder on." During the 17th Century, espalier initially referred only to the actual trellis or frame on which such a plant was trained to grow, but over time it has come to be used to describe both the practice and the plants themselves. Espalier technique started in Roman times. During the Middle Ages, Europeans refined the art of espalier. This practice was very popular in Europe for producing fruit inside the walls of a castle courtyard without interfering with open space. Wall were decorated by planting flattened trees near them. Vineyards have used the technique to train grapes for centuries.
Bay trees in 2010
Over the past four years, since our trees were planted, they've grown. We've managed to get one or two apples, until this year. This is the our fourth season and boy do we have apples! Lots of delicious apples. Our trees have different apple varietals grafted to each horizontal branch (plants can be espaliered in all sorts of designs): Gravenstein, Macintosh, Braeburn, Fuji, Gala and Jonagold.
Espaliered apple trees 2011
One thing I did differently this year was to cover the baby apples with a "sock," just like the kind of "footies" some women wore inside their shoes. In previous years I thinned clusters (as I did this year), but this is the first time I tried the socks, which are supposed to help reduce damage by coddling moths, apple maggots and the like.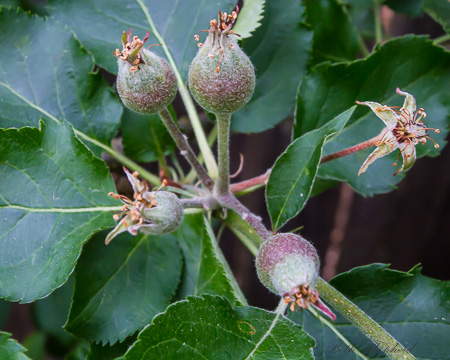 Apple cluster
The clusters need to be thinned not long after the flowers drop and tiny apples emerge. It's hard to do, because you have to winnow a cluster down to one fruit, and also make enough space between each fruit horizontally. But thinning the clusters helps the "chosen one" grow big and strong. As you thin each cluster, you look for any flaws in the fruit, such as spots, bug damage or poor formation. These are the first apples you should remove. Then, you try to pick the biggest (in relative terms), healthiest fruit…and put a sock on it.
Single apple
Putting the socks on is labor intensive, and you have to be gentle with the fruit which requires patience. So don't do it, like I did, when a rain shower is brewing (or in action). Each growing apple should also be about 4-5 inches from the next growing apple. This was supremely hard for me and I probably didn't do the best job. Each time I thinned a cluster or took off a cluster that was too close to its neighbor, I worried that if the remaining apples didn't make it, I'd be left empty-handed.
Apple sock
Putting the sock on the apple meant carefully tucking the budding apple into the open end of the sock, and then wrapping the base and tucking one end underneath. I got better as I went along, but I did lose a few "babies" along the way.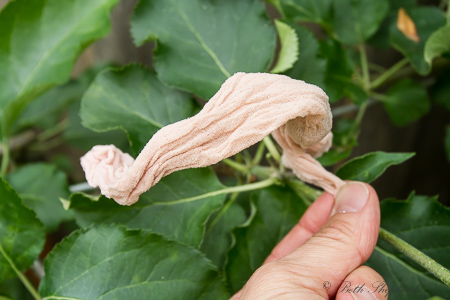 Tying the apple sock
After all the clusters were thinned and the apples had their socks on, I was ready for some hard cider and a hand massage! I also felt proud and hopeful, though did worry that I should have put their socks on a couple weeks earlier because a number of the baby apples looked like someone/something had already discovered their petite deliciousness.
Apple with a sock on
Here are our apple trees thinned and socked. Aesthetically, it wasn't as nice to look at (yes, it does look like our apple trees are covered with condoms…sorry mom) as in previous years when I went sock-free, but I really, really wanted to increase our odds of getting big, juicy edible  apples rather than apples that only serve as a pretty dwelling for the bugs.
Apple trees with socks
As spring turned to summer, our apples grew. And grew and grew and grew, until they were practically busting out of their socks. I could see that many of them had their imperfections–a blemish here, a small hole there where who-knows-what may have tried to take up residence–but hey, we had a sizable crop of our very own homegrown apples.
Ripe apple peeking out of its apple sock
Of course, as the saying goes, the proof is in the pudding–or, in this case, the apple. In my lifetime I've seen plenty of fine looking apples that had very little flavor or a mealy texture. The verdict: We have several varieties of apples–grown in our own backyard-that taste phenomenal. Even Little Bird, who can be the pickiest of picky eaters, loves them. Let the eating commence!
Take the road less traveled, Beth