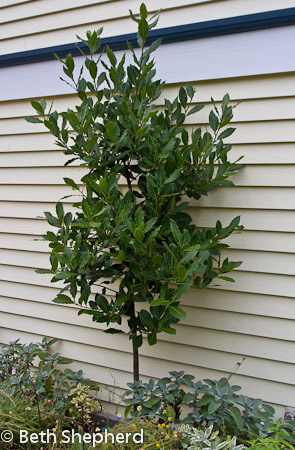 I was intrigued when I saw it on the menu at Marjorie Restaurant in Seattle: Bay Laurel Ice Cream. Just like the sage, thyme and lemon verbena ice creams I've made from herbs grown in our garden, I imagined how bay leaves, typically used as an aromatic or as a savory ingredient in soups and stews,  might translate into a creamy dessert.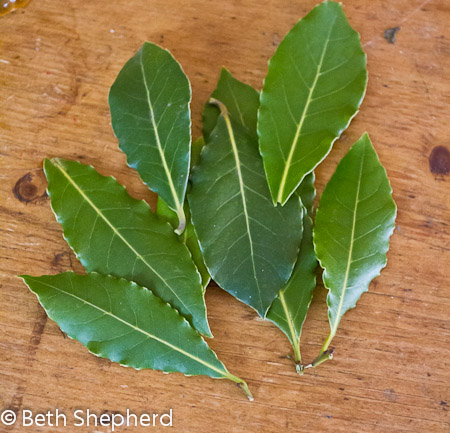 Bay leaves come from the bay laurel tree, which is native to the  Mediterranean. California bay leaves actually come from a different kind of tree and have a stronger, more astringent flavor. Bay is typically used to season long-cooking dishes like soups and braises, but it can also enhance the flavor of quicker-cooking dishes like risotto, pasta sauce, or even a simple pot of rice.
Bay is used most widely in Mediterranean cooking, but since it was one of the earliest and most widely traded spices, bay has become an established seasoning in many cuisines around the world. You can find bay in Indian dishes, Middle Eastern food, and many European cuisines (it is one of the main ingredients in classic French bouquet garni).
Does bay seem like a spice that would make delicious ice cream? Probably not, but now that I've tried it–and made a fresh batch at home–I can say that bay laurel ice cream is delightful.
We have a small bay laurel tree in our backyard so I am lucky to have fresh by leaves whenever I need them. The fresh leaves are nothing like dried leaves you buy in bottles at the grocery store, and if you can find them (farmers market or Whole Foods-type grocery store), they are amazing: tender, fragrant and full of sweet afternotes.
Bay Laurel Ice Cream Recipe

2-3/4 cup whole milk (or half-and-half)
3/4 cup heavy cream
3/4 cup organic  sugar
4 egg yolks
8 fresh bay laurel leaves, sliced (can used dried if fresh leaves aren't available at your local farmers market or Whole Foods-type grocer)
pinch of salt
In a small saucepan, whisk together the milk, cream and 1/2 cup of sugar.  Add the bay leaves and bring to a boil over medium heat.
Remove from heat, cover and let steep for 30-40 minutes.
Strain the mixture through a fine mesh to remove the bay leaves. Bring back to a low simmer under medium low heat.
Meanwhile, in a bowl whisk together the egg yolks, salt, and remaining 1/4 cup of sugar. In a slow steady stream, whisk in the hot milk mixture a little at a time. Pour the mixture back into the sauce pan and cook for a few minutes, stirring constantly, until it coats the back of a wooden spoon and you can draw a line through it.
Strain the mixture through a fine mesh strainer and into a storage container. Chill in the refrigerator for several hours or overnight, until completely cooled.
Freeze the ice cream in an ice cream machine to the manufacturer's directions. Transfer to a container and freeze.
Garnish with a small bay leaf if desired.
Take the road less traveled, Beth
Try more sweet treats and check out Wanderfood Wednesday!