In the sweetness of friendship let there be laughter, and sharing of pleasures. For in the dew of little things the heart finds its morning and is refreshed.
~Kahlil Gibran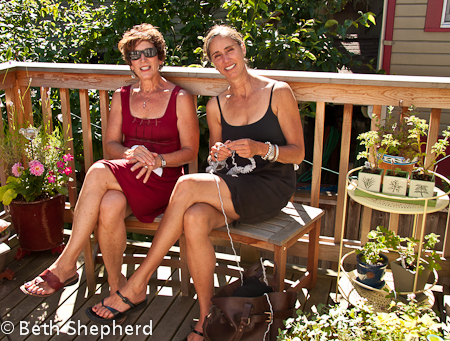 Recently, I've spent a few sunny afternoons in our garden with friends. Sitting together and feeling the warmth on our shoulders, sipping a glass of wine, chatting, and laughing are amongst the simplest and grandest pleasures life has to offer.
On one particular afternoon, two friends arrived bearing gifts: a beautiful potted orchid, a jar of locally made Puget Sound Lavender Honey and a jar of homemade Blackberry-vanilla jam. Lucky me! I decided the honey and jam were meant to be together, and came up with the idea of creating a swirled ice cream.
Instead of sugar, I used the honey to sweeten the milk and cream. Then, in the final moments, as the ice cream churned, I added a few tablespoons of delicious Blackberry-Vanilla jam to create the berry swirl.
Big Papa and I enjoyed this yummy treat for dessert, and I thought about how fortunate I am to have so many wonderful friends. Here's to la dolce vita—the sweet life—and good friends.
Honey Ice Cream with Blackberry-vanilla jam swirl
To make the ice cream
Note: I have tried several different honey ice cream recipes, some that call for eggs and others that do not. Eggs create a richer, creamier ice cream. Depending on your mood, and the flavor of jam you choose, you can use any ice cream base and any jam for swirling.
(Maison du Miel's Heather Honey Ice Cream Recipe, From The Paris Cookbook by Patricia Wells, Harper Collins, 2001)
2 plump, moist vanilla beans
2 cups heavy cream
1 cup whole milk
1/2 cup honey (the honey my friend brought was a lavender honey, but any aromatic honey will work)
Flatten the vanilla beans and cut them in half lengthwise. With a small spoon, scrape out the seeds. Place the seeds and pods in a large saucepan. Add the cream, milk, and honey. Stir to dissolve the honey. Heat over moderate heat, and stir from time to time until tiny bubbles form around the edges of the pan, about 3 to 4 minutes.
Remove from the heat and let steep, covered, for 1 hour. Then cover and refrigerate until thoroughly chilled.
Remove the vanilla pods, and stir the mixture again to blend. Transfer it to an ice cream maker and freeze according to manufacturer's instructions.
To create the swirl
When the ice cream has set up and is nearly ready to go into the freezer, add a few tablespoons of room temperature jam (any kind will do!) and drizzle (or plop) into your ice cream maker. Let the jam swirl for a minute or so, before stopping the machine and chilling the ice cream in your freezer.
Want more sweetness in your life? Check out Wanderfood Wednesday!