Waves of color, violet, amethyst and plum, glowed in the sunlight like a psychedelic ocean. There's nothing quite like a field of lavender when the blooms are on the stem, particularly when you're smack in the middle of it on a beautiful sunny day.
Recently, I had the great pleasure of taking my friend, Marjan, who was visiting from California, over to Vashon Island for an afternoon. After we drove off the ferry, we meandered along Vashon Highway (which is as much of a highway as the street I live on) stopping for a picnic lunch at a park in town and some refreshing iced coffee at Minglemint before reaching our destination: Lavender Hill Farm.
Lavender Hill Farm is one of several lavender farms on Vashon. In fact Vashon has had its very own Lavender Farm Tour each summer for the past seven years.
The view from Lavender Hill Farm is bucolic: it sits on the Burton Hill and looks out towards Quartermaster Harbor and Mt. Rainier. There is a charming garden which contains 2000 lavender plants of several varieties including Provence, Grosso, Silverleaf, Melissa (pink lavender), Alba (white lavender) and Otto Quast (Spanish lavender). A greenhouse and a cute-as-can-be lavender drying house are tucked in between the fields. The entire scene is evocative of Provence, and even though I knew I wasn't truly in France with lavender fields stretching out like an ocean as far as your eyes can see, if I closed my eyes, my nose couldn't tell the difference.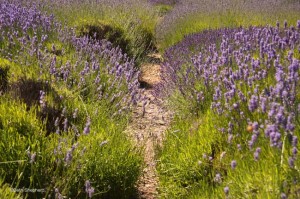 Marjan and I popped our heads into the drying room and chatted for a few minutes Catherine MacNeal, the owner of this purple paradise. Inside there were bars of lavender soap for sale along with dried lavender wreaths and culinary lavender for cooking. When Catherine mentioned she'd be using culinary lavender to whip up a few batches of lavender lemonade for weekend visitors, it didn't take me long before I handed her a crisp $10 bill to cover the cost of two 'U-cut' bundles to take home.
Strolling across the fields to the designated cutting area millions of bees buzzed, happily drunk on lavender pollen. They didn't seem to notice me as I snipped a few stems here and there, too busy dreaming of their own honey concoctions that would soon be created when they returned to the hive.
I gathered up my bundles and we headed back for Seattle. As we drove, the heady smell of lavender perfumed the air in the car; the best 'air freshener' you could possibly imagine. That night, I made Lavender Simple Syrup to stir into lemonade which would accompany Saturday lunch I planned to serve Marjan and her husband at the Urban Cabin.
Of course there are a million ways you can use Lavender Simple Syrup: pour a swirl over ice cream, stir it into maple syrup to slather on blueberry pancakes, drizzle over figs and mascarpone…but since this post is ostensibly about summer sipping, I digress. So here are a few ideas for using Lavender Simple Syrup to quench your thirst:
Mix with lemonade to make lavender lemonade
Ditto with ice tea (I added some to a green "sun tea" and it was delicious and refreshing)
Put 'em both together to create lavender green tea-lemonade
Float into a glass filled with chilled Limoncello (Italian lemon liqueur)
Add a spoonful to a lemon drop martini and garnish the rim of the glass with lavender sugar (coarsely grind sugar and a few lavender buds in a blender) or substitute for lemon juice entirely to make a 'lavender martini'
Swirl into chocolate milk or, if you live in Seattle like I do where "summer" weather might be in the 50s, hot cocoa
Making simple syrup is, well, simple. Picking the lavender aside (and you can purchase culinary lavender if fresh lavender isn't within your reach), the recipe is a snap.

Lavender Simple Syrup
1 cup water
1 cup sugar
¼ cup organic culinary lavender (if picked fresh, simple cut the bloom off the stem, no need to pick off the individual lavender buds)
Heat sugar and water until boiling, stirring occasionally until all the sugar is dissolved. Take sugar-water mixture off stove and stir in lavender. Allow to cool to room temperature. Place covered in refrigerator and continue to cool overnight. Pour mixture through a strainer/sieve and into a glass jar or container, catching the lavender in the strainer. To use, spoon or pour lavender simple syrup "to taste" and note: a little goes a long way.
Thirsty for more? Check out Wanderfood Wednesday!