Inky blackness greets my eyes as I step outside our hotel's front door. My skin prickles from the intense sharpness of the cold air. As my eyes adjust to the darkness, I can see millions of stars filling the darkness, like a Pointillist painting. The Milky Way spills out in a cloudy haze. I feel so small, just one speck of life.
My husband, Big Papa, and I are spending the night at a hotel in Tingri, Tibet one stop in our trek from Lhasa to Mt. Everest base camp. Tingri has a population of approximately 523 and is at an elevation of 14,107 feet. The elevation combined with the pure, unpolluted skies gives us a view of our galaxy we'll never forget. I'm sure if I just stretched my arm out an inch or two farther, I could touch the stars.
What a difference a seven-hour plane flight and a couple days of driving makes. Our journey began in Beijing. Traveling from this sprawling, polluted metropolitan city to Lhasa, the capitol of Tibet is a study in contrasts. As the Chinese tear down old Beijing, in its stead an uber-modern sterile hulk of a city rises out of the destruction. Change is afoot in Lhasa too, and some years from now, it may bear little resemblance to its former self.
But once the city of Lhasa disappears over the horizon, the Tibet which emerges has remained unchanged for thousands of years. The feeling of being in a place where the sights, scents and sounds are as ancient as time itself reverberates deeply inside my soul, like the rich bass voice of the monk chanting at Tashilhunpo Monastery, where we'd stopped just the day before.
Like most of our trip, the previous day's drive to Tingri could only be described as surreal. We'd just finished a filling lunch in Shigatse and had been on the road for about a half-hour. A short distance in front of us, we see several trucks pulled off to the side of the road and a gathering of people. Tenpa, our Wisdom Tours guide, tells Chimi, our driver, to pull over so we can see what's going on.
In the middle of a circle of local farmers and villagers we see a bald-headed, burgundy-cloaked Lama: not exactly what you might expect to see in the middle of the countryside. We sit and stare from safe distance for, a few minutes the Lama until notices us and waves us over to join him. We don't know what to do, but Tenpa encourages us to go, so off we tromp across the field. "Welcome. Please sit down," the Lama greets us in clear English. He motions us to sit, on the ground, in the middle of a group that has gathered around him. Several monks appear with thermoses of hot water and hot water only. We aren't sure why we don't rate a serving of tea. Plates piled full with momos: dumplings with yak meat and vegetables inside, are being passed from person to person. Our lunch is still warm in our bursting bellies, but when you're sitting in the middle of a field in the middle of nowhere in the middle of Tibet at the invitation of a Lama, what are you going to do?
So, we eat and chat with the Lama, feeling very conspicuous amongst all the local townspeople and the Lama's entourage, whose impromptu roadside assembly we interrupted. The Lama speaks English quite well and tells us he now resides mostly in Italy. We share that we have traveled all the way from Seattle, Washington in the United States. It feels other-worldly to be chatting with a monk while munching on momos in the midst of the Tibetan wild.
Tenpa and Chimi stand, looking uncomfortable, a short distance from the gathering. Fifteen or twenty minutes pass before we excuse ourselves. Whether our hasty retreat is perceived as rudeness, we don't know, but we feel torn between our allegiance to our guide and whatever obligation we unknowingly entered into by accepting an invitation to share a meal with a Lama.
Heading down the road once again, Chimi deftly speeds around the curvaceous mountain passes without a moment's hesitation, swerving within inches of precipitous drop-offs. Big Papa and I sit in the back seat of the Land Cruiser. Our eyes wince with each close call. Tenpa reassures us that Chimi knows exactly what he's doing and besides, he tells us, it's only the "crazy Chinese drivers" who get into accidents.
Tenpa starts talking and shares his opinion of the Lama we'd just met. He says he knows of "this Lama" and believes the Lama's reputation is one of ill repute. He describes shady and politically-tinged quarrels between the Gelug, or Yellow Hat sect, the sect to which most Tibetans and the current Dalai Lama ascribe, and this Lama. Supposedly, this Lama broke from the Gelug sect and tried to form his own sect and followers. From Tenpa's perspective, this Lama was not a "real" Lama.
Big Papa and I are a bit confused. Why pull our truck over to the side of the road and encourage two naïve Westerners to dine with a Lama if the Lama was of dubious distinction? Our experience feels a bit tarnished.
We ponder this turn of events, and our guide's interpretation, as we venture higher and higher through mountain passes. Nomadic herders guard their yak and sheep, their forlorn and isolated tents perched on windblown precipices. Tiny villages, a dozen huts strong, pop up every so often in the formidable landscape. No one who lives in this remote and rugged terrain escapes the harsh hot summers or the endless frigid winters. To survive in this place speaks to the incredible tenacity and strength of the people who call the mountain regions of Tibet home.
Pulling off to the side of the road for one of our now infamous "nature toilet" stops, we are greeted by two children. They come running across the highway from their small village of eight or so homes. Their faces and clothing are dirty and they peer at us with eager curiosity. Soon they are joined by an older woman. Her face is lined with crevices as deep as the chiseled mountains that loom behind her village.
Tenpa interprets for us and we have a short conversation. She asks us where we are traveling from and what we do. I try to imagine Big Papa explaining software development to a woman who has spent her entire life in a remote Tibetan village at 16,000 feet.
She tells us she is 44 years old. I blink and attempt to absorb what I see versus what I hear her say. At nearly five years her senior, I look decades younger than she does. I feel guilty about the many privileges I so easily take for granted. The conveniences and wealth of in our westernized lives are likely unimaginable to this woman. By U.S. standards, our house at barely 1000 square feet is a tiny cottage. Yet, our humble home could encompass most of this village.
Before we depart, she asks if I would like to buy her silver waist belt. I am tempted but Tenpa tells us she is asking too much for it and we can get a cheaper price at a market. True, I think, but not with this story. I feel a bit regretful that I pass on her offer, but as we walk back to the truck, I see something sparkle in the dusty earth. It's a crystal, a lovely gem possibly created in this spot where I stand. I pick it up and tuck it in my pocket, running my fingers over its smooth edges, happy to have a memento to mark this moment.
From Tingri, we make our way to Mt. Everest, or Qomolangma as the Tibetans refer to it. Qomolangma means Goddess Mother of the Universe, which is quite appropriate if you ask me. The scale in the Himalayas is difficult to imagine. Earlier in the day, when the mountain was completely covered in cloud, I pointed out a smaller peak on Everest's flank to Big Papa, thinking it was Everest. It could have been: it was a sizeable mountain in itself, maybe 22,000 or so feet tall, with its own snowline, ridges and summit. It stood well apart from everything around. But come late afternoon, the clouds began to clear, and the upper slopes of Everest hove into view. Standing at base camp, at nearly 17,000 feet elevation, you realize how massive a peak it really is. We were already very high, but Everest's summit towered two miles above us, and it seemed above everything else as well.
You hear about Everest being an "easy" climb, with hundreds of tourists led up it each year. While that is the case, standing there and seeing both the ridge and the "step" that Tenzing Norgay and Edmund Hillary made their way up in 1953, and seeing the very high ridge where George Mallory and Andrew Irvine were last seen making their way towards the summit in 1924 before disappearing into clouds – probably clouds much like we saw that day – one gains a new appreciation for the immense effort and imagination it must have taken to make those early attempts. Everest might be "easy", but it commands respect, even from those just sight-seeing like we are. After a couple hours of studying the mountain and thinking these kinds of thoughts, we tuck into our rock-hard beds at the Everest Hotel, without a working squatting toilet, showers or heat.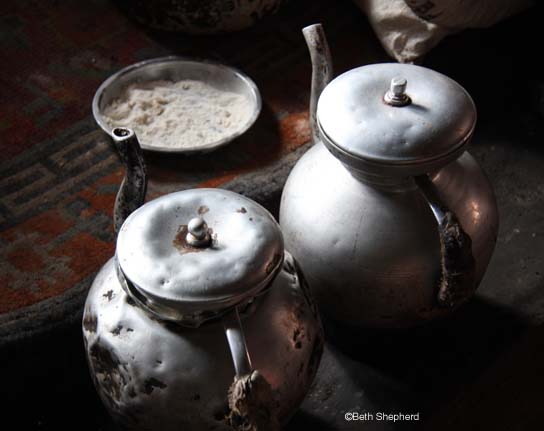 One of the most memorable moments on our trip occurs as we return to Lhasa from Everest the next day. Passing through Shigaste for a second time, we stop at the Gyatse Monastery. A few of the monks ask us to join them in conversation over a hearty cup of yak butter tea. Tenpa, Big Papa and I stand in the center courtyard chatting with them. Big Papa's beard has been the subject of much attention during our Tibetan travels, especially amongst the monks. One of the monks asks if he can touch it and Big Papa says yes. The monk reaches out and, with a huge smile and much amusement, loudly growls "Ruff, ruff, ruff," as he grabs the hair on Big Papa's chin and gives it a thorough scruffing. Do beards remind Tibetans of dogs? We don't know, but he is obviously having a great deal of fun.
As we leave Shigatse, Big Papa and I hunker down in the back seat of the truck, giggling. Regaling each other with our favorite stories from the trip, we recount our lunch with a Lama and the beard scruffing incident. We have visited soulful monasteries and have seen spectacular vistas, yet the memories that made the most indelible marks, are those where our lives touched the lives of others. In Tibet, it's not just the altitude that takes your breath away. How many times in one's life will two city slickers from Seattle have lunch with a Lama? Not many.
Hungry for more? http://wanderlustandlipstick.com/blogs/wanderfood/category/wanderfood-wednesday/