The last time I saw my friend Dee, she made Mushroom Barley Soup for Big Papa and me. I could smell its delicious aroma the minute I stepped into her home.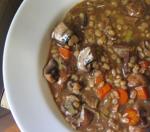 We'd traveled across the country, from Seattle to a town outside Boston, to visit Dee and her husband Gaylen. She had been hospitalized for several weeks due to complications from Stage IV breast cancer. I think she'd only been home for a couple days.
I wanted to see Dee like nobody's business. Big Papa and I had gotten married just a few months earlier. Dee had hoped to be at our wedding. In fact, I'd asked if she would speak and offer a few words on what it takes to create a happy long-lasting marriage. I knew she would have done anything to be there and her absence told me how ill she really was.
It had been years, too long, since I'd seen her. Living on opposite sides of the country was a challenge, but we managed to keep our friendship going through cards and phone calls. No matter how much distance or time separated us, as soon as we started talking, I'd feel comforted by the familiar sound of her voice.
On this day, I wish I could have been the one making soup for Dee. When I wrapped my arms around her to give her a hug, I could feel her ribs. We stood there for awhile, just hugging, both of us with tears in our eyes. Then she ushered us over to sit at their table, trade stories and enjoy a bowl of Mushroom Barley Soup.
My memories of Mushroom Barley Soup and Dee go back thirty years to our days sharing a house on College Avenue while we were students at Cornell University. We both loved to cook something together in the kitchen of our little white rental house.
Recipes from Moosewood Cookbook were favorites of ours and, on the rare occasions when we could afford it, we'd go to the restaurant for a meal. Mushroom Barley Soup, in particular, was something we made frequently. You could almost say it was "our soup." I know that I could never make that soup and not think about Dee.
Dee died on Saturday, December 20th last year. I got the news on Sunday morning. Seattle was knee deep in snow. The city was at a standstill. Buses weren't running and driving was impossible.
I spent most of Sunday grief-stricken. I felt empty knowing Dee was no longer in the world. On Monday, I put on my boots and walked through the snow a mile or so to Essential Baking Company. I figured I'd treat myself to a cup of steamy Chai and spend the day being easy with myself.
Opening the door, I was greeted by a blackboard with the specials for the day written in chalk. Soup: Mushroom Barley. I walked up to the front counter and ordered my Chai. As I waited for the barista, the kitchen called out an order that was ready, "Sandwich for Dee." I practically fainted from amazement and disbelief. A young girl came to the counter and picked up her order. I smiled at her, tears brimming in my eyes.
I'm not one to trust my belief in serendipity, though I should. It happens to me often enough. I know in that moment, Dee was smiling down on me to let me know that while she might be gone from this earth, she would never leave my heart.
It's hard to write this story about a recipe I love, particularly when the memory reminds me of loss. Most times thinking about food and cooking is tremendously joyful for me. There is nothing finer than preparing and sharing a meal with those I love. But food is a source of comfort, in both good times and in times of sorrow.
So as soon as my kitchen is in working order, Mushroom Barley Soup will be one of the first things I make. While I stir the pot, I'm sure I'll up the salt quotient with a few tears, and I'll also remember Dee with love. Our friendship was strengthened over many a good bowl of soup. There's nothing quite like Mushroom Barley Soup from the Moosewood Cookbook to soothe my soul.
Mushroom Barley Soup from the Moosewood Cookbook
Serves 8
Ingredients
1/2 cup uncooked pearl barley
3 tablespoons butter
1/2-1 teaspoon salt
3-4 tablespoons tamari  or soy sauce
4 tablespoons dry sherry
6-1/2 cups stock or water
1 medium onion, chopped
2 medium cloves garlic, minced
1 lb fresh mushrooms, sliced
fresh ground black pepper
Preparation
Cook barley in 1-1/2 cups of the stock or water in a large saucepan or Dutch oven. Bring to a boil, cover and simmer until barley is tender (20-30 minutes). Add remaining stock or water, tamari and sherry.
Meanwhile, melt the butter in a skillet. Add the onions and garlic. Sauté for about 5 minutes over medium heat. Add mushrooms, and salt. Cover and cook, stirring occasionally, until everything is very tender (about 10-12 minutes).
Add the sauté with all its liquid to the cooked barley. Add fresh ground black pepper to taste and simmer, partially covered, for another 20 minutes. Serve with a slice of hearty bread. Add love.
Check out the WanderFood Wednesday series for more great food postings!