The Fine Art of a Chai Tea Latte
One in a continuing series of drink recipes.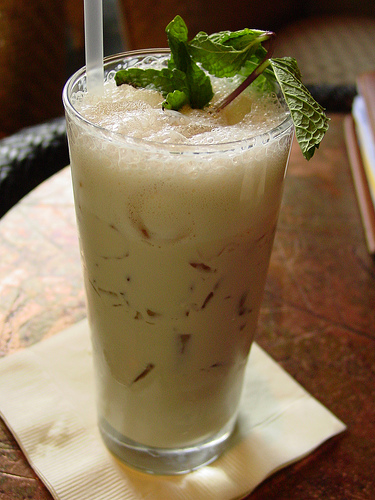 There is something delightful and foreign about drinking Chai tea. It conjures up images of exotic ports of call, and for me that alone makes it a winner. The taste brings home a variety of flavors including cardamon, cinnamon, ginger, vanilla and clove. This past year I discovered a love for Chai tea, both hot and iced. What I've discovered after much experimenting is that there is real variety in what people call Chai tea and a Chai tea latte.
My first experience was with Chai Tea concentrate, added with half and half. This is delicious both iced and hot, but WOW, the calories are astronomical. It figures that my man turned me on to this version, he wasn't concerned about the calorie content. I still love the liquid concentrate version added into lowfat milk but for traveling convenience and cost I wanted to find another option.
I then discovered the powdered version of a Chai tea latte. This is made either with a purchased Chai tea powdered mix or a more creative option of making your own powdered Chai tea mix from a recipe. Recently I've begun to do online searches for recipes when my favorite powdered brand became unavailable. I have found several recipe options through internet searches, experiments and a recipe from World Eat's Reader Treat's. Each option is slightly different so I will link to each for my readers. I hope you too will develop a taste for the exotic flavor of a Chai tea latte.
One suggested by World Eat's Reader Treats
A version with Malibu Rum I found on Flickr by Trypnotic…gotta love this for life in the tropics!
Photo credit: Trypnotic Flickr
4 comments