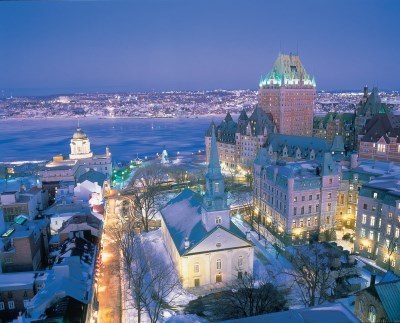 Do you want to dance, see a show and rock out, and really live it up on New Year's Eve? How about eat, shop, enjoy a toboggan ride, ice skate, ski, or slide on an inner tube in the snow during the days before or after New Year's Eve? Maybe you would like to watch some hockey, enjoy the Christmas décor, or twinkling lights, on New Year's Eve Day. If so, Québec City is the place to be! There are so many activities to do on New Year's Eve, and the days and weeks before and after, that you would need at least a week, if not more, to do them all. Perhaps visiting Québec City several New Year's Eves in a row would be enough time to do them all.
Here are just some of the ways Québec City celebrates.
If you want to dance, Grande Allée, a boulevard located just outside Old Québec that is filled with restaurants, cafes, bars, nightclubs, patio sidewalk eating, hotels, boutiques, and great architecture, has events for five days up to, and including New Year's Eve. The bars and restaurants heat up their outdoor patios, you can go on a Ferris wheel, and there will be performances of traditional song, dance, acrobats, and fire eaters. On New Year's Eve itself, the boulevard becomes one big dance floor with DJ'd music. And of course, fireworks go off at the right time.
If you want to shop, more than 1,000 regional products, food, and handicrafts are presented in the magical and unique festive atmosphere of Marché du Vieux-Port. The "Christmas Market at the Old Port Market" is open all day every day from December 26 to New Year's Eve Day.
If you want to eat, you can take a guided walking Christmas Food Tour, which visits wineries and restaurants. You will be able to sample "gourmet cheese, chocolate, apple cider, maple tea, regional cuisine, ice wine, pastries, even a special poutine!" Led by a professional tour guide, you will also learn about the history and architecture of Québec City. This delicious tour runs from December 18 to January 5 (except Christmas and New Year's Day).
If you want to "be delighted by the anecdotes and Christmas décor in Old Québec," as well as the Christmas Market mentioned above, you can take another tour in which you will "experience Quebec's Christmas traditions along with an authentic character of the local history in the heart of Old Québec and Petit-Champlain." On this "Christmas Magic in Old Québec" tour, you will follow a licensed guide dressed in period costume everyday from December 24 to January 2.
If you want to toboggan, yes I did say toboggan, you can go down a century-old slide at speeds up to about 43 miles per hour at Dufferin Terrace located next to Château Frontenac. Depending on the weather, you can slide from mid-December to mid-March. You can just do the slide, or you can even combine it with a cup of hot chocolate or a bit of traditional maple taffy.
If you want to ice skate outdoors, there are two places to enjoy this, both free of charge. One is at the Plains of Abraham Skating Rink; the other is at place d'Youville. Both have equipment rental available, and at the Plains of Abraham there is also food, refreshments, and a heated skaters' chalet.
If you want to enjoy some twinkling lights, as well as marine mammals, fish, reptiles, amphibians, and sea mammals, there is a festival of lights, Festi Lumière, at Aquarium du Québec. With more than 500,000 lights, you can stroll along an outdoor path, enjoying a rainbow of colors animating trees and ice sculptures, and "animal-shaped structures illuminated in a dazzling chromatic display." There is even an outdoor fireplace with music.
If you want to see a show and rock out, at Le Capitole there is a concert by Dennis DeYoung and the Music of Styx. Le Capitole also has a "Just Dance" show on New Year's Eve from 6:30pm to 3am, which is a musical review of hits including "music of successful popular artist like Lady Gaga, Black Eyed Peas, Madonna, Bruno Mars, and more," along with a meal and dancing, too.
If you want to watch hockey, the Ramparts play an afternoon game on the 31st. If you want to ski, Mont Sainte Anne will be open during the day of the 31st.
If you want to slide on inner tubes and party, Village Vacances Valcartier, a winter playground, is having a New Year's Eve party. First you can do a variety of snow activities, such as slide on inner tubes, either solo, or with a group. You can also go ice karting, which is like a small-scale auto racetrack on ice, and ice skating. Finally, you can "celebrate New Year's Eve in a magical, fairy-like atmosphere," with dancing, food, games, entertainment, and party favors, and the traditional countdown.
If you want to really live it up at the most photographed hotel, and possibly the most expensive, Château Frontenac, offers a New Year's Eve package including a six course dinner, and luxury accommodations. Many other fine hotels and restaurants in Québec City also offer special packages as well.
Québec City sure knows how to celebrate New Year's Eve, and the days and weeks before and after!
Sweet Travels!
A big thank you to Paule Bergeron of Québec City Tourism for providing me with a list of websites. Paule even said to me in her email, "here are a few of the activities going on…" I would say that "few" is an understatement.
All pictures in this blog courtesy of Québec City Tourism. (Note that the street scene is actually Rue du Petit Champlain.)