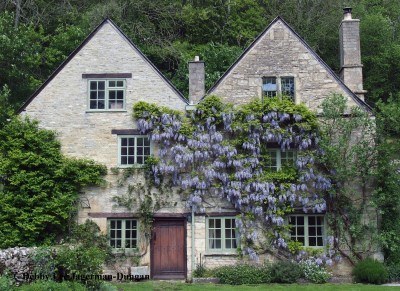 "We thank Thee for the harvest of the grasses, the humble hay, and the corn that gives the bread we daily ask for. For the trees that grow us logs for winter and seasoned wood." – The Cotswold Prayer of Praise
"Would you like to take a look inside our home and have a cup of tea," we were asked as we were reading the "Calcot Visitor Information," a sign telling us about the history of Calcot, a tiny hamlet in the Cotswolds. Consisting of 20 old cottages that date back to the 16th century, in 1327 it was recorded that Calcot had 12 tax payers.
"Our home was built in 1600, with some additions done in 1750," she continued, "and I would love to show you around." We had just glanced at some old photographs of Calcot that were also on display at the visitor information area, which was literally located in an old red BT telephone box.
"Yes, of course. We would love to look at your home and have some tea please. Thank you so very much," we replied, as we looked at each other with fascination and gratefulness. I couldn't believe that my husband and I were just invited to go inside one of these historical homes – one of the many historical homes that we had already been fascinated with as we were walking through no-less-than 39 hamlets, villages, and towns in our 12 days in the Cotswolds.
So in this tiny hamlet of Calcot, in the Parish of Coln St. Denis, we were taken into this home and given a tour of their gardens, and all the rooms in the house, telling us what was the original building from 1600, and what had been "updated" in 1750. Even a tree in their yard dated back to these centuries. We learned that some of the characteristics of the homes built at that time that are still evident today are the walls that are several feet thick and the wooden beams in the ceilings.
We also learned that many of these historical homes are given a "Grade." For example, this particular home was a Grade II, meaning that because of its historical value, permission is needed to make any changes to the house.
After spending an hour with the family, drinking tea, seeing their home, and sharing stories of our respective countries and lives, we thanked them for such an authentic visit into a home. Something not planned, not on our itinerary. I love these moments when traveling. This picture below is the home we visited in Calcot. (Please note that the pictures above are not from the hamlet of Calcot, but are random pictures from other villages in the Cotswolds.)
What is also very characteristic of this home in Calcot, and most all of the houses, barns, stone walls, and wool churches throughout the Cotswolds is the material they are made out of, "Costwold stone." A Jurassic limestone, rich in fossils, it gives most buildings its honey-colored look, as you see in the photos that I have included in this blog. Although some buildings might look more golden-colored, or even more brown or pearly white in color, depending on the area of the Cotswolds you are in, but all coming from this similar type of stone. Even the homes and cottages built in Calcot are all made of "rubble construction with Cotswold stone roofs," as we read earlier from the visitor information.
During our days in the Cotswolds, we definitely noticed the honey and golden colors. We even saw several rock quarries as we walked where they still quarry for the Costwold stone. I think some of my favorite buildings were those that had plants and flowers, such as wisteria or roses, climbing the walls. They made for a nice color combination between the Cotswold stone colors, and the splashes of purple, pink, red, or other colors.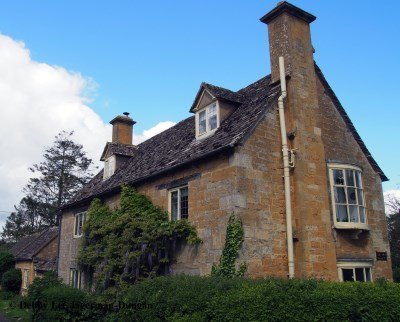 These Almshouses, in the picture below, located near St. James' Church in Chipping Campden, were originally built in 1612 to accommodate six poor men and six poor women, and are still used today to house the elderly. They "remain much as they were, apart from the addition of a modern kitchen and bathroom."*
This building with a sign saying "The School House," is the Temple Guiting Church of England School. Built of late Victorian style, it too is built of Cotswold stone.**
This row of honey-colored homes and the "Bakery and Groceries" is from the village of Guiting Power:
This one from the village of Naunton (obviously):
I believe this picture is a row of the oldest buildings in Painswick: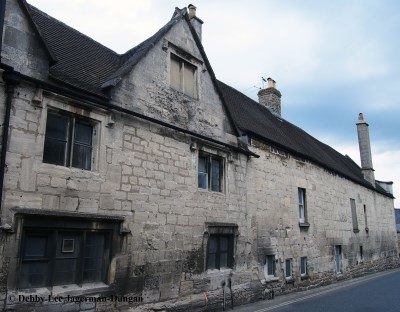 Another interesting style we noticed throughout the Cotswolds was homes with thatched roofs. This particular house we happened to walk by the same day as the house in Calcot, in another hamlet called Winson. While we weren't invited into this home, we still had a nice conversation with the owners. They told us that at night they can occasionally hear mice scurrying around in the roof.
And here is the entire village of Blockley:
Although not really the theme of this blog, I thought I would include a picture of that old red BT telephone box anyway, which was just as historical and fascinating as the honey-colored historic homes, hamlets, and villages of the Cotswolds. Not only did it contain the "Calcot Visitor Information" sign, it also was a miniature book swap and library. In fact, I think that the next blog that I write about the Cotswolds will be on the many old red BT telephone boxes we saw during our days walking in the Cotswolds.
Sweet Travels!
For other blogs from our Cotswolds travels including the churches, the scenery, and the sheep, please visit my Cotswolds category,
*Chipping Campden History Society – The Almshouses
**Temple Guiting Church of England School – The School
Add a comment