My Taiwanese-American friend and I had a joke that I was becoming more Asian than him due to my living in
Taiwan. While I battled language barriers, played teacher to adorable but possibly terrified students, maneuvered my way through crowded night markets, and indulged in a hundred types of tofu, dumplings, and dried noodles–he tried to convince his brother to give his nieces Chinese lessons, battled corporate propaganda in the U.S., drank beer, watched MTV, and ate cheeseburgers and fries.  Ok, so maybe a few stereotypes there but I'm sure you get it.
The truth is, I was and will always be, an outsider in Taiwan.  I have a deep love for the country but it's one of those places where even if you, as a foreigner, live for twenty years–you will always be a foreigner. No matter how perfect your Mandarin is, or if you've married a local and have a cabbage patch of lovely children. You are always going to be white.  However, that doesn't mean you can't try to fit in.
Here are some tips for blending in:
1. Whenever you see a white person walking down the street, pretend you aren't white and stare at him/her as if seeing an alien species.  *Note: this might come naturally as sometimes it's easy to forget you're white so you may catch yourself staring at white, black, or Indian people in utter fascination.*
2. Learn how to drive a scooter as soon as possible and pile as many things as you can on said scooter (including livestock and babies) while weaving in and out of traffic and/or ignoring red lights.
3. Refuse to get "Western" medicine and instead visit a TCM doctor.  Choke down the packets of bitter herbs with a glass of warm water and smile because you're being authentic. *Note: Many locals prefer Western medicine, I really do prefer the herbs.*
4. If you're a  foreign woman in Taiwan and you start dating a Taiwanese lad, be sure to have him carry your handbag everywhere and hold an umbrella over your head on sunny days. Preferably wear high heels and something cute.  If you don't have a boyfriend, just grab an umbrella and try to look cute anyway.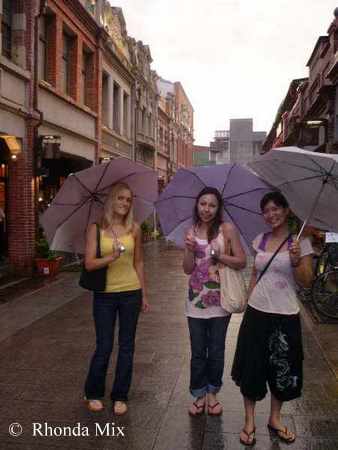 5. If you're a foreign woman in Taiwan and you go out dancing, do not try to create an episode of "Girls Gone Wild, Taiwanese Style."  Unfortunately in Taiwan, as is the case in many countries around the world, American women are often viewed as 'loud' and 'easy'. *Note: Everyone thought I was from Russia or France so yay for me.* 🙂
6. Get a haircut that resembles a mushroom.
7.  Speak  Mandarin with the highest, most  flirtatious squeaky voice possible. *I failed miserably at this.*
8.  Brush up on your KTV skills.  *I failed miserably at this.*
9.  Drink gallons of green tea, bubble tea, tea in general–often.
10. Attend a traditional mud-oven Taiwanese BBQ/Cookout? and help the locals bury potatoes in the ground before stomping the mud into place.  Again, preferably wearing something cute.
Disclaimer:
*This list is not exhaustive NOR is it meant to offend.
In all seriousness, Taiwan is a wonderful place and despite the fact you may always be white (or black, Indian, purple), you'll also feel very welcome in Taiwan!