by Veronica Mayo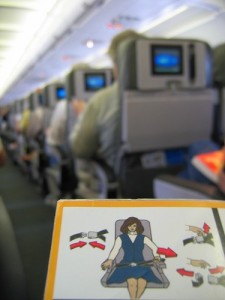 For the better part of 23 years, I traveled almost every week for either business or pleasure. I love travel and was lucky enough to land a job with American Airlines in the early 1980s. There aren't many stories that I hear from travelers that I haven't experienced myself.
At parties or any social gathering for that matter, one simply needs to mention that you are an airline employee and right on cue, the stories begin.
I was the Managing Director for the airline's Customer Relations department for a few years. Suffice it to say, that experience could generate an entire book of travel tips. Traveling is extremely enjoyable if one has the right frame of mind, is flexible and goes into the travel adventure knowing that everything will not be perfect.  Here are some of my more unusual lessons learned, specifically as it relates to the "in-flight experience."
More about plane travel: How Not to Get Sick | Is It Legal to Bring Your Own Alcohol? | Airplane Essentials
Introduce Yourself
A flight attendant's job is not what it used to be and certainly nothing similar to what is portrayed in movies such as, "Caught Me If You Can". Most flight attendants work long days and much of the glamour is unfortunately gone. The financial pressures that are present in the airline industry and 9/11 have forever changed the job for flight attendants. In addition to their safety duties, more and more of their attention is focused on security and the increasing number of passengers who behave badly. It is a stressful job.  Luckily, most flight attendants that I know are well trained and love their jobs. One way to ensure that you have a pleasant trip is to introduce yourself to the flight attendant. I have done this for many years and always with great results. If you don't make them invisible, they won't may you invisible.  This translates into a better service level. Plus it pays to be nice to the flight attendants on your flight, since they might be placed in a position to save your life if you have a medical emergency!
Dress Yourself
Wear a dress or skirt on your flight. There is not a delicate way to say this. Airplane bathrooms are in effect public restrooms. Most are clean, some are not. You will encounter bathrooms with leaky toilets and wet/dirty floors. Do you see where I am going with this? There is nothing worse than the bottom of your pant legs getting wet from the mystery liquids on the bathroom floor. Wearing a dress, skirt or even Capri pants will allow you to deal with this issue in style. I understand that jean or pants are often selected because of comfort and warmth. But a comfortable dress/skirt with a pair of tights or leggings will solve the problem. This tip also applies to navigating airport bathrooms.
Cover Your Ears
There is one item that I don't leave home without. My Bose Noise Cancelling headset is an essential travel item for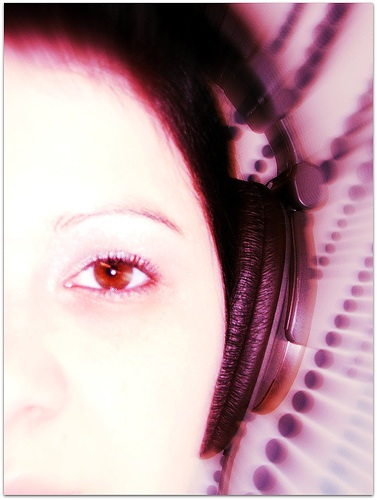 me. It is clear that male frequent flyers have figured this out. But rarely do I see a female traveler with her own set of noise cancelling headsets. Why is that? I don't think I am exaggerating when I say that a good pair of noise cancelling headset will vastly improve your "in-flight experience." If you are lucky enough to be on a flight with a movie, noise-cancelling headsets will allow you to actually hear the movie! Even if no video programming is offered, you still might have the option to plug into the airline's audio system and enjoy one of the many channels that are the usually available. The sound quality will amaze you. I often fly on MD-80 aircraft where no entertainment is offered. That doesn't stop me from packing my headsets since they can be used to cancel the aircraft noise. This will allow you to reach your destination more rested since the constant drone of the engine noise is drowned out. As an added bonus, if you end up with a talkative seatmate, you have a defensive tool. Simply whip out your headsets and iPod and avoid talking to anyone for the entire flight.
Grab the Purse
I want to go back to the fact that the aircraft is essentially a public area. For some reason, most of us let our guard down when the aircraft door shuts. There is no reason to become paranoid, but keep in mind that you are traveling with the general public. Don't leave valuable items unattended or in clear view of other passengers. Don't leave your purse at your seat while visiting the restroom (I can't tell you how many times I see this happen). It is too much of a temptation for some. Although not a common occurrence, there are reports of missing wallets and money reported from time to time. My former assistant had money stolen from her purse on a flight (she suspected her seat mate). She didn't discover it until she went to grab cash for a taxi. It was too late to do anything about it and she was relieved that her entire wallet wasn't stolen.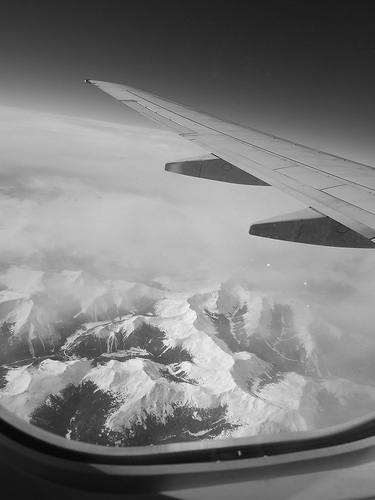 Sweater Weather
Despite what you think, the pilot is not plotting to make the aircraft as cold as possible. Actually, aircraft heating and the cooling system differ from aircraft to aircraft, so setting the cabin to a comfortable temperature can be a bit tricky. In fact, as hard as it is to believe, it is more of an art than a science. If you are uncomfortable, let the flight attendant know. They are used to the swings in the aircraft temperatures. Flight attendants may not notice how cold or warm the aircraft is at the same time you do. Know that the pilot may or may not be able to adjust the temperature settings to everyone's liking, so be prepared. I have been on aircraft that were freezing cold at boarding and minutes after take-off it felt like a sauna. Most airlines provide a limited number of blankets (if any). So your best bet is to dress in layers. I always tuck a sweater and scarf in my carry-on bag. I don't necessarily bring extra clothing but I plan ahead to keep a few pieces handy so that I can wear in-flight, if needed.
* * * * *
Veronica Mayo spent 23 years working for American Airlines as a marketing executive. She held positions in AAdvantage, Customer Relations, In-flight Products and Flight Services. She has traveled extensively around the U.S., Canada, Mexico, Latin and South America, Asia, and to Europe.
Photo Credits:
Flight Safety: Sugar Sweet Sunshine
Headphones: downing.amanda
Airplane View: allygirl520