By Rachel Diebel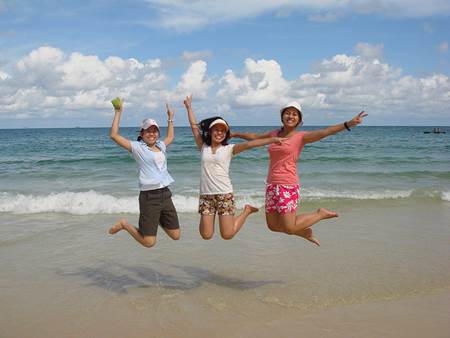 Sometimes you just need to pack a bag, grab your girlfriends and jet off for a weekend of fun together. Traveling by yourself or with family is great, but there's just no substitute for a good girls' day (or week) out! Treat yourself and your friends to a fabulous vacation you're guaranteed to remember with these amazing girlfriend getaway ideas.More Getaways: Adventurous Girlfriend Getaways | Spa Getaways | Packing for a Weekend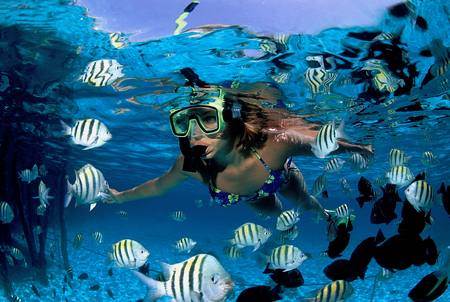 Riviera Maya, MexicoWhether the goal of your getaway is to relax and rejuvenate or hit the town together every night, Riviera Maya near Cancun, Mexico, is the perfect location for a girlfriend vacation. Easily accessible from the busy Cancun airport, Riviera Maya boasts white-sand beaches and the largest natural aquarium in the world. There are plenty of all-inclusive resorts to choose from, meaning no need to settle bills after every meal. For those who want a more immersive experience, there are many private villas to rent where you can cook meals as a group and get out to enjoy the local culture together.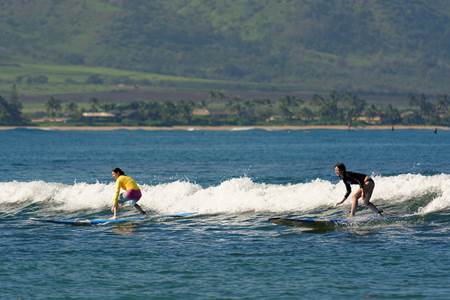 Oahu, HawaiiOahu is quickly becoming one of the top destinations for girlfriend vacations, and for very good reason. Oahu has a wide variety of things to do that will keep everyone in your group satisfied. For the nature girl in your group, there is abundant snorkeling at Hanauma Bay and many local hikes. For the foodie and the socialite, there's the city of Honolulu, filled to the brim with five-star restaurants to try Hawaiian delicacies and clubs to dance the night away. For everyone, there is beautiful Waikiki Beach to swim and surf and lounge the day away. Rent a bungalow on the waterfront for maximum leisure time.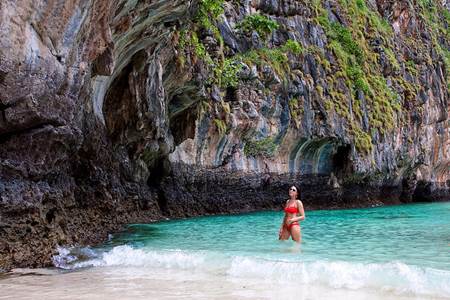 Phuket, ThailandIf you're feeling adventurous and don't mind spending a little bit of extra money, Phuket, the largest island in Thailand, is the place for you and a few of your best friends. Eat your fill of pad thai and rent bikes for the best views of the island. Phuket's rainforests and tropical gardens make it impossible not to feel relaxed and calm. When you've had enough of the great outdoors, visit the Indigo Pearl, a luxury spa on Phuket, famous for The Nest, a unique spa suite suspended high in the air and accessible only by a flying bridge.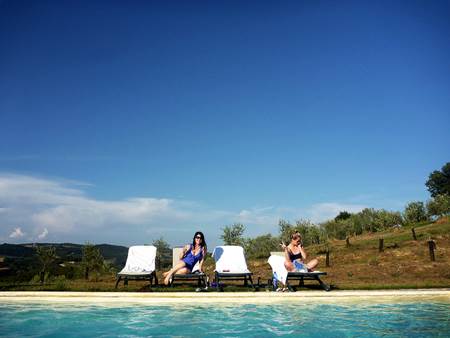 Tuscany, ItalyFulfill your dreams of living under the Tuscan sun by renting a villa for you and your girlfriends in Tuscany, Italy. Stay just outside of Florence for easy train travel to Sienna and many smaller towns in Tuscany. No girlfriend vacation is complete without road trips and wine, and luckily there are countless vineyards and farms just a short drive away. Be sure to spend at least one evening in Florence, a city best experienced at night, when the crowds are gone and the lights turn the city magical. Eat delicious pasta and drink inexpensive house wine before heading to the Ponte Vecchio to hear the best street musicians in Europe.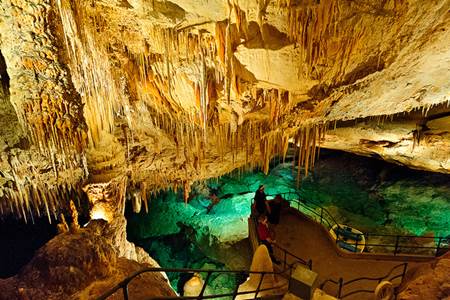 BermudaOnly a two-hour flight from the East Coast, Bermuda is an easily accessible island getaway. Treat yourself to a glamorous stay at the Fairmont Princess hotel in the capital city of Hamilton. The Fairmont Princess exudes old-timey class and the lobby looks as though it hasn't changed since the hotel's opening in 1885. There are fantastic nightclubs, spas and restaurants, but the real attraction for this girlfriend vacation is the Crystal Caves, which once played host to the queen herself–Beyoncé. Get your glam on and imitate her iconic pose from a 2009 photo shoot.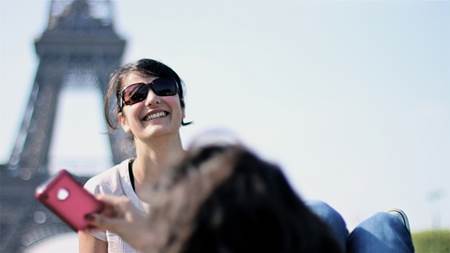 Paris, FranceThe City of Light isn't just for lovers. Paris can be a fantastic destination for you and a few close girlfriends to spend a week shopping and sightseeing. Find a hotel in a classy neighborhood south of Montmartre and spend your days walking along the river Seine, shopping on Boulevard Haussmann and climbing the steps to Sacre Coeur. Relaxing at a coffee shop for hours and catching up is an important part of any girlfriend getaway, and there's nowhere better to sit, chat and people watch than on the streets of Paris.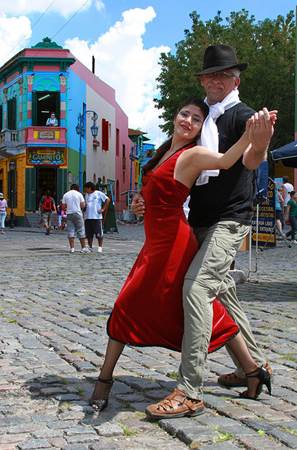 Buenos Aires, ArgentinaLearn to tango with your best friends in one of the most beautiful places in the world! Visits to Buenos Aires are jam-packed with flea market shopping, meals at steak houses and, of course, dancing until you drop. Most locals club-hop throughout the city until 5 a.m.! Buenos Aires has enough edge and glamor to make any visitor feel like a trendy star.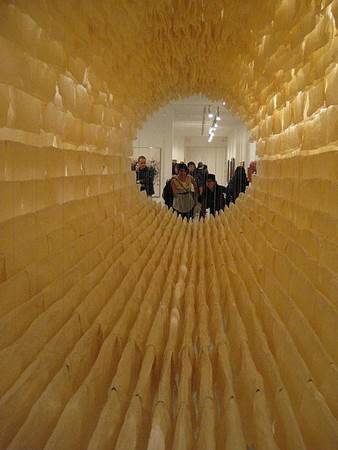 Vancouver, BCVancouver, British Columbia, in the southwest corner of Canada, is the perfect mixture of city living with an outdoorsy touch. There is shopping and spas, wineries and theater: everything you need for the perfect girl's vacation, just a quick flight away. Be sure to take in FUSE at the Vancouver Art Gallery, a nighttime open gala the last Friday of every month. The glitz and glamor of the black tie event is sure to make you feel like a celebrity.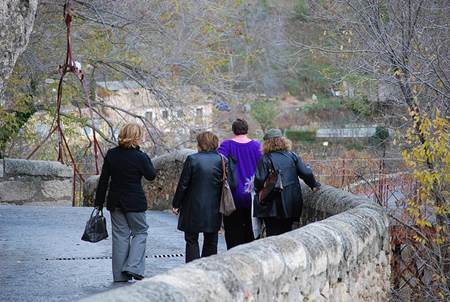 Madrid, SpainThe laid-back lifestyle of Madrid, Spain, lends itself perfectly to a girlfriend's getaway. Party late into the night at one of the city's many discotecas, wake up late, and make sure to enjoy your siesta time every afternoon. Spend (at least!) a day at the affordable Hammam al Andalus Turkish baths, where guests cycle through warm, hot and cold baths with a break for a hot oil massage. Madrid is a walkable, safe city with a slow pace is guaranteed to make for a perfect vacation.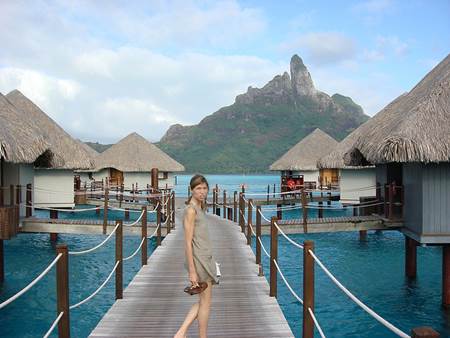 Bora Bora, TahitiOne must-see location for any girlfriend escape in Bora Bora is Matira Beach. Though most beaches in Tahiti are private, Matira is not, and its clear blue waters and white sands are breathtakingly gorgeous. If the sun becomes too much, take a break in a beachside bungalow or grab a coconut-milk tuna ceviche (a local delicacy) at the nearby Snack Matira. The thrills are endless in Tahiti–you can do anything from purchase Tahitian black pearls to swimming with seven-foot sharks!
*****
Photo credits:
Girlfriend Getaway: honey-bee via Flickr
Riviera Maya Snorkeling: dMap Travel Guide via Flickr
Oahu Surfing: Daniel Ramirez via Flickr
Phuket: Valentina Yachichurova via Flickr
Tuscany Villa Poolside: Chris Breikss via Flickr
Bermuda Crystal Caves: Craig Stanfill via Flickr
Paris Woman: Pepe Pont via Flickr
Buenos Aires Street Tango: Andrew E. Larsen via Flickr
Vancouver FUSE: kurisurokku via Flickr
Madrid Walk: Josh Friedman via Flickr
Bora Bora: Sergio Calleja (Life is a trip) via Flickr