by Marilyn Drews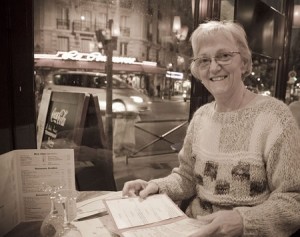 I love traveling alone. I can live my life according to my own plan or lack thereof. I am totally free to do whatever I want and go wherever I want and know I will always meet someone new along the way…a new place…another conversation…and maybe another new friend.
More Travel Tips: Best Boomer Women Trip Ideas | Stress-Busters for Boomer Travelers
The only barriers to traveling solo at any age are the limitations we put on ourselves. When we are entering our midlife years we have wisdom from a lifetime of experiences. I would like to dispel the myths about solo travel as a woman, especially for the midlife female traveler and provide insight into how easy it is to travel alone.
People often say that most travelers are so young but I don't really notice their age. When you are on the road, the common bond is travel and the fact that you are out there experiencing what the world has to offer. As a result, I am immediately accepted into the group and the conversation and am asked to share a beer, a snack or even a side trip with no thought that I am any different from any of the other travelers.
I have met and traveled with young men and women in their late teens and early twenties.  We have shared rooms, tents, and costs for car rentals or tours. I still keep in touch with some of the people I have met and have been honored to be asked to accompany them on other trips. Following are seven tips I've learned from my experiences to get you, the (b)older woman traveler started to adventuring out alone and independently.
1. Planning
2. Loneliness
3. Security
4. Accommodations
5. Costs
6. Money
7. Packing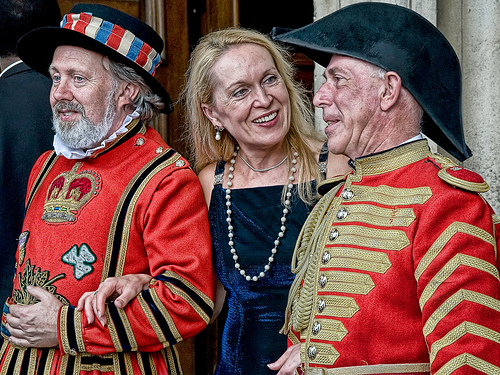 Planning is always my first step in preparation. For an initial trip, Europe is a good place to start for the novice traveler and for the more adventurous, Asia is safe, easy and inexpensive.  After I decide where to go, I borrow travel books from the library to get a sense of costs, immunizations, visas, and general information about logistics (possible routes) and ongoing transport options for my destination. I also read travel discussion groups such as Thorn Tree (Lonely Planet) to get current information. I read postings to get a sense of the current issues as well as specific information area highlights.
Loneliness is rare when traveling alone. By staying in hostels and backpacker type accommodation I am always meeting new people, sometimes people with whom I hook up with to travel for a few days or perhaps to the next destination. Local people, especially those in countries that are off the beaten track such as Asia and the Middle East, are always curious about this woman traveling on her own. Bus rides become a question and answer period often resulting in new friends and invitations to people's homes to meet their families and friends.
Security usually includes keeping your money, personal belongings and yourself safe. As we get older security seems to become more important. A money belt is a good way to keep money and personal documents out of the hands of a thief. Some people have pockets built in to underwear or their clothes. Other security measures include a belt that money can be tucked into. A money belt will protect you from most common types of thefts as clothes need to be removed in order to get at the valuables.
Some hotels and hostels have a safe available to guests. If you use this, make certain you count your money and record the amount, as hotel staff in less than reputable accommodations can sometimes liberate some smaller amounts of cash.
Another option is to lock the money in your suitcase or pack. I distribute it in two or three places in my pack so it is hard to find. You may also put a decoy near the top with expired credit cards and a small amount of local and U.S. dollars. Locks may deter a thief and, if not, can make it difficult for him. Thieves also do not want to risk being caught so after finding the decoy will move on to another victim.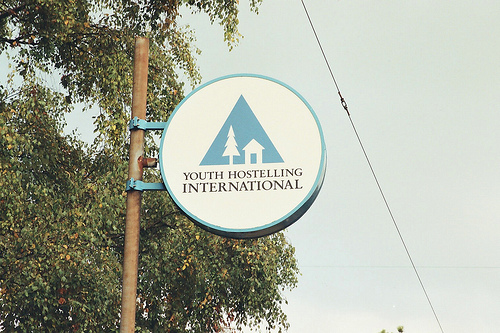 Accommodation should be booked for the first one or two nights at your destination. After booking, I research transport and costs to my hotel so that when I arrive I am prepared before I step into the fray of a busy airport or train station. Many accommodations will offer transportation from the airport for a fee.
I'm a frugal traveler and I factor between $20 and $25 a night. With this budget, in Europe I stay in hostels and in developing countries I have a range of options from guesthouses with my own bathroom to a room with a shared bathroom.
In larger cities it is sometimes necessary to spend more to get a clean and appropriate room and in smaller cities you will spend less so in the end it balances out.
I use a booking site such as Hostelworld or Hostelbookers or  Tripadvisor to read comments and reviews about the accommodation to find something that matches my needs. If I stay in a hostel I look for a small dorm at a quiet hostel. Many hostels offer private rooms with ensuite or with a shared bathroom.  The benefit is that you can have your own room, with access to a kitchen, internet, and travel service.  Also, it is easy to meet a group of travelers and form instant connections. Travelers who stay in hostels range from  young independent traveler to older singles and couples.  In a recent trip to South America I met women my age from Australia, Canada, United Kingdom and Germany at the hostels I was staying at.
Costs can be an obsession with some travelers but independent travel doesn't have to be expensive nor should you feel the need to live in a penurious fashion. If you live in North America, expect Europe to cost a little more, while developing countries will be considerably less expensive.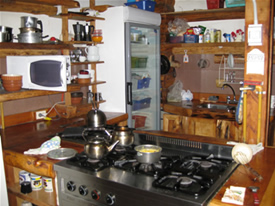 When budgeting, I factor in costs for museums and cultural events that interest me and then include food costs. To cut down on costs in Europe, I will go out for one meal a day and go to cafes for coffee, beer or a glass of wine. For other meals, I will buy local food and cook at the hostel or have a picnic in a park with local wines, cheeses and fruit. These small snacks provide insight into the food and social life of the country without the expense of a larger meal. For more substantial and healthy meals I will go to the local market and buy produce and cook a simple pasta dish or vegetarian delight and pour a glass of wine and meet the other travelers at the hostel. This middle of the road strategy has worked for me. It combines local food and culture, yet I can maintain a healthy diet and keep my costs moderate.
In developing countries, transportation and accommodation are relatively inexpensive so I always eat at a restaurant or local market and normally stay in a pension or a guesthouse.
Money is easy to access all over the world. When I travel, I prefer to obtain money (in order of preference) using a debit card, credit card, travelers checks or cash. I leave a second debit card with a friend or family member in case the card I carry is lost, stolen or demagnetized.  I have negotiated with my bank to eliminate transaction fees if I keep my balance to a certain amount.  Most transaction fees are about $5.00 per withdrawal.
I use a credit card as a backup to obtain cash (in case my debit card doesn't work) and put a credit balance on the card in order to avoid interest charges. I take both Master Card and Visa as some banks accept only one card.   I try to pay for everything with a credit card as the rate is better and there are no transaction fees in North America, Europe and Australia and credit cards are so widely accepted. Besides convenience, the advantage of credit cards or debit cards is a more favorable exchange rate than at the banks. If you use debit cards or credit cards your funds are converted at the wholesale exchange rate (what you see in the newspaper) rather than the retail rate (at banks or cambios de change). The retail or bank rate is usually an additional two to ten percent higher than the rate at which the debit card or the credit card is converted. Therefore you could save up to $10 on a $100 withdrawal rather than cashing a $100 travelers' check.
I also take travelers checks as a backup as well as about 100 dollars in US, Euros or Pounds for small conversions or emergency money. The cash is useful when crossing borders by land.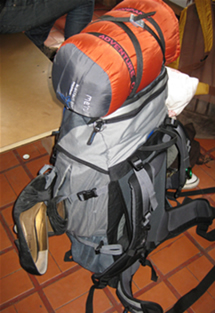 Packing is challenging because you need to combine light luggage with necessity! Most independent travel sites will recommend that you travel light (less than 22 pounds).  Although I agree I have a hard time to get below 25 pounds because I like to take a few comforts such as hair spray, hand lotion, and perfume.
The type of suitcase you carry will depend on the type of travel you're doing. The roll-aboard is good for flat surfaces and if you plan to take private transportation or taxis. It's also good if you are staying in one place for a longer time.
A backpack is better if you will have to carry your luggage on public transport, uneven road surfaces and if you'll be moving from accommodation to accommodation. With backpacks, you have a choice between a top loading or a front loading style.
For a recent eleven-week trip to South America (Chile, Argentina, Uruguay), I took a rolling suitcase which converted to a backpack. My 22-pound suitcase was taken as carry on.  I had enough toiletries for the entire period and adequate clothes for warm and cold weather and a bag that I could manage.
It is possible to pack light because generally, most everything is available in large cities. For long trips I take enough personal toiletries to last 6 — 8 weeks. I always take a generous supply of good quality face cream with SPF 15/30 sunscreen. Both quality face cream and sunscreen can be hard to find or very expensive. I also always take a sarong which can be used for everything from a blanket to a towel.
With a little planning and by taking small steps the yearning traveler can be unveiled in each of us.
As a woman passionate about authentic independent adventure travel "off the beaten path", I want to share my experiences with other women. I know independent travel by women of any age can be done, because I have done it.  Not only that, I have done it well, and I love it!
*****
Marilyn Drews first ventured to Europe in her early 30's. Since then, she has walked, trekked, bused and hitchhiked her way through six continents and over seventy countries.
During her years of independent travel, she noticed the absence of women in her age group traveling solo. After trying to figure out how to effectively communicate the ease of independent travel to these women, she launched Spirited Bolder Women and as well as her blog.
Photo Credit:
Woman in Paris: dicktay2000
Woman in London: Bob Jagendorf
Photo HI Sign: kokorowashinjin
All other photos: Marilyn Drews