As a traveler, solo dining can indeed be uncomfortable. That's no reason, however, to order room service or buy some fast food to be consumed in the confines of your guest house. Here are some tips you can incorporate into your next adventure.
1. Eat at the bar. No, it doesn't mean you are a lush. Particularly in North America, I have found that if I sit at the bar, there are other people to chat with including the bartender and other solo diners. There's often a television to distract you from the fact that you're all by your lonesome.
2. Avoid room service. While it seems quite luxurious to have someone bring food to your room, it's quite alienating. I mean, it's just you and Ross and Monica and Chandler and Phoebe. Who wants to sit on a hard hotel room bed, watch Friends and then be stuck in your hotel for the night? Plus, it's easy to indulge in larger portions when you're in solitude.
3. Fill your time in the late afternoon and early evening with an activity. Go to your hotel's gym. Go for a long walk. And then eat a light meal at a cafe where you might share a table with others. By using this time wisely, you won't eat out of boredom and you're less likely to be craving a large meal. You'll be feeling and looking marvelous!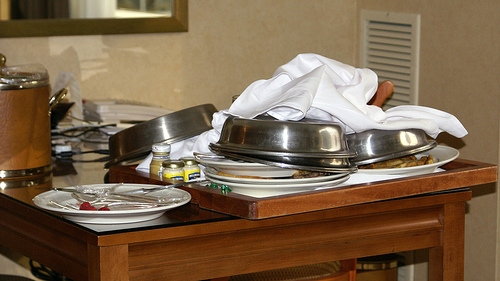 4. Eat your big meal at lunch. I've said it before but it's worth repeating. If you eat a bigger meal at lunch, not only will you save money but you won't be searching for a full meal for dinner and you'll then lean towards lighter options. Also, it tends to be more "acceptable" to each lunch alone so you won't feel so conspicuous.
5. Carry a book, journal or magazine. When you are dining solo, always have some reading material handy to distract you from the snuggly couples and families that might make you feel lonely. (I shared a table with a Spanish couple at a cafe in India and their constant giggling and smooching drove me mad so I just pulled out my trusty journal and wrote… and wrote… and wrote.)
Related links:
Travel Tips for Women
10 Tips for Trip Planning
8 Tips for Hurdling the Language Barrier
5 Health Tips for Travelers
6 Tips for Staying Safe in Your Hotel
5 Reasons to Travel Solo
Dollars and Sense for Solo Women Travelers
Photo Credit:
Solo Woman: ☻☺
Room service: Ninajpoodles