by Beth Whitman
I rode from Seattle to Panama on a motorcycle – a trip that many thought I wouldn't live through.
While this was a thrilling experience for me, many people find traveling solo to be a scary proposition. Much of this comes from the dire warnings that other people impress upon a would-be traveler, despite the fact that they may have no personal experience from which to base these warnings.
And while it's true that we may have to stay a bit more alert when we're on our own, it doesn't mean that traveling solo can't be completely rewarding.
Here are a 5 reasons to travel solo:
1. You can enjoy the freedom to do as you please. As a solo traveler, you're the boss. No coordinating agendas, no arguing over where to eat and when, or attending a play that doesn't suit your taste. You can sleep late, skip breakfast, take an earlier train than planned, stop for photos along the Yangtze, or duck into a movie theater to see the latest Superman movie dubbed in Thai. No negotiating or compromising with anyone else.
2. You'll be more approachable. You'll meet far more people when you're on your own since you won't be insulated as part of a group or even couple. There's something about having even one travel partner that makes it intimidating for others to chat you up. As a solo woman, not only might you be the recipient of romantic advances, but friendly encounters with other travelers and locals will abound.
3. You're more likely to listen to your gut. We all have a certain degree of sixth sense, a gut instinct for both the good and the bad (though I'd argue that women listen to this more than men). Tuning into, and trusting, this intuition is critical to having a safe journey. It may be the reason you readily accept a dinner invitation with a gentleman you meet on a train yet turn down an invite from a fellow traveler to accompany him on a two day hike through the Brazilian rainforest. When we're traveling on our own, we're more likely to be listening to this sixth sense since we don't have others distracting us.
4. You can find your inner strength. The rewards of traveling solo are fantastic. Once you've come out the other side of a challenging experience, such as getting lost on the Mexico City Metro or getting food poisoning in Denver, you'll realize there are few things you can't handle and you'll have an overwhelming sense of accomplishment.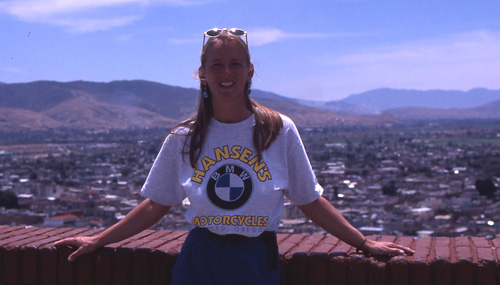 5. You're more likely to have peak experiences. In his book "Flow: The Psychology of Optimal Experience", Mihaly Csikszentmihalyi referred to flow as the time when you become lost in your actions, whether climbing a peak, painting, or playing soccer. Spalding Gray called it the "perfect moment".
Call it what you will, but many find it in travel. It's the peak experience or string of events that you encounter when you're open to new sights, sounds and smells. The universe works with you. The right people show up when you want to share the expenses on a tour. You're invited to dinner at a stranger's home in Croatia just when you're feeling the most homesick.
—————————————
The bottom line is that you shouldn't let the fact that you don't have the perfect travel companion stop you from hitting the road!
Related links:
5 Tips for Solo Dining
10 Tips for Trip Planning
8 Tips for Jumping the Language Barrier
10 Tips for Traveling Around the Globe
Photo credit:
Woman jumping: TAHbKA