by Brenda Tharp
When traveling, we make pictures to record the memories of our journey, for ourselves and to share with friends and families.  So why not try to make the best pictures possible? Here's a few tips that can help you create more interesting photographs, and perhaps some unusual, artistic ones, that will make your photo albums and slideshows that much more memorable.
More photo tips: Taking Photos at Night | Taking Photos in Bad Weather
1. Capture a Sense of Place — look for signs, architecture, and details such as native dress that are unique to that place. I like to include unusual hand-made signs that tell where I am when I can find them. When photographing icons such as the Eiffel Tower or a famous temple in Bangkok, try to find unusual viewpoints to make your pictures different and interesting. Get low and look up, get high and look down, or find details that still suggest the icon, such as ornate decorations on the temple walls. And don't forget that faces of people can suggest place, too.
2. Create Dynamic Scenes and Landscapes — Look for doorways, arches, tree branches and other elements that can frame your scene. This gives depth to the picture and makes it more dynamic. Look for leading lines, such as pathways, sidewalks, fences, etc., to pull the viewer into your scenic image. Put something up close to the camera to create a stronger foreground.
3. Seek out the best Light — Whenever possible, try to go out for first light or stay out for last light, because that's when the magic of light can make a scene come alive. You can make these types of pictures with compact digital cameras.  All you need is a place to stabilize your camera — it can be a bridge railing, a wall, or a small tripod. Jobo's Gorilla pods are great for this — and they wrap around things too, making them terrific for small cameras when traveling. Sunrises, sunsets, and the twilight hours make for magical pictures when traveling.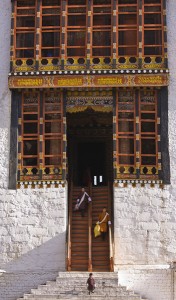 4. Capture Candid Moments – Nothing expresses a culture better than candid images of everyday life. I love to walk the streets and photograph moments of locals interacting with each other, and going about their daily activities. It might be vendors setting out their products, a little boy walking to school, a delivery of firewood to someone's door or a priest walking down a village lane on his way to vespers. All it takes is becoming more observant of everything going on around you when you travel, and always, always having your camera out of its bag and at the ready. Look for gestures that suggest the moment — a wave of a hand, an exchange of goods, a foot lifted up in walking. These all add life to the moments you'll capture.
5. Make pictures of People —You have beautiful images from all your adventures – yet without close-in images of people.  You want the wonderful, weathered face of that old man, or the shy child hiding in the doorway of her home — yet how do you get those pictures? The simple answer is to ask. If you speak the language enough, that's easy. If not, engage in a bit of charades — gesturing with your camera towards the person is usually all you need to do to get your intent across. The worst thing that can happen is they will say no. And don't take that 'no' personally. It helps if you can spend a little time observing what they are doing, or finding out who they are, too. (Photos P, Q, R)
6. Photograph Details — Details of objects can often express a sense of place, and they make interesting pictures when done right. Fill the frame with an intimate view of things such as prayer wheels,
unique produce, – anything that you find interesting!
7. The Photo Essay — Finally, if you want to create a travelogue, remember to include all of the above types of pictures, and add to that the food of the area if it's special. You can tell your story chronologically according to your itinerary, or by grouping the above subjects in a way that simply showcases the best of what you experienced.
8. As the old adage says, "Have Camera, Will Travel!"
* * * * *
Photo Credit:
All photos: Brenda Tharp
Brenda Tharp specializes in location, nature and travel photography. She has llama-trekked, sea-kayaked, flown in helicopters and hot-air balloons, cycled, and hiked to get her photographs. Those images have appeared on the pages of Adventure West, Alaska Airlines, Audubon, Discovery, Forbes, Navigator, Sierra, Sunset and Travel Holiday magazines, along with many others. Her images have also been published in books by Chronicle, Michelin, National Geographic, Sierra Club, and others. An accomplished writer as well as photographer, Brenda has written how-to articles for Outdoor and Nature Photography, Outdoor Photographer, the on-line magazine ApogeePhoto.com and Photomigrations.com.