by Natalie Fobes
1. Break the rules of composition a la Arnold Newman whenever possible.
2. Learn to be a businessperson first, photographer second. You have to stay in business to continue making great and story-telling images.
3. Do not betray the trust that your subject gives you. Each person you photograph should be treated with respect and compassion.
4. Consider every shoot an opportunity to stretch your creative boundaries. Take the safe shots first and then experiment. It is what you must do to keep your passion for photography alive.
5. Give the content or message in your photograph the respect it deserves. Too many people worry only about the technical aspects of the print and not about what the image says.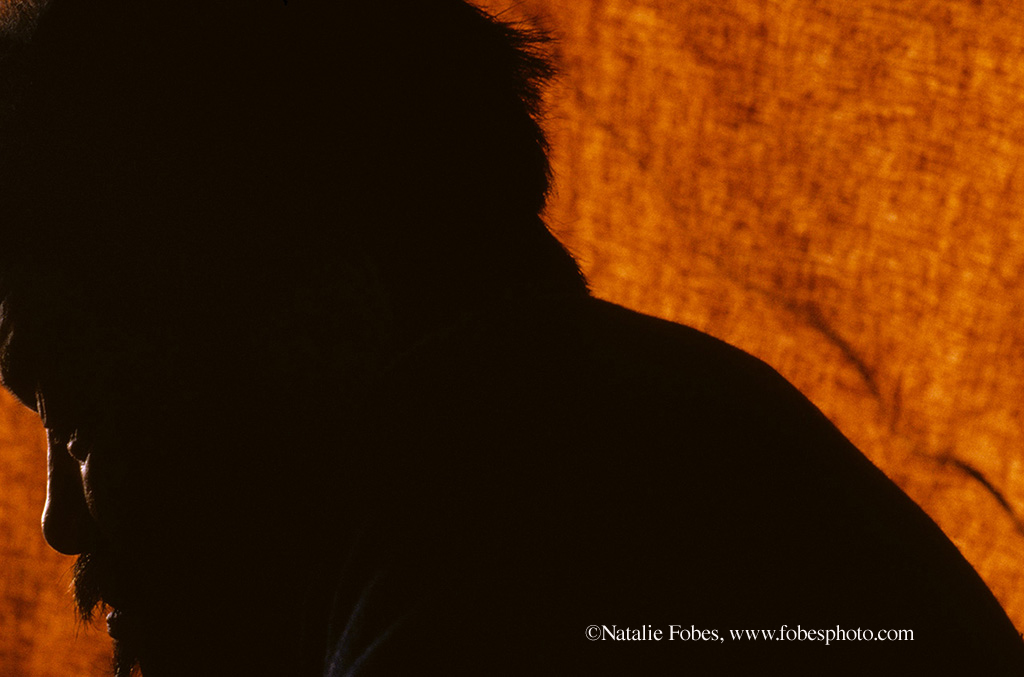 6. Look for the light. Learn to see and use available light. Don't just think highlight here. Think about using the available light to fill in a flash's highlights or soften the harsh edge. Experiment with rear-curtain sync and a slow shutter speed to "burn in" the existing light.
7. Learn to create "available" light. If you bring your light with you, you will always be assured it is there in a pinch. Don't think only large strobes but small dedicated flashes with an array of small slave flashes. I've used them to replicate candle light (with an orange gel) in a classy restaurant, cooking fire light (with a red gel) in a thatched roof Guatemalan hut, and a lamplight in an upscale Whistler, Canada, bed and breakfast. I trigger them with a small, sometimes undetectable, burst from my on camera flash.
8. Place your flash where existing lights are found. This is helpful when in a tricky lighting situation, such as a photo I took at night on a fishing boat when they were harvesting salmon. Make them a slave unit by either adding an optical or radio device or, in the case of Canon flashes, switch the button to slave. Then use your on-camera flash to trip the lights. The lighting may be harsh and edgy, but it will look real.
9. Learn how to use your camera and flash on manual. You have so much more control over you photographs. When using a digital camera, always capture in raw.
10. Give back to the community. Take the time to shoot the stories that need to be told, those stories that can make a positive difference in the world. Take the time to shoot the photographs that can make a positive difference in someone's life. Photography is a powerful tool to educate, enlighten, move and communicate. Use it.
More about photography: Travel Photography Tips | The Art of Photography
*****
Photo Credit:
All photos: Natalie Fobes
Natalie Fobes is one of the most diverse photographers in the country. The Pulitzer prize finalist has shot assignments for National Geographic, Smithsonian, Audubon and other major magazines. Her images of the Exxon Valdez Oil Spill are iconographic and she is known as the "salmon lady" due to her 10 year book project photographing and writing about the salmon and the cultures of the salmon around the Pacific Rim. Her work is included in many public, private and corporate fine art collections.
The author of three coffee-table books has received many grants and commissions to pursue the documentary stories that need to be told. She has camped out in the winter in Siberia with the Chukchi reindeer herders and lived with the Kekchi in the cloud forest of Guatemala. Natalie's current documentary is on the impact of China's one-child policy in that country and the United States.
She teaches in the acclaimed photography program at Seattle Central Community College and most recently gave a presentation on the documentary photostory at the WPPI conference. Natalie has led workshops in Alaska, Washington state and California.
Natalie is one of the co-founders of Blue Earth Alliance, a non-profit dedicated to helping photographers shoot documentary stories about the environment, endangered cultures and social issues.