By Taylor Oddino
It's happened to many of us before–you pack your toiletry items nicely in your checked bag, and you're positive you didn't forget anything. Not even the shaving cream! But just when you think everything is peachy, you land and open your suitcase to find a hot mess of shampoo coating the inside of your bag. Ugh! Take a look at these tips to make sure your suitcase doesn't end up looking like a toiletry war zone!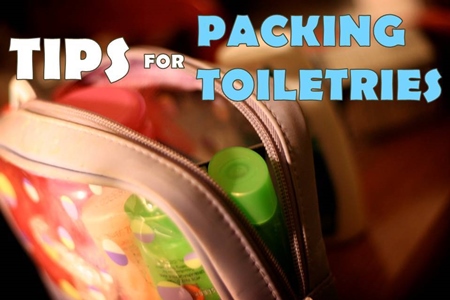 The Shampoo Issue
It's the worst when items explode in your suitcase! But the remedy to this issue is actually quite simple: Unscrew the lid from your shampoo, conditioner, hair gel and other spill-prone bottles. Cut little squares of plastic wrap and fold the squares over the openings of each bottle. Then simply screw the lid back on. The plastic will act as a blockade. For extra protection, you can put a rubber band around the plastic to hold it in place.
Save Room
Bulky toiletries can take up tons of space in a suitcase. Not to mention that they add unneeded weight. Plus it's ridiculous to bring your massive bottle of contact solution on a four-day business trip. The best way to conserve space is to transfer your toiletry items from their giant original bottles into smaller containers. Get clever with it–use contact cases, old pill bottles, old eye drop bottles, a mini spice container, an empty Tic-Tac container or a mint tin. Many stores also have miniature plastic bottles for a few dollars. But either way, it's worth it to condense your items into smaller, tightly sealed containers.
Compact Make-up
Luggage often endures a lot–especially if your trip requires a flight. (Have you ever watched the airport workers throw luggage into the underbelly of a plane? Enough said.) Slip cotton balls or cotton pads into your compact make-up containers to keep them from breaking.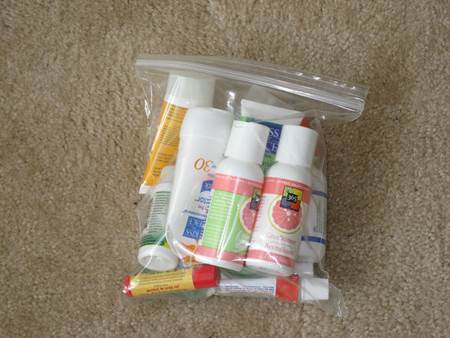 Compartmentalize
Anything that has the potential to be messy, whether it be that new blue eye shadow you wanted to try or your self-tanner, is something to put in a different compartment than your clothes. If you only have one main compartment, try not to put the toiletries near any clothing. Try wrapping the toiletries in your socks. Socks are a lot less expensive to replace than clothes! In your carry on, especially watch out for putting any toiletries that might leak near your electronics. Putting items in plastic bags is never a bad idea either.
Carry the Important Items
Make-up and body care items can be crazy expensive! If you have any particularly expensive toiletries, it's best to put them in your purse or carry-on. If you paid over $20 for a toiletry or personal care item, chances are you shouldn't take the risk. Just carry it with you. Plus there's always the chance that your luggage could get lost. If your expensive items are with you, then you won't have to worry about replacing your $42 bottle of texturing spray. It's also a good idea to keep necessary items with you, such as foundation and mascara. It's not necessary to keep all your fun eye shadows and shades of lipstick on you–those can go in the checked bag. But your essential items should probably stay with you, just in case.
Look for Solids
Solids can be a beneficial alternative to many liquid toiletries. Body wash, for example, can easily be replaced with a solid bar of soap. Another example would be a solid perfume stick as opposed to a delicate, breakable glass bottle of perfume.
Be a Minimalist
Chances are you aren't traveling to Paris Fashion Week, so your make-up choices should reflect that. It's so common to bring a bunch of items, thinking you'll have coordinating make-up for each outfit you planned. The truth is you'll probably end up not even using half of the items you brought. So try and be realistic when it comes to make-up. Choose a look that is everyday approved–smoky browns, soft cream colors and bold blacks and grays usually do the trick.
Safety First!
You won't forget your beloved blush or your treasured hairspray, but don't forget less common items that could prove to be necessary. Packing a small plastic bag of safety/first aid items could save you in a jam. Band-Aids, an antiseptic, over-the-counter pain relievers and aloe vera can all come in handy. Especially if you're headed someplace sunny, don't forget an SPF cream and aloe vera!
*****
Photo credits:
Travel Size Toiletries: Ginny via Flickr
Miniature Bottles: nist6dh via Flickr
Packing: Lindsey Turner via Flickr
Toiletries in Plastic: Jack Kennard via Flickr
Expensive Make-up: Glamour Caprices via Flickr
Shampoo Bars: Laura via Flickr
Make-up Overload: Cory Doctorow via Flickr
Micro Bug-Out-Bag: Jose Camões Silva via Flickr