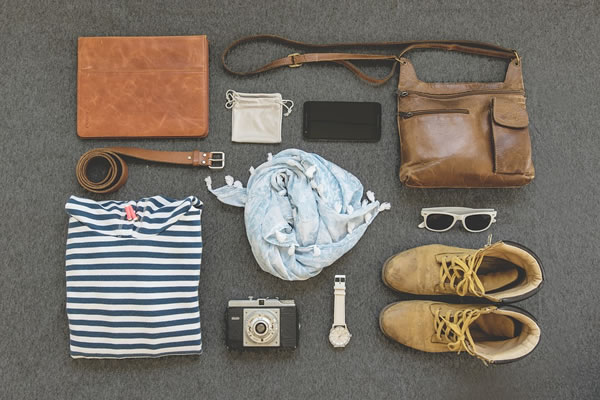 Usually some of the bulkiest items you pack for travel are shoes.
It's tricky because you need them and sometimes you need several pairs depending on the climate and activities at your destination.
Whether it's one or more pairs that end up in your luggage, here are some tips for packing shoes when you travel. from fans and readers of Wanderlust and Lipstick!
*****
I try to bring as few shoes as possible, determined by where I'm going. If I'm going to Hawaii, it's probably sandals all the way. To a destination with a lot of walking? Some good walking shoes and my Birks for the rest of the time.
As far as packing, I find that placing them at the bottom of the suitcase (when it's upright), soles down, keeps my clothing safe from dirt, fills in a gap, and gives extra shock protection if I have anything breakable packed for the return journey. I also usually stuff socks into them if they are closed toe shoes. Jackie D.
**
I pack my shoes stuffed with pairs of socks to save space and keep them together. Also with the soles facing outer edge of suitcase / bag for extra support. Joe G.
I wear one pair and pack a second pair of shoes because often my feet get sore if I wear the same shoes for days on end while traveling and doing tons of walking. I typically put socks / underwear inside the packed pair of shoes to help maximize my luggage space. Ann C.
I pack shoes in plastic bags so if they are dirty they won't get the rest of my luggage dirty. I usually bring a pair of walking shoes, sandals like Tevas or Keens (if it's that time of year) and my very comfy Chaco flip flops. If I bring socks on the trip, sometimes I pack the socks in my shoes. Lori V.
They go into my suitcase sideways and stuffed with socks, underwear or tank tops. Every bit of space has a purpose! Stacy R.
Best way to pack shoes, let Betsy (my wife) pack 'em. Terry C.
I normally wear the heaviest shoes while traveling. The lighter shoes (flip-flops, sandals, etc.) I pack, usually on the side or the bottom of my backpack. I do have a shoe bag (or sometimes I use a plastic shopping bag I've gotten along the way) to pack the shoes after I've worn them in dirty / muddy places. MaryJo L.
I usually have one pair of shoes in my bag and I fill them full of socks and underwear and wrap them in a simple plastic bag (the kind that are scarce in CA). I always wear my bulkiest shoes on the plane. Jennifer J.
I stuff the shoes with rolled up clothes and, even for a week away, won't take more than two pair! Cheryl B.
I try to only pack one pair of shoes and I just throw them in the suitcase – nothing fancy! Michelle W.
I put them around the sides of my luggage. Mara A.
I put my fave comfy walking shoes in a shoe bag and stuff them with socks first. Nancy D.
When I travel, I always wear my heaviest shoes. Then I usually pack lightweight shoes like my OOFOS! Diane M.
I always pack a pair of shoes. So I have two pairs. Sometimes I put them in my carry-on in a shoe bag. Other times they will go in my suitcase. Karen O.
I pack my shoes filled with extras in a shoe bag or if two pairs, in a mesh cube. I usually only pack
one pair and wear one pretty minimalist pair. Darlene M.
If I am backpacking, I strap the shoes to the outside of my backpack. If I am using a suitcase or have dress shoes, I put them in the Sunday newspaper sleeve. Jane B.
I make sure to wear my heaviest shoes (like hiking boots) on the plane, but I also bring slippers with hard bottoms on them to change into on the plane, too. Then I position my shoes in my duffel so that they are in the (wasted space) corners. Kerri D.
I wear the bulkiest pair of shoes I am planning to take and then I stuff the packed pair with socks or undies. MaryLynn H.
I pack my shoes in plastic sacks that I get at the grocery store – not fancy but recycling. Nancy F.
I buy suitcases that have pockets for shoes and keep them there. Casey A.
I wear the heaviest pair. I fill the second pair with socks and as much underwear that will fit and put each shoe in shoe wraps with with tie. I pack each covered shoe at the bottom of the suitcase. Maureen B.
I use a shoe bag and stuff my shoes with delicate items or lingerie. Carol W.
If it's a hot place I'm exploring, I like to hang my shoes from the outside of my bag on a caribiner so they are dry and aired out. If it's a cold / wet place, then keep a super strong Zip-loc bag to put them in and always put them at the top so when I get somewhere I can quickly whip them out and get them dry. Nitanite
My favorite way to pack my shoes for travel is to put them in cloth shoe covers (easily washable after I return home) and then stuff socks or panties into the shoes (over top of the shoe cover, not directly in a stinky shoe!). Doing so allows me to free up space for other items in my suitcase! Julie R.
I pack jewelry cushioned with socks in my shoes. Laura S.
First of all, I always plan to take as few pairs of shoes as possible. I take those that can serve more than one purpose. And, I always plan to take a pair of flip flops or water shoes to wear in shower stalls.
I wear my bulkiest boots / shoes on the plane. Yes, I have to take them off to go through security, but I don't mind. I'd rather not have the extra weight and space taken up in my suitcase! Liz R.
I take two pair of shoes and a pair of neoprene dive shoes. I wear the heaviest pair, my KEEN sandals when I go to the airport because I fight weight limits with my SCUBA gear and my underwater camera. I often put bottles or souvenirs in my packed shoes to prevent breakage. Linda P.
I always pack my shoes with my delicate items. Patti L.
I pack my shoes at the bottom of my suitcase / backpack and usually put them in plastic bags to prevent contamination of anything else. However, the key is to keep your shoes clean and dry. Thus I carry a toothbrush specifically for the purpose of scrubbing the sides and bottoms of the shoes on a regular basis. Therefore they don't smell and I don't have to worry about dirt (or anything else) getting on my clean clothes and toiletries. Alethea L.
I travel in my running shoes, pack a pair of flip flops and one pair of dressier, multi purpose shoes. Valerie
Bottoms together on bottom of bag or show packing cube. Renate O.
I have always one pair of shoes and flip flops in my suitcase and one very cosey pair of shoes on my feet. Anja